Monday 21st March 2011
by PAUL FISHER.
Pictures Courtesy of BARRY DYKE.

Back in 2007, Staveley Miners Welfare Football Club faced extinction, their football club committee had resigned en masse due to retirement and just pure time issues.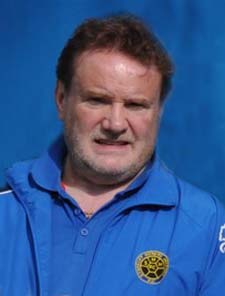 The club itself is actually still owned by the Miners Welfare Committee and they were not actively seeking new buyers, but when Terry Damms (left), a Sheffield born businessman with an 85% shareholder in a Nottinghamshire based company called Baris Fabrications, heard on the non league grapevine that Staveley were in trouble, he made the call to the committee to see if he could help.

As a result, we see a Staveley side that are top of the Northern Counties East Division One, a reserve side that usually finish in the top 2 of their division and the U19's who win awards on a regular basis.

They have won the Wilkinson Sword Shield twice, in 2008 and 2009.

The U19's have won the League Cup, with the reserves finishing the season twice as runners up too.

Let's go back to when Terry Damms took over. The bold but not brash Chairman stated in a club mission statement:

"To bring Northern League Football and North Midland Under 19 Divison One football to Staveley, by promoting and developing local youth footballers from the Chesterfield and Sheffield surrounding areas".

The Under 19's are in the Division One of their set up, Damms is pretty adamant that he has failed though, "I've failed by a year. I've got a 50% pass rate, but if I can see how many honours we've won in that period, then I wouldn't change that, if we can win the league and win a cup competition this season, it will be a fantastic achievement by a great set of people".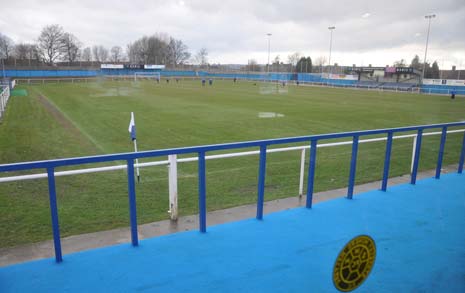 The club have major works in the pipeline with further stands to be built.

Damms states that he wants the local community involved as much as possible, "It's been hard to get people here to be honest, Staveley needs a knee jerk reaction and as part of the community we aim to do that, we have provided over £10,000 to local charities and we have also provided high visibility jackets to local schools.

"We're going to have an Under 9's and Under 11's tournament at the end of the season to attract local youngsters to the club.

"I've got big plans for this club and to make a local football club from the local community. If we could get 50 to 100 more supporters then we could get crowds of 200 here.

"The prime example in local non league terms is Alfreton Town, they were a Northern Counties East Divison side and look at where they are now.

"We only charge £4 for adults and £2 for children to come and see an exciting young side that we have here at Staveley. It's hard, but with the excellent volunteers we have behind the scenes here, we're hoping to succeed."

It's tough to imagine how you can succeed, but with the progress that Staveley have made with a young side, you need to focus on how that has happened.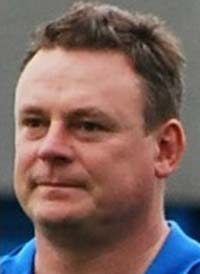 Manager Billy Fox (left) explains, "We have a lot of ex-academy players from professional clubs, they know how to behave and they know how to prepare. We have a 72 hour drinking ban installed at the club and it's as professional as it can be at non league level. We play a passing game and it's good to do with young players, because they want to play football.

"Myself and Terry have set goals and targets for them, and we act as professional players with regards to fitness and train twice a week.

"Terry has backed me 100%, the players get paid. but not as much as they would like. We need more people to come and watch because we have a great football team and a great club.

"Ideally, we'd like people to watch Staveley one week and Chesterfield the next, we need the support to come through the door. Terry and Staveley have done great things for the club and the community".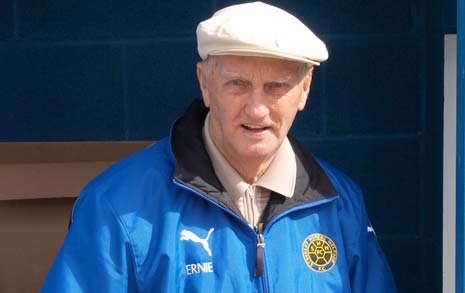 The legend that is 'Ernie the Gateman' wants to see more support from the community passing through his turnstiles!

Terry Damms uses the term ethos of the club as being 'young and developing' and you can clearly see around the ground that the term is developing.

Minor improvement works are happening, the car park and lighting are being put in prior to this weekend's FA Vase match against Rye United.

The club have major works in the pipeline with further stands to be built. "We want the club to have the best facilities in non league," and that is the ambition that Damms and Staveley have.

The core of the club is the excellent facilities that it has, the future of the club is the developing and current set of players that they have. The average age in the side is 22 and the oldest player is 31, the mainstay of the club is the Under 19's and the professionalism of the players is apparent.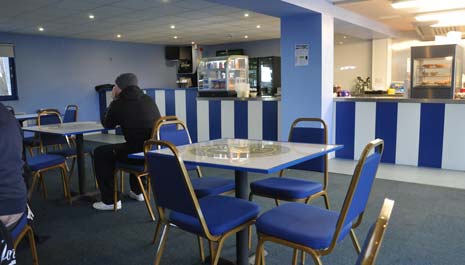 Billy Fox knows he has a good football team and he knows how to get a better football team. Terry Damms knows how to develop a strong football club and he will make all the effort to make it strong in the community as well.

All in all it's a good partnership.
RECENT STORIES
STAVELEY V CHESTERFIELD FRIENDLY MATCH REPORT -
NCEL Division 1 Champions, Staveley MWFC, played npower League 2 Champions, Chesterfield, at Inkersall Road last Wednesday evening. More...
"WE DON'T WANT TO TAKE THE PASSION OUT OF FOOTBALL" -
On Wednesday Howard Webb refereed the friendly between Staveley MWFC and Chesterfield and spoke with the Chesterfield Post. More..
NCEL ANNOUNCE NEW SPONSOR -
Local company Baris, has just been announced as the sponsor of The Northern Counties East Football League. More...
STAVELEY'S FINAL FLOURISH -
Staveley MWFC brought the curtain down on their season with a 4-1 victory against a young Teversal side who put up a spirited performance. More...
STAVELEY OUT OF THE CUP -
Staveley MWFC went out of the NCEL QF's on penalties by 5-4 after 120 minutes of football that was not for the football purists. More...
"WE ARE THE CHAMPIONS!" -
Staveley MWFC are Champions Of NCEL Division 1 for the very first time in the clubs history. More...
STAVELEY EXTEND THEIR CUP RUN -
Staveley MWFC went through to the quarter-finals of the NCEL Cup with a convincing 2-0 victory away at Barton Town OB FC More...
STAVELEY DEMOLISH 'FROD' 5-1 -
Staveley MWFC's unrelenting push for promotion continued with force with a 5 - 1 demolition of Appleby Frodingham FC. More...
STAVELEY CONTINUE THEIR PROMOTION PUSH -
Another 3 points in a tight game against Hemsworth MWFC who twice went behind early in each half means huge credit must be given for sticking to their tasks. More...
STAVELEY SHOW THEIR CLASS -
Staveley MWFC recorded their biggest away win in the clubs NCEL history with a 8-0 thrashing of Bottesford Town FC. More...
STAVELEY OUT OF THE CUP -
Staveley MWFC went out of the S&H Cup to Parkgate FC by 3-1 in what proved to be a game with little between the sides... More...
STAVELEY MAKE IT 32 POINTS OUT OF 36 AND 7 HOME WINS -
A 1-0 victory fought out against a spirited Bottesford Town side gave the league leaders a battle in front of another very pleasing attendance of 102. More...
STAVELEY EARN A DRAW -
Yorkshire Amateurs push for promotion seemed to necessitate that the 3 points be taken against Staveley and the loss of another 2 points by the Ammers is giving the chasing pack hope. More...
STAVELEY PUSH ON -
Staveley MWFC pushed further ahead at the top of the NCEL Division 1 with a 1-0 victory against AFC Emley, courtesy of a brilliant strike from Chris Fawcus on 68 minutes. More...
LUCKY NUMBER 7 -
Staveley MWFC made it 7 league wins from 7 beating AFC Emley 2-0 at Inkersall Road with 2 goals from the impressive Joe Thornton, one a thunderous 30 yard free kick. More...
STAVELEY LEAD THE PACK AFTER 3-0 WIN -
Staveley MWFC increased their lead at the top of the NCEL to 4 points with 2 games in hand and also maintain an 11-point gap on 3rd More...
A TEST OF CHARACTER -
Staveley MWFC faced a few questions about their character after the weekend's disappointments when Glasshoughton Welfare came to Inkersall Road. More..
STAVELEY GRIND OUT 2-1 WIN OVER LEEDS MET-
Staveley had one hell of a fight to put 3 more points on the board against Leeds Met Carnegie... More...
STAVELEY MWFC ON RECORD SEQUENCE -
Staveley's 2-1 victory against Grimsby Borough brought the club's best ever sequence of results with 20 wins, 3 draws and just 1 defeat in a 24 game run. More...
STAVELEY MWFC HIT TOP SPOT -
Staveley MWFC went to thetop of the NCEL Division 1 with a 6-1 victory against bottom of the league Brodsworth Welfare More...
SHIREBROOK v STAVELEY MATCH REPORT -
Staveley MWFC came away from Shirebrook Town FC with 3 deserved points in a game that they dominated from start to finish. More...