Wednesday 10th November 2010
The Rotary Club of Chesterfield celebrated its 88th birthday on Sunday with a Charter Anniversary luncheon at the Ringwood Hall Hotel for 115 members and guests. President John Keeton hosted the event and local legend Geoff Miller, National Selector of the English Cricket Team, was a thoroughly entertaining after-lunch speaker.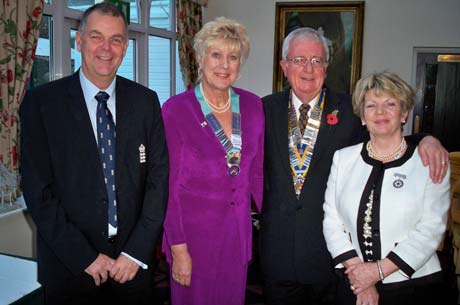 (L to R) Geoff Miller, National Selector for the English Cricket Team, Val Leivers, Rotary District 1220 Governor, President John Keeton, Mrs Liz Keeton

Rotary District 1220 Governor Val Leivers gave an inspiring speech about looking forward rather than backwards in order to build on all the good work of the founder members and members of the Chesterfield Rotary Club since 1922 in supporting the local community, therefore ensuring the club remains in good shape to meet the latest challenges now affecting local people.

She also spoke warmly about the extraordinary charitable work carried out by the lady members of Rotary's sister organisation Inner Wheel.

15-year-old local student Hannah Rodger of St Mary's High School who played the harp provided a musical interlude.

The Rotary Club of Chesterfield is open to both men and women and for more information about joining go to www.chesterfieldrotary.co.uk
RECENT STORIES
BESS OF HARDWICK -
The Chesterfield And District Caledonian Association are hosting a talk by Sonia Preece on Bess Of Hardwick. More...
SCOUTING ... FOR NEW RECRUITS -
The European Scout Federation is still going strong all these years later and looking for new recruits. More...
ROLLING ON... -
It began life as a gift to Lord Baden Powell at the 21st birthday of Scouting and, after several different owners, Rolls Royce 'Jam Roll' has returned to the Scouting fold. More...
A GUIDING LIGHT -
She is referred to as 'The mother of millions' and nearly 40 years after her death, is still a huge influence to over 10,000 girls throughout Derbyshire... More...
CELEBRATIONS FOR BURNS' NIGHT -
The Chesterfield and District Caledonian Association hosted a Dinner Dance in Celebration of the birth, 252 years ago, of Robert Burns. More...
JOG ON... -
Getting fit will probably be one of the most common resolutions made in the New Year and now people in Derbyshire have no excuse... More...
HORSES FOR GOOD CAUSES -
A local Scout group is appealing for help in raising enough money to enable a delegation of young local people to travel to Ontario, Canada More...
THE CHESTERFIELD & DISTRICT CALEDONIAN ASSOCIATION -
Founded 100 years ago in October 1910, the Association was not the first collective of Scots in Chesterfield and the surrounding District. More...
PROMOTE YOUR DIRECTORY IN NEW LOCAL DIRECTORY - Chesterfield Borough, North East Derbyshire and Bolsover District Councils have teamed up to create a free directory for Sports clubs and Physical Activity groups across our area. More...
THE CHESTERFIELD WALK THIS WAY GROUP -
CWtW began in 2001 as a collaborative project between Chesterfield Borough Council and Derbyshire County Council Countryside Service to start Walking for Health (WfH) groups in the Chesterfield Borough. More...