Wednesday 23rd February 2011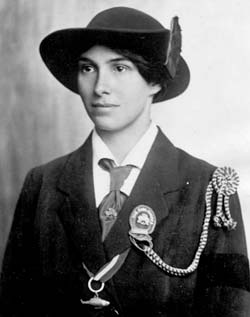 She is referred to as 'The mother of millions' and nearly 40 years after her death, is still a huge influence in the life of over 10,000 girls throughout Derbyshire alone and over 10 million around the world.

And yesterday, on Founder's, or Thinking Day (the shared birth date of her and her husband) Lady Baden Powell's (left) link to Chesterfield was celebrated with the unveiling of a blue plaque in Shentall's Gardens.

In 1889, Olave Soames was born at Stubbing Court, the daughter of Brampton Brewery owner Harold Soames. She lived in Chesterfield until she was 8 years old.

At the age of 23, on a liner bound for New York, she met Robert Baden Powell and married him less than a year later, in 1912, in secret to avoid the media storm created after their engagement (he was 55!).

The rest, as they say, is history with the Girl Guide movement being supported by her with a passion and voice that saw her elected Chief Commissioner for England, having recruited thousands of Girl Guide commissioners and organised every county in the UK.

She was tireless in promoting the movement all around the world, resulting in the birth in 1928 of the World Association of Girl Guides and Girl Scouts with Lady Baden Powell being elected as World Chief Guide in 1930.

Louise Collins, who has been involved with Brownies and Guides since the age of 7 and is now a leader herself, nominated Lady Baden Powell, saying that "She's been a big influence in my life, and so has guiding. I've had some really great times through it and now I love running my own Brownie and Patrol Units. It's nice to recognise someone who has had an impact all over the world, not just in Derbyshire."

She also wanted to make an appeal for people to give their time to allow the movement to continue to grow, saying "In Chesterfield, there are girls who want to do it, but not enough leaders. It's great fun, a chance to try new experiences and make new friends. It's also a good opportunity to try new skills - last week we had Bollywood dancers in. You can commit as little or as much as you can, do the accounts or get involved in some other way."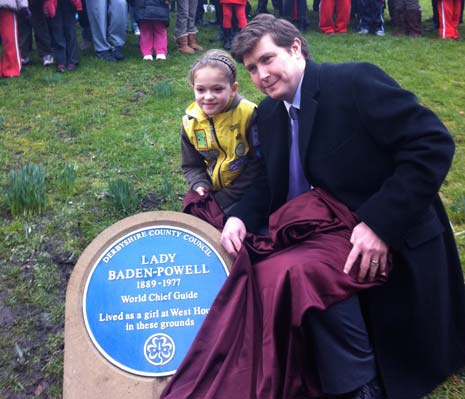 The Blue Plaque initiative is a DerbyshIre County Council scheme that was set up last year and aims to recognise and celebrate the cultural and historical heritage of the County. Andrew Levers is Leader of the Council and he unveiled the plaque on behalf of the Council (above), saying, "It was impossible to assess the great qualities of leadership, judgement and energy which she gave to scouting - she was a truly inspirational woman. Her influence continues with over 10,000 members in Derbyshire".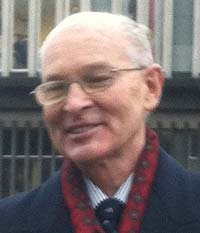 Olave was also a mother and grandmother and her grandson, Robin Clay (left) and his wife Susan, were also there to celebrate the life of a woman he remembers with great fondness.

Robin gave a speech in which he paid tribute to his Grandmother, telling the crowd that "We are celebrating not only Founder's Day, but the start, 122 years ago, of a life, in the place where Olave was born. She was beloved all over the world, as the lovely turnout here in Chesterfield shows. It's a very proud day for her family."

He recalled how he lived with his Grandmother for a year whilst a student and remembers a remarkable woman but an unconventional one.

Emotionally, he recounted how, on Christmas Day, in 1960, "she was visiting some Muslim Pakistani friends during a visit to India and Pakistan. Partitioning was still law and Olave didn't think much of it. Her guiding friends from Pakistan took her to the border, where the Indian Guides were waiting on the other side, Whilst the guards were watching she took the Pakistani Guides into India and put one left hand into another left hand. The guards did nothing to stop her."

He also said that, whilst they are immensely proud of what she achieved, they are also grateful for those that work within the Association today and are looking for more people to join. "it's still a relevant movement today, the problem is a shortage of leaders, there's never a shortage of children. Scouting is a communal organisation, not an individual thing - you learn leadership along with teamwork. It's all about helping others."
RECENT STORIES
SHOWBAND ON SHOW-
If you've attended any major event in Chesterfield then you will have seen the Chesterfield Musketeers Showband adding colour and music to it. More...
ORCHID SHOW RETURNS TO CHATSWORTH -
Each May for nearly 30 years the Sheffield and District Orchid Society has presented an orchid show in the Cavendish Hall, Chatsworth. More...
TALKING 'COFFEE' -
The Chesterfield And District Caledonian Association are hosting a talk by James Pogson of Northern Tea Merchants on 'Coffee'. More...
HELP MAKE IT A TRIP TO REMEMBER -
The 1st Calow Scouts are holding a 'Pub Quiz' at the White Hart, Calow on Thursday 31st March, commencing at 8.30pm More,,,
BRINGING BESS OF HARDWICK TO LIFE -
Chesterfield and District Caledonian Association hosted Sonia Preece who gave a talk on Hardwick Hall and it's most famous resident 'Bess of Hardwick'. More...
BESS OF HARDWICK -
The Chesterfield And District Caledonian Association are hosting a talk by Sonia Preece on Bess Of Hardwick. More...
SCOUTING ... FOR NEW RECRUITS -
The European Scout Federation is still going strong all these years later and looking for new recruits. More...
ROLLING ON... -
It began life as a gift to Lord Baden Powell at the 21st birthday of Scouting and, after several different owners, Rolls Royce 'Jam Roll' has returned to the Scouting fold. More...
JOG ON... -
Getting fit will probably be one of the most common resolutions made in the New Year and now people in Derbyshire have no excuse... More...
HORSES FOR GOOD CAUSES -
A local Scout group is appealing for help in raising enough money to enable a delegation of young local people to travel to Ontario, Canada More...
THE CHESTERFIELD & DISTRICT CALEDONIAN ASSOCIATION -
Founded 100 years ago in October 1910, the Association was not the first collective of Scots in Chesterfield and the surrounding District. More...
CHESTERFIELD ROTARY CHARTER ANNIVERSARY CELEBRATION -
The Rotary Club of Chesterfield celebrated its 88th birthday with a Charter Anniversary luncheon at the Ringwood Hall Hotel. More...
PROMOTE YOUR DIRECTORY IN NEW LOCAL DIRECTORY - Chesterfield Borough, North East Derbyshire and Bolsover District Councils have teamed up to create a free directory for Sports clubs and Physical Activity groups across our area. More...
THE CHESTERFIELD WALK THIS WAY GROUP -
CWtW began in 2001 as a collaborative project between Chesterfield Borough Council and Derbyshire County Council Countryside Service to start Walking for Health (WfH) groups in the Chesterfield Borough. More...