Wednesday 23rd February 2011

It began life as a gift to Lord Baden Powell at the 21st birthday of Scouting and, after several different owners, has now returned to the Scouting fold.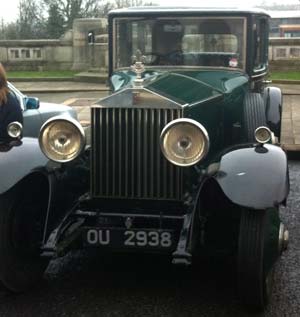 'Jam Roll', a 1929 20 HP Rolls Royce, was also a Guest of Honour when the blue plaque dedicated to Lady Baden Powell was unveiled in the town. It was presented to Baden Powell at the Jamboree in 1929 to celebrate 21 years of Scouting, along with a caravan called 'Eccles'.

The car stayed with Lord Baden Powell until his death in Kenya in 1940, after which it passed into private ownership.

After beginning a 'patronage scheme', members of the Scouting Association and members of the Baden Powell family reclaimed the vehicle and brought it back into service at Scout events throughout the country.

Steve Hilditch is a Director of BP Jam Roll Ltd and he told The Chesterfield Post why the car is such an important part of Scouting history. "This car was given to Lord Baden Powell by the Scouts and, since his death it has been in private ownership.

"It's been a taxi in Manchester and various other things, but then passed into the collector's circuit.

"In 2007, as part of the 100 years of scouting celebrations, it was loaned by the owner and reunited with the caravan for the first time in many years. We resolved to buy it and after approaching the owners, set up a Patronage scheme to raise money to buy and maintain it.

"The Rolls Royce Trust in Derby has been very good and have taken on the back bone of work, at cost. So we only pay for the materials, only costs. It now should be available for life for the Scouts and we are proud to attend any Scouting or Guiding event with a small charge for upkeep."

If anyone would like more information or is able to take part in the Patronage scheme please visit the website www.bpjamroll.org.
RECENT STORIES
NEW PRESIDENT FOR CHESTERFIELD CALEDONIANS -
Mr Mark Macartney has been elected as the Chesterfield and District Caledonian Association's new President More...
SHOWBAND ON SHOW-
If you've attended any major event in Chesterfield then you will have seen the Chesterfield Musketeers Showband adding colour and music to it. More...
ORCHID SHOW RETURNS TO CHATSWORTH -
Each May for nearly 30 years the Sheffield and District Orchid Society has presented an orchid show in the Cavendish Hall, Chatsworth. More...
TALKING 'COFFEE' -
The Chesterfield And District Caledonian Association are hosting a talk by James Pogson of Northern Tea Merchants on 'Coffee'. More...
HELP MAKE IT A TRIP TO REMEMBER -
The 1st Calow Scouts are holding a 'Pub Quiz' at the White Hart, Calow on Thursday 31st March, commencing at 8.30pm More,,,
BRINGING BESS OF HARDWICK TO LIFE -
Chesterfield and District Caledonian Association hosted Sonia Preece who gave a talk on Hardwick Hall and it's most famous resident 'Bess of Hardwick'. More...
BESS OF HARDWICK -
The Chesterfield And District Caledonian Association are hosting a talk by Sonia Preece on Bess Of Hardwick. More...
SCOUTING ... FOR NEW RECRUITS -
The European Scout Federation is still going strong all these years later and looking for new recruits. More...
A GUIDING LIGHT -
She is referred to as 'The mother of millions' and nearly 40 years after her death, is still a huge influence to over 10,000 girls throughout Derbyshire... More...
JOG ON... -
Getting fit will probably be one of the most common resolutions made in the New Year and now people in Derbyshire have no excuse... More...
HORSES FOR GOOD CAUSES -
A local Scout group is appealing for help in raising enough money to enable a delegation of young local people to travel to Ontario, Canada More...
THE CHESTERFIELD & DISTRICT CALEDONIAN ASSOCIATION -
Founded 100 years ago in October 1910, the Association was not the first collective of Scots in Chesterfield and the surrounding District. More...
CHESTERFIELD ROTARY CHARTER ANNIVERSARY CELEBRATION -
The Rotary Club of Chesterfield celebrated its 88th birthday with a Charter Anniversary luncheon at the Ringwood Hall Hotel. More...
PROMOTE YOUR DIRECTORY IN NEW LOCAL DIRECTORY - Chesterfield Borough, North East Derbyshire and Bolsover District Councils have teamed up to create a free directory for Sports clubs and Physical Activity groups across our area. More...
THE CHESTERFIELD WALK THIS WAY GROUP -
CWtW began in 2001 as a collaborative project between Chesterfield Borough Council and Derbyshire County Council Countryside Service to start Walking for Health (WfH) groups in the Chesterfield Borough. More...