Sunday 9th January 2011

A local Scout group is appealing for help in raising enough money to enable a delegation of young local people to travel to Ontario, Canada for an adventure of a lifetime. It will be the third time in 11 years the 1st Calow Scout group has undertaken such a venture.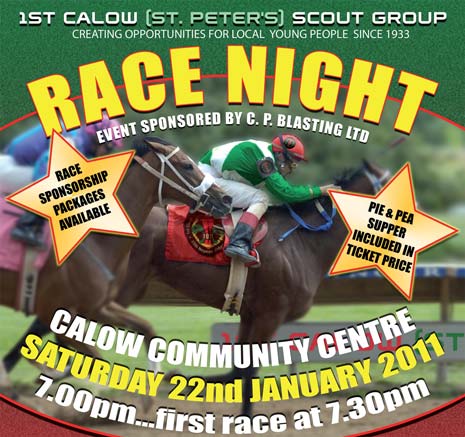 £25,000 is needed to make sure the trip goes ahead, and the youngsters have been raising the cash for 18 months in various fundraising events - all organised by the scouts, their families and friends.

The next major event is a 'Race Night' to be held at Calow Community Centre on Saturday 22nd January 2011.

This event is open to the public with ticket prices set at £5.00, which includes a Pie and Pea Supper and there will be a fully licensed bar on the night. The night will be made up of 7 races for which horses can be bought in advance (@£7.00), plus one 'Auction' race for which the horses can only be bid for on the night. The winning 'owners' will receive a small prize, presented by the respective sponsor of that particular race.

Anyone who would like to buy a horse, or a ticket - or any businesses wishing to sponsor a race - can find out more about the evening by going to the fundraising page on the website http://calowscouts.org.uk.
RECENT STORIES
HELP MAKE IT A TRIP TO REMEMBER -
The 1st Calow Scouts are holding a 'Pub Quiz' at the White Hart, Calow on Thursday 31st March, commencing at 8.30pm More,,,
BRINGING BESS OF HARDWICK TO LIFE -
Chesterfield and District Caledonian Association hosted Sonia Preece who gave a talk on Hardwick Hall and it's most famous resident 'Bess of Hardwick'. More...
BESS OF HARDWICK -
The Chesterfield And District Caledonian Association are hosting a talk by Sonia Preece on Bess Of Hardwick. More...
SCOUTING ... FOR NEW RECRUITS -
The European Scout Federation is still going strong all these years later and looking for new recruits. More...
ROLLING ON... -
It began life as a gift to Lord Baden Powell at the 21st birthday of Scouting and, after several different owners, Rolls Royce 'Jam Roll' has returned to the Scouting fold. More...
A GUIDING LIGHT -
She is referred to as 'The mother of millions' and nearly 40 years after her death, is still a huge influence to over 10,000 girls throughout Derbyshire... More...
CELEBRATIONS FOR BURNS' NIGHT -
The Chesterfield and District Caledonian Association hosted a Dinner Dance in Celebration of the birth, 252 years ago, of Robert Burns. More...
JOG ON... -
Getting fit will probably be one of the most common resolutions made in the New Year and now people in Derbyshire have no excuse... More...
THE CHESTERFIELD & DISTRICT CALEDONIAN ASSOCIATION -
Founded 100 years ago in October 1910, the Association was not the first collective of Scots in Chesterfield and the surrounding District. More...
CHESTERFIELD ROTARY CHARTER ANNIVERSARY CELEBRATION -
The Rotary Club of Chesterfield celebrated its 88th birthday with a Charter Anniversary luncheon at the Ringwood Hall Hotel. More...
PROMOTE YOUR DIRECTORY IN NEW LOCAL DIRECTORY - Chesterfield Borough, North East Derbyshire and Bolsover District Councils have teamed up to create a free directory for Sports clubs and Physical Activity groups across our area. More...
THE CHESTERFIELD WALK THIS WAY GROUP -
CWtW began in 2001 as a collaborative project between Chesterfield Borough Council and Derbyshire County Council Countryside Service to start Walking for Health (WfH) groups in the Chesterfield Borough. More...