Tuesday 28th June 2011

One young girl from Chesterfield says she has to pinch herself every single day after hitting the big time and with her band preparing to launch its first single, next month.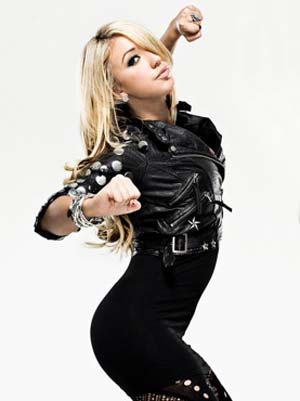 Cassie Macmillan (left) is a member of 6 piece dance /pop group SixD. Signed to the Jive/ Sony label their single 'Best Damned Night' is out on July 24th and is written by Wayne Wilkins who has written for Cheryl Cole and Beyonce.

The group has toured with JLS and The Saturdays already this year and will soon be making festival appearances with the likes of The Saturdays and The Wanted.

The Chesterfield Post caught up with Cassie this morning (Tuesday) and we spoke to her about her career and early life in the town.

Cassie lived and studied here until the age of 16. A dance student at Kickers Dance Studio on Whittington Moor she still returns as often as possible to visit friends and family. Bubbly and friendly she is keen not to forget her roots but the relishes the opportunities she has.

Introducing herself first she told us , "I'm a Chesterfield girl and born and bred - 23 just turned, and have been dancing since 3 years old, so all my life really, I moved to London when I was 16 and carried on there, but with street dance and other styles."

She faced strong competition to get into the band, which has been a long time in planning. "Our manager supplied the dancers for a Madonna tour 5 years ago and he thought it would be amazing to create a band like that, but who could sing as well. 2,500 of us auditioned from all over Europe and the UK and, after over 2 years of auditions I got into the final 6. It's amazing."

Although she hadn't met any of the band before, she says that now, "we're like family!" Picked from all over the UK, two knew each other from dancing together in Oxford but the rest bonded through the gruelling audition selection.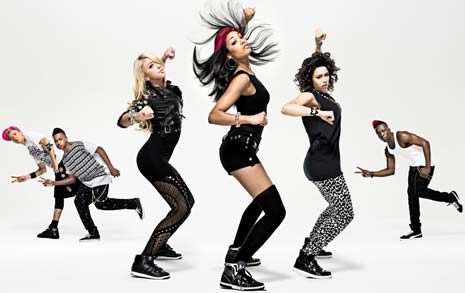 SixD - (l-r) Kieran, Levon, Cassie, Chantelle, Kimmy and Pierre

It's been a hectic year this year already and the single isn't out till next month as Cassie laughingly explained, "We've toured with JLS and The Saturday's in January which was our first performance as a group, and so to do it in arenas was amazing. We were also lucky enough to spend time in LA and Miami last year where we worked with some of the top writers, including writers who had worked with Cheryl Cole so we are very privileged."

The band's Choreographer, Laurieann, has worked with the likes of Lady GAGA and Katy Perry and as a result of working with her, SixD have been on TV in the US on her show Dance Scene which has, says Cassie "given us a huge US fan base."

Cassie says that, although it's the life she dreamed of, she still can't take it in "It' seems surreal, but it's such hard work. We're constantly busy and on the road - trying to get people to know about us."

Showbiz is known to be a hard world with a lot of rejection and we asked Cassie if she had a message for any youngsters in Chesterfield who are, right now, dreaming of being where she is. Without hesitation, Cassie said, "Don't be afraid to chase your dream, I was passionate about dancing, I took that step coming to London, if you're passionate and want to do it, take that risk - anything is possible - just do it."

Ahead of the single release on 24th July, there's no rest for the group but Cassie wouldn't have it any other way, "We're currently on a radio tour of all radio stations in the UK. We've been on T4, and a Hollyoaks music show that will be aired in a few weeks. We are also doing a school tour and will be doing street dance workshops with kids. We have festivals coming up too, with T4 on the beach, The Party in The Park in Leeds and one in Manchester Arena - KEY 103. We'll be performing alongside The Saturdays and The Wanted. It's amazing and our single isn't even out yet!"

There's a video clip of the new single below from SixD's YouTube channel and it can be pre ordered on iTunes or by sending a text to 80115 (£1 plus standard network rate).

You'll be in good company as Cassie joked, "My mum's already done it!"



There was only one question left to ask. The Press team had sent me some notes about Cassie before the interview - one of which said that her specialist dance move was an 'invert'. So …what exactly is an 'invert'?

With a laugh Cassie informed me that it was "A sort of freeze, a folded handstand, with your legs close to your face."

Is it just me, or is anyone else thinking 'ouch'?!!

The Invert notwithstanding, Cassie will go far - bright, bubbly, very enthusiastic about her dancing and she has the talent to match. Move over Chezza - a wonderful representative of Chez Vegas is about to hit centre stage!

More about the band on their website at www.sixdofficial.com
RELATED STORIES
MUSIC FESTIVAL CELEBRATES A DERBYSHIRE HERO -
Love, Life and Liberty: A celebration of Chesterfield's unique role in inspiring better places for people and the life of Raymond Unwin More...
2CELLOS TO SUPPORT ELTON JOHN AT THE B2NET -
Sir Elton John has announced that very special guests 2CELLOS will join him for his forthcoming live show this summer. More...
SUCH SWEET THUNDER -
Steve Steinhaus, the charismatic singer with the big personality who fronts both his Swing Band and the Dr Teeth Big Band, returns to Whitwell with his brand new show More...
MAGNETS ATTRACTED TO CHESTERFIELD -
They've performed with Blondie and at private parties for the likes of Hugh Grant and Elle McPherson - and now The Magnets are coming to Chesterfield. More...
ELTON JOHN PLAYS CHESTERFIELD FC'S B2NET! -
Superstar Elton John will be the first ever artist to perform at the B2net when he plays there in Summer 2012. More...

600 FOLLOW FEROCIOUS DOG AT MUSIC FESTIVAL! -
Whitwell Forward Community Group and 4Ward Promotions have extended Whitwell Festival Of Music 2011 and attracted 23 top quality bands More...
DO YOU HAVE TALENT? -
For the third year running, the Mayor of Chesterfield will once again be hosting 'Chesterfield's Got Talent' and is looking for talented acts from across the Borough. More...
ON SONG FOR TOWN, CARL NEWTON -
A day of firsts at the B2net on Saturday - first home game of the season and the first unfurling of the Champions Flag - also the first time the new 'Town song' rang out across the terraces More...
HARLEY HANSON PLAYS HARLEY'S BAR-
Harley Hanson, International Singer and Songwriter returns to his home town of Chesterfield to launch his music video's and CD "When My Guitar Crys" and to film for his new video. More...

Music Event Diary -
Here is the place to find the latest Live Music Gigs from around Chesterfield. More...