Wednesday 5th October 2011

They've performed with Blondie and at private parties for the likes of Hugh Grant and Elle McPherson - and now The Magnets are coming to Chesterfield.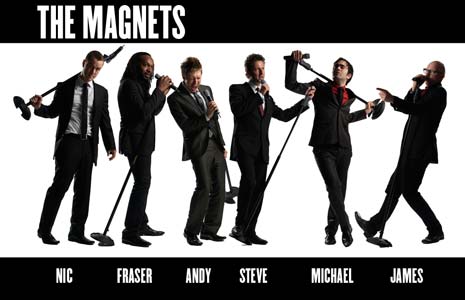 The 6 part a cappella group (above) will be appearing at The Winding Wheel at the end of this month, as part of a long tour that has taken them around the UK and beyond.

When the press releases landed in our inbox last week, asking if we'd like an interview, we must admit, we had no idea who, or what, they were - but, after taking a look at the website and videos, we were hooked.

They are pretty unique In the UK - a combination of harmonies and beat boxing and ALL you hear is them - no music, backing tracks, or any other outside influences.

We interviewed Michael from the group and asked him to tell us about The Magnets, "We're a six part vocal harmony / a cappella group who make all the music with our mouths - no instruments at all - even the drums and the bass. We started at university, we had been in a student musical together and wanted to keep going.

"One of the guys had studied in the 'States at High School and had been in a harmony group there and taught us parts on a few songs. We realised it went down well and we played in a few student balls and busked in Covent Garden for beer money. We weren't very good in those days but it seemed to go well and it went from there really."

One thing that comes across very clearly from the videos on site is the camaraderie amongst the guys. It all looks huge fun - is it? "We get on well. The current line up has been together since 1998 - you don't last that long if you don't get on. We have a great time on the road. It's been better than any other job any of us have done, so we're enjoying it."

Having worked with Blondie and other high profile celebrities and having sold out such notable venues as The Roundhouse in London, it must be a heck of a lifestyle? "We're getting busier and busier with our tour. The private shows help bring in money to sustain the group, but our public face has grown in the UK. We did Glastonbury and Edinburgh and realised that recently, the music scene is open in the UK for stuff like this."

We've never seen any other performers do what The Magnets do - is it unique in this country? "We're certainly unique in the UK, but there are other groups in Germany and the US where there's a tradition of harmony singing. In this country though, there is barbershop and male voice choir, but we have turned this into a modern rock-pop band. Lots of people will have heard of the Overtones but they use a backing band, we step out on our own."

It must be hell on the voices though? "It's all us, you can't have a break for a 10 minute drum solo, so it's hard work and there's a lot of choreography, so it's pretty sweaty. Our dry cleaning bill has gone up! For the first time one of our guys has had to drop out and seek treatment for his voice - he's lost it and is having physio.

"The tour is intense. Most years we tour May to November so we're busy, but this year is even busier. We always go to Edinburgh and that's when we refresh the show and premiere the new show. We've been to Oz for the first time and are going back in February - though I missed it because my wife was having a baby - but it was winter then. When we go back, it's summer."

We are fascinated by how it all works, how does the music harmony come together? Michael says it's all in the preparation, "When we've picked the piece of music, we decide how we want to change it. As well as doing it a cappella, we make it original too so we wouldn't expect to hear songs transformed like that, it gives them a fresh flavour.

"Three of us arrange the songs, we sit at the computer and mess around until it sounds good and then present it to the rest of the group. It's a time consuming process and it can take anything up to three days or two weeks to get it right, which is different to being in a band with instruments where you just pick up a guitar and you have a song in half an hour.
"It makes it difficult to do requests. We have a medley of songs and currently we're doing an A-Z of movie songs, they all go into each other and we act them out on stage at the same time. The audience have to guess what they are and they then expect to move on to the next one, but we can't, it's so tightly arranged that we have to do it all."

The Magnets are a homegrown, hard working talent who have come through the ranks and the club and festival route. What does Michael make of shows like X Factor? "Everyone's big on X Factor, and it works two ways - it makes it feel like you can only be successful doing that kind of thing - but it also focuses people's attitude on talent and gives people an idea of who is a singer and who isn't, because I think that got lost slightly in the 90's with all the boy and girl bands when it didn't matter if you could sing or not.

"It does give people an appreciation of how nerve-wracking live music can be and how great it is when someone who doesn't look like they can sing stands up and gives a great performance."

They will be in Chesterfield at the end of this month, have they been here before? "We've never played Chesterfield before and are looking forward to it. We've heard the Winding Wheel is a very nice Arts Venue. It's always a little nerve wracking when you go to a new venue as it's always a 'getting to know you' time, but hopefully by the end of the night, we'll have won everyone over."

And of course, Elton John is coming here next year - have they worked with him? "No we haven't - we'd love to but that call hasn't come in yet! Perhaps you can put in a good word for us?..."

Check out The Magnets' website at www.themagnets.com

Their latest single 'Human', a version of the Killer's track, and the Comic Relief medley featured on the site, is available now.
RELATED STORIES
TAKE THE 7 PLAY THE WELLINGTON, NEW WHITTINGTON -
Take The Seven play at the Wellington, High Street, New Whittington, Chesterfield on Saturday 16th from 9pm More...
I'M STILL STANDING AFTER SIR ELTON ROCKS 'CHEZ VEGAS' -
It was THE event of the year in Chesterfield, over 12 months in the making and the result of much planning, preparation and purpose. More...
THE 'ROCKET MAN' PREPARES TO LAND -
The stage is set and, in less than 48 hours, Chesterfield will witness the biggest show to come to the town in years. More...
FINAL TICKETS RELEASED FOR ELTON JOHN AT THE B2NET -
With just over two weeks until the first ever show at the B2net Stadium, the final few tickets for Elton John have been released for sale to the general public. More...
COULD ELTON BE A SECRET SPIREITE -
Well-known football fan Sir Elton John will be taking two pieces of Chesterfield back with him when he performs at the b2net shortly. More...
MUSIC FESTIVAL CELEBRATES A DERBYSHIRE HERO -
Love, Life and Liberty: A celebration of Chesterfield's unique role in inspiring better places for people and the life of Raymond Unwin More...
2CELLOS TO SUPPORT ELTON JOHN AT THE B2NET -
Sir Elton John has announced that very special guests 2CELLOS will join him for his forthcoming live show this summer. More...
SUCH SWEET THUNDER -
Steve Steinhaus, the charismatic singer with the big personality who fronts both his Swing Band and the Dr Teeth Big Band, returns to Whitwell with his brand new show More...
ELTON JOHN PLAYS CHESTERFIELD FC'S B2NET! -
Superstar Elton John will be the first ever artist to perform at the B2net when he plays there in Summer 2012. More...

600 FOLLOW FEROCIOUS DOG AT MUSIC FESTIVAL! -
Whitwell Forward Community Group and 4Ward Promotions have extended Whitwell Festival Of Music 2011 and attracted 23 top quality bands More...
DO YOU HAVE TALENT? -
For the third year running, the Mayor of Chesterfield will once again be hosting 'Chesterfield's Got Talent' and is looking for talented acts from across the Borough. More...
ON SONG FOR TOWN, CARL NEWTON -
A day of firsts at the B2net on Saturday - first home game of the season and the first unfurling of the Champions Flag - also the first time the new 'Town song' rang out across the terraces More...
A STAR IS BORN... AND SHE'S FROM CHESTERFIELD -
One young girl from Chesterfield says she has to pinch herself every single day after hitting the big time and with her band preparing to launch its first single, next month. More...
HARLEY HANSON PLAYS HARLEY'S BAR-
Harley Hanson, International Singer and Songwriter returns to his home town of Chesterfield to launch his music video's and CD "When My Guitar Crys" and to film for his new video. More...

Music Event Diary -
Here is the place to find the latest Live Music Gigs from around Chesterfield. More...