Monday 15th August 2011
pic Courtesy Tina Jenner Photography

It was a day of firsts at the B2 net on Saturday - the first home game of the League One season and the first unfurling of the Champions Flag. It was also the day when the new 'Chesterfield song' rang out across the terraces for the first time.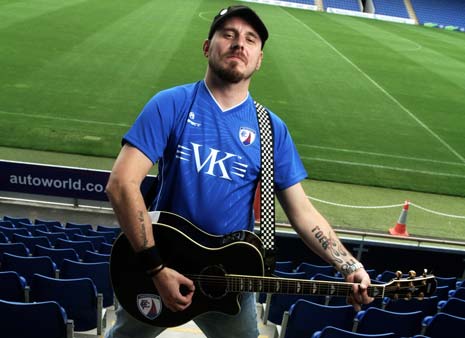 Carl Newton's Chesterfield FC anthem - Town Song - was played for the first time at the b2net at Saturday's first home game of the season

Written by lifelong Spireite fan and singer/songwriter Carl Newton (above), the song has proven an unexpected hit amongst fans and is downloadable on iTunes.

Carl was presented to the B2net crowd during half time against Stevenage and we caught up for a chat with him to find out what had driven him to write it.

An unassuming guy, Carl is still bewildered by the attention the song has attracted but hugely grateful to the supporters and the club for getting behind him, "I've always been a Spireite, always used to go to Saltergate as a kid. I've grown up with the football team and always followed them, so, after the success of last season, everyone's spirits are up and being from town, it seemed like a good thing to do too - to write a song for the club and the town."

And he's thrilled he says with the way it's taken off "It's unbelievable, how it's been received, I'm not sure what to say - I only recorded it this time last week - it went up on YouTube and has just gone on from there. I really didn't expect it - it's all gone a bit mad!"

The single release is not just a bit of fun, it's a serious attempt to show support to the team for personal reasons as Carl explained to me, "I've been in a band before, I wrote the song whilst in the band but I took it on for myself, including the bass and guitar. I've been a struggling musician for many years, and am still working on my solo album and so have been unable to attend a lot of matches. This was one of the ways I felt I could show support to the lads, and show the team that I'm behind them all the way."

The single will also benefit charity, with proceeds going to the local 'Pathways' charity, situated across from the stadium, and the only homeless day centre in town.

Carl is thrilled by the support he's had from the club itself who have got behind the tune and allowed it to be played at matches through the PA system, and Carl wanted to acknowledge that fact, "The club has helped, particularly Tina [Jenner], the club photographer, they've been great - it's fantastic."

The single 'Town Song' is available to download from iTunes now at 0.79p and the YouTube video can be seen on www.youtube.com/watch?v=D0X99kk0yZc
RELATED STORIES
COULD ELTON BE A SECRET SPIREITE -
Well-known football fan Sir Elton John will be taking two pieces of Chesterfield back with him when he performs at the b2net shortly. More...
MUSIC FESTIVAL CELEBRATES A DERBYSHIRE HERO -
Love, Life and Liberty: A celebration of Chesterfield's unique role in inspiring better places for people and the life of Raymond Unwin More...
2CELLOS TO SUPPORT ELTON JOHN AT THE B2NET -
Sir Elton John has announced that very special guests 2CELLOS will join him for his forthcoming live show this summer. More...
SUCH SWEET THUNDER -
Steve Steinhaus, the charismatic singer with the big personality who fronts both his Swing Band and the Dr Teeth Big Band, returns to Whitwell with his brand new show More...
MAGNETS ATTRACTED TO CHESTERFIELD -
They've performed with Blondie and at private parties for the likes of Hugh Grant and Elle McPherson - and now The Magnets are coming to Chesterfield. More...
ELTON JOHN PLAYS CHESTERFIELD FC'S B2NET! -
Superstar Elton John will be the first ever artist to perform at the B2net when he plays there in Summer 2012. More...

600 FOLLOW FEROCIOUS DOG AT MUSIC FESTIVAL! -
Whitwell Forward Community Group and 4Ward Promotions have extended Whitwell Festival Of Music 2011 and attracted 23 top quality bands More...
DO YOU HAVE TALENT? -
For the third year running, the Mayor of Chesterfield will once again be hosting 'Chesterfield's Got Talent' and is looking for talented acts from across the Borough. More...
A STAR IS BORN... AND SHE'S FROM CHESTERFIELD -
One young girl from Chesterfield says she has to pinch herself every single day after hitting the big time and with her band preparing to launch its first single, next month. More...
HARLEY HANSON PLAYS HARLEY'S BAR-
Harley Hanson, International Singer and Songwriter returns to his home town of Chesterfield to launch his music video's and CD "When My Guitar Crys" and to film for his new video. More...

Music Event Diary -
Here is the place to find the latest Live Music Gigs from around Chesterfield. More...