Wednesday 28th September 2011

'ROCKETMAN' TO PERFORM FIRST EVER DATE IN CHESTERFIELD!
"Elton played and sang awesomely, with gale-force gusto. Lord knows how many times he's performed these songs, but somehow he still manages to sound as if he means every word of them." - The Telegraph UK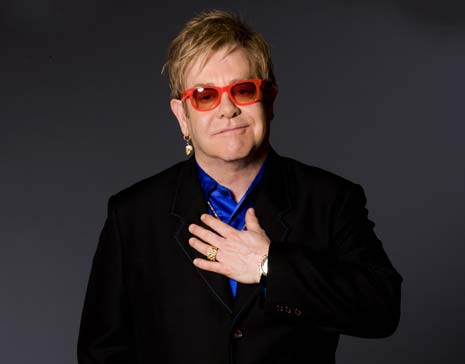 Elton John will be the first ever artist to perform at Chesterfield FC's B2net stadium

It's one of the biggest things to hit Chesterfield and we can announce now that undoubtedly one of the biggest artists in the world, Elton John and his band will bring their unforgettable live show to Chesterfield for one VERY special night next summer.

We can now tell you that the concert will take place at the B2net Stadium, home of Chesterfield Football Club on Saturday 9 June 2012. The fully reserved seated concert will give thousands of fans the opportunity to dance and sing along to his much-loved songs.

Elton John said, "Music is a wonderful gift and I feel very privileged to be able to share this with so many people around the world. I am thrilled that at long last I can bring my show to Chesterfield, I have never had the chance to play in this town before so I am excited to be the first performer to play at this fabulous stadium."

Elton will become the first ever artist to play the B2net Stadium. Chesterfield FC Chairman Barrie Hubbard said, "This is not only a big first for Chesterfield Football Club but is a first for the town as well. Our new B2net Stadium is really living up to its billing as North Derbyshire's premier entertainment venue and we are absolutely delighted that Elton John has agreed to include it as part of his World tour.

"I can't think of a better way to celebrate the full completion of the stadium next year, with the addition of all the community facilities, than by holding such an eye-catching event."

As one of the greatest and most successful live artists, his spectacular stage shows continue to leave the competition standing!

Elton will perform over two hours of hits from an incredible back catalogue, including such classics as 'Benny & The Jets', 'Crocodile Rock' and 'Your Song'.

Tickets for this show will go on sale this Friday, 30th September at 9am.

With a career that spans five decades, Elton John is one of the top-selling solo artists of all time with 35 gold and 25 platinum albums, 29 consecutive Top 40 hits and an amazing 250-million records worldwide as well as numerous Grammy, Oscars, Ivor Novello and Brit Awards.

With a career that has kept him at the top of the charts for nearly 40 years, his lifework has amalgamated into more than that of just a recording artist. Through a partnership with lyricist Tim Rice came the music for both the feature film and Broadway stage production of 'The Lion King.'

Elton also wrote the music for the stage production of 'Billy Elliot: The Musical' and more recently for the box office smash, 'Gnomeo & Juliet.' And just last year, Elton forged a collaboration with long-time musical hero, Leon Russell on the T Bone Burnett produced album, The Union.

His most recent project will open tonight in Las Vegas when Elton returns to The Colesseum Ceaser's Palace with this brand new show the 'Million Dollar Piano', billed as "a gargantuan feast of music and imagery".

Elton's September return will mark the beginning of a three-year residency at The Colosseum and his second as a Caesar's Palace headliner.

FULL EVENT TICKET DETAILS:

B2net Stadium, Chesterfield
Saturday 9th June 2012
Reserved seat tickets are priced £55.00 and £40.00. Premium tickets are also available.
(Tickets sold subject to booking fee)

Hotline numbers: 0844 847 2441, 0871 231 0835
On-line: www.ticketmaster.co.uk and www.seetickets.com

For details on hospitality packages call 01246 209 765

For more information visit: www.marshall-arts.com






RELATED STORIES
I'M STILL STANDING AFTER SIR ELTON ROCKS 'CHEZ VEGAS' -
It was THE event of the year in Chesterfield, over 12 months in the making and the result of much planning, preparation and purpose. More...
THE 'ROCKET MAN' PREPARES TO LAND -
The stage is set and, in less than 48 hours, Chesterfield will witness the biggest show to come to the town in years. More...
FINAL TICKETS RELEASED FOR ELTON JOHN AT THE B2NET -
With just over two weeks until the first ever show at the B2net Stadium, the final few tickets for Elton John have been released for sale to the general public. More...
COULD ELTON BE A SECRET SPIREITE -
Well-known football fan Sir Elton John will be taking two pieces of Chesterfield back with him when he performs at the b2net shortly. More...
MUSIC FESTIVAL CELEBRATES A DERBYSHIRE HERO -
Love, Life and Liberty: A celebration of Chesterfield's unique role in inspiring better places for people and the life of Raymond Unwin More...
2CELLOS TO SUPPORT ELTON JOHN AT THE B2NET -
Sir Elton John has announced that very special guests 2CELLOS will join him for his forthcoming live show this summer. More...
SUCH SWEET THUNDER -
Steve Steinhaus, the charismatic singer with the big personality who fronts both his Swing Band and the Dr Teeth Big Band, returns to Whitwell with his brand new show More...
MAGNETS ATTRACTED TO CHESTERFIELD -
They've performed with Blondie and at private parties for the likes of Hugh Grant and Elle McPherson - and now The Magnets are coming to Chesterfield. More...
600 FOLLOW FEROCIOUS DOG AT MUSIC FESTIVAL! -
Whitwell Forward Community Group and 4Ward Promotions have extended Whitwell Festival Of Music 2011 and attracted 23 top quality bands More...
DO YOU HAVE TALENT? -
For the third year running, the Mayor of Chesterfield will once again be hosting 'Chesterfield's Got Talent' and is looking for talented acts from across the Borough. More...
ON SONG FOR TOWN, CARL NEWTON -
A day of firsts at the B2net on Saturday - first home game of the season and the first unfurling of the Champions Flag - also the first time the new 'Town song' rang out across the terraces More...
A STAR IS BORN... AND SHE'S FROM CHESTERFIELD -
One young girl from Chesterfield says she has to pinch herself every single day after hitting the big time and with her band preparing to launch its first single, next month. More...
HARLEY HANSON PLAYS HARLEY'S BAR-
Harley Hanson, International Singer and Songwriter returns to his home town of Chesterfield to launch his music video's and CD "When My Guitar Crys" and to film for his new video. More...

Music Event Diary -
Here is the place to find the latest Live Music Gigs from around Chesterfield. More...