Monday 5th March 2012

'Such Sweet Thunder'. Steiny's Blues Tour hits the Whitwell Centre on Saturday 24th March 2012.

Steve Steinhaus, (below), the charismatic singer with the big personality, who fronts both his Swing Band and the Dr Teeth Big Band, returns to Whitwell with his brand new show, courtesy of Whitwell Forward Community Group and Live and Local.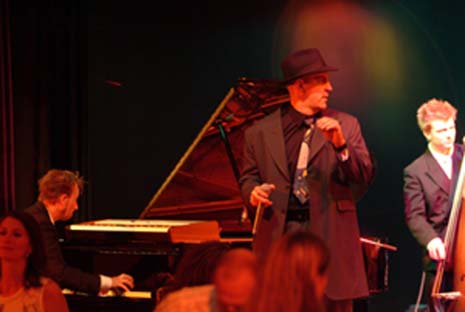 Supported by talented jazz musicians on drums, keys and sax, the show is bursting with energy as Steve, from Chicago, takes you on a fascinating musical journey through his life.

With infectious enthusiasm he weaves amongst the songs, anecdotes from his childhood in Chicago, his life as a bouncer, musician, poet, school teacher and as an American now living in England, adding entertaining stories and myths about his jazz and blues idols.

The show features jazz, blues, gospel songs and even Harlem Jazz Poetry, all brilliantly delivered by a fantastic showman with excellent musicians.

Ticket Information :
Adults £8.00 (advance) Concessions £6.00 (under 16s in advance)
Family £24.00 (2 adults & 2 under 16s in advance)
Show starts 8pm, Doors 7.30pm
Live and Local shows are supported by Derbyshire County Council, Bolsover District Council and The Arts Council England.

For further Information, Contact Wayne Hatton on 01909 721648 (home) or 01246 593064 (work) or email whatty010@aol.com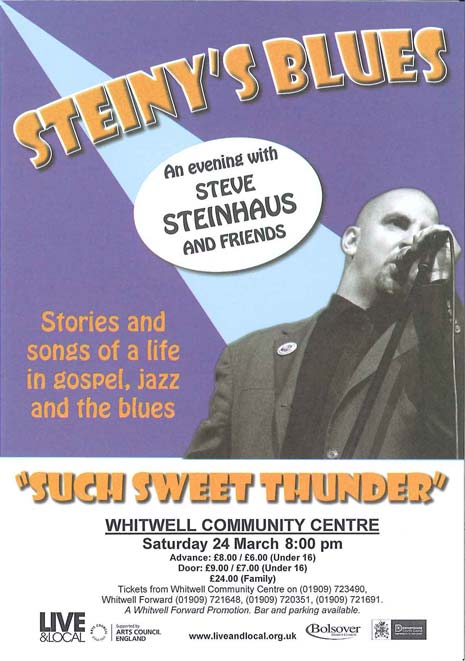 RELATED STORIES
LOCAL MUSICIANS TAKE TO THE BANDSTAND -
Local musicians will have a once-in-a-lifetime opportunity to take part in the largest closing cultural event of London 2012 on 9th September, thanks to Chesterfield Borough Council. More...
TAKE THE 7 PLAY THE WELLINGTON, NEW WHITTINGTON -
Take The Seven play at the Wellington, High Street, New Whittington, Chesterfield on Saturday 16th from 9pm More...
I'M STILL STANDING AFTER SIR ELTON ROCKS 'CHEZ VEGAS' -
It was THE event of the year in Chesterfield, over 12 months in the making and the result of much planning, preparation and purpose. More...
THE 'ROCKET MAN' PREPARES TO LAND -
The stage is set and, in less than 48 hours, Chesterfield will witness the biggest show to come to the town in years. More...
FINAL TICKETS RELEASED FOR ELTON JOHN AT THE B2NET -
With just over two weeks until the first ever show at the B2net Stadium, the final few tickets for Elton John have been released for sale to the general public. More...
COULD ELTON BE A SECRET SPIREITE -
Well-known football fan Sir Elton John will be taking two pieces of Chesterfield back with him when he performs at the b2net shortly. More...
MUSIC FESTIVAL CELEBRATES A DERBYSHIRE HERO -
Love, Life and Liberty: A celebration of Chesterfield's unique role in inspiring better places for people and the life of Raymond Unwin More...
2CELLOS TO SUPPORT ELTON JOHN AT THE B2NET -
Sir Elton John has announced that very special guests 2CELLOS will join him for his forthcoming live show this summer. More...
MAGNETS ATTRACTED TO CHESTERFIELD -
They've performed with Blondie and at private parties for the likes of Hugh Grant and Elle McPherson - and now The Magnets are coming to Chesterfield. More...
ELTON JOHN PLAYS CHESTERFIELD FC'S B2NET! -
Superstar Elton John will be the first ever artist to perform at the B2net when he plays there in Summer 2012. More...

600 FOLLOW FEROCIOUS DOG AT MUSIC FESTIVAL! -
Whitwell Forward Community Group and 4Ward Promotions have extended Whitwell Festival Of Music 2011 and attracted 23 top quality bands More...
DO YOU HAVE TALENT? -
For the third year running, the Mayor of Chesterfield will once again be hosting 'Chesterfield's Got Talent' and is looking for talented acts from across the Borough. More...
ON SONG FOR TOWN, CARL NEWTON -
A day of firsts at the B2net on Saturday - first home game of the season and the first unfurling of the Champions Flag - also the first time the new 'Town song' rang out across the terraces More...
A STAR IS BORN... AND SHE'S FROM CHESTERFIELD -
One young girl from Chesterfield says she has to pinch herself every single day after hitting the big time and with her band preparing to launch its first single, next month. More...
HARLEY HANSON PLAYS HARLEY'S BAR-
Harley Hanson, International Singer and Songwriter returns to his home town of Chesterfield to launch his music video's and CD "When My Guitar Crys" and to film for his new video. More...

Music Event Diary -
Here is the place to find the latest Live Music Gigs from around Chesterfield. More...