Wednesday 12th September 2012



The Vagina Monologues - Britain's funniest and sexiest show - comes to The Pomegranate, Chesterfield on 28th September at 7.30pm for ONE night only!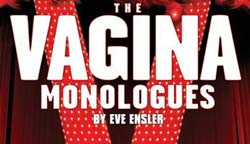 Strictly Come Dancing and Waterloo Road's popular performer, Chelsee Healey makes her stage debut in the tour of The Vagina Monologues, co-starring with Coronation Street's feisty and much loved Vicky Entwistle who played Janice Battersby for 15 years and Clare Buckfield who thrilled and charmed the nation when she skated through to the Dancing on Ice finals.

From Perthshire to Cornwall and counties between, Chelsee performs for the first five weeks of this extensive UK tour which runs from 24th September - 1st December.

This exciting, multi-talented cast gives voice to a chorus of lusty, outrageous, poignant, brave and thoroughly human stories. It is the ultimate girls' night out. A world-wide hit, from Broadway to the West End, this hilarious show will have you laughing one moment and crying the next.

To book tickets, call 01246 345 222 or visit www.pomegranatetheatre.co.uk.

"See it, even if you haven't got one" - John Peter, The Sunday Times.

Chelsee Healey wowed the viewing public in Strictly Come Dancing when she was the runner up in the recent competition. Playing Janeece Bryant in Waterloo Road since the first series, she is a familiar face on our screens.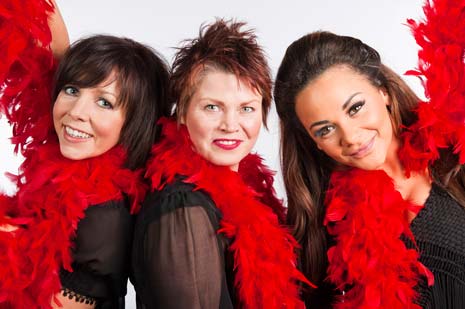 (l-r) Clare Buckfield, Vicky Entwhistle and Chelsee Healey in the Vagina Monologues, coming to Chesterfield on 28th September. Picture - David Jensen

Vicky Entwistle played Janice Battersby in Coronation Street for many years but is no stranger to the stage. Amongst her theatre credits she has been on a Hull Truck tour with Like a Virgin and has recently finished a UK tour of Funny Peculiar.

Clare Buckfield is a recent runner up on the hugely popular Dancing on Ice. Her career has encompassed work in both stage and screen beginning with Grange Hill and then 2.4 Children. Her theatre performances include the West End production of Summer Holiday and the acclaimed tour of the Menier Chocolate Factory's Little Shop of Horrors.
"Fresh, funny, beguiling" - The Daily Mail
The Vagina Monologues has always attracted a remarkable cast of national and international stars of the highest calibre. The West End run included such stars as Maureen Lipman, Sophie Dahl, Dannii Minogue and Jenni Éclair. On Broadway, the show has been performed by Glenn Close, Jane Fonda and Whoopi Goldberg.
"Warm, open, exciting, enchantingly funny, liberating" - The Sunday Times
Eve Ensler, the show's writer and creator, has become an inspirational figure throughout the world. Not only has she established the international women's charity V-Day, but she continues to work tirelessly to end violence and abuse suffered by women everywhere.

V-Day receives a portion of the ticket sales from each performance of The Vagina Monologues. Since 2001, the West End and touring productions of The Vagina Monologues have raised over £300,000 helping girls and women in this country to overcome abuse, rape and violence.

Last year Eve Ensler was awarded the Isabelle Stevenson Award, a special non-competitive Tony Award, in recognition of her humanitarian, social and charitable work, and the foundation of the V-Day movement.
"Theatrical genius" - The Times
RECENT STORIES
DÉDA LAUNCHES SEARCH FOR YOUNG DANCE STARS -
A Chesterfield-based youth contemporary dance company is holding auditions next month to give talented local youngsters the chance to develop their performance skills. More...
WIN A PAIR OF TICKETS TO ISLA ST CLAIR'S 'EYES FRONT' SHOW -
We have two tickets to give away to a wonderful 'Live and Local' event , organised by two local councillors - Shirley Niblock and Howard Borrell More...
PANTO SEASON BECKONS IN CHESTERFIELD...
OH YES IT DOES! -
The children may have just gone back to school but thoughts are turning to the festive season already - and that means Panto! More...
GET WED AT THE WINDING WHEEL! -
One of Chesterfield's premier venues is now licensed to hold wedding and civil partnership ceremonies. More...
ARE YOU A YOUNG DANCING HOPEFUL? READ ON... -
Derby-based Déda has teamed up with Chesterfield Borough Council and Dance4's (CAT), to launch a 2nd auditioned youth dance company - giving local young people the chance to develop their talents. More...
CHESTERFIELD'S YOUNG DANCERS SOUGHT FOR DANCE PROGRAMME -
Talented young dancers in Derby and Derbyshire are being urged to come forward for a chance to perform in a professional venue in front of 100s of people. More...
'BOUNCERS' AT THE POMEGRANATE - A NIGHT OUT, BUT NOT AS YOU KNOW IT!
We were promised laughter from start to finish on opening night - and we were not disappointed. More...
WIN 2 TICKETS FOR THE VAGINA MONOLOGUES -
A great, free competition to win 2 tickets to see the world famous show 'The Vagina Monologues', by Eve Ensler - at the Pomegranate Theatre on Friday 28th September More...
GROUNDFORCE FAIRY CHARLIE TO TACKLE FLESHCREEP -
There'll be a 'ground force' to be reckoned with on stage this Christmas when the nation's favourite gardener swaps her spade for a magical wand More...
JOSEPH DREAMS IN CHESTERFIELD -
In what's seen as a huge coup for Chesterfield, Keith and his company will be the first West End production show to perform at the town's Winding Wheel More...
CHOIR WARMS UP FOR CHESTERFIELD'S BIG PRODUCTION -
The final choir has now been selected for the hit show Joseph, which comes to the Winding Wheel in Chesterfield in May. More...
TRIBUTE TO POMEGRANATE THEATRE DIRECTOR -
A tribute to one of Chesterfield's most well known and loved artistic producers and directors, Colin McIntyre, took place on 9th March at the Pomegranate Theatre in Chesterfield. More...
CHESTERFIELD VEHICLE FIRM GIVES LYCEUM A THEATRE ON THE GO -
A mini mobile theatre project may soon be a star turn in Sheffield thanks to a local firm. More...
TICKET SALES BOOST FOR WEST END'S JOSEPH -
It's been announced that The West End production of Joseph, due to come to Chesterfield in May, is already proving popular - and that there is now local interest in the production too. More...
JOSEPH TRAVELS TO THE WINDING WHEEL -
The West End production of Joseph and the Amazing Technicolour Dreamcoat is coming to Chesterfield in May 2012 More...
PRICE INCREASE FOR CHESTERFIELD VENUES -
We've been informed that Chesterfield Borough Council has agreed to a small increase in ticket prices at the Pomegranate Theatre and the Winding Wheel. More...
ARKWRIGHT'S STORY RELIVED -
The unique history of this North East Derbyshire village has been brought to life as part of a community art and drama project. More...