Thursday 8th November 2012



We were promised laughter from start to finish on opening night - and we were not disappointed.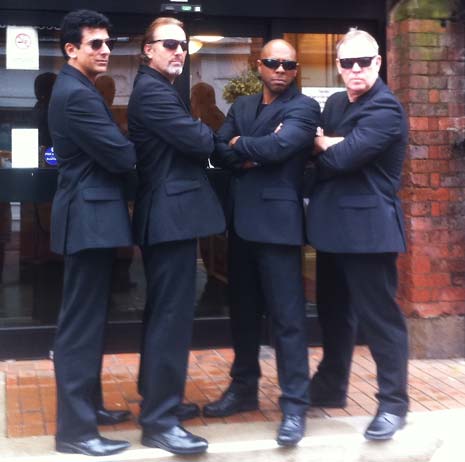 The four 'Bouncers' pose outside the Pomegranate - (l-r) Ace Bhatti, Ian Reddington, Don Gilet and William Ilkley

Four men, four white handbags and a couple of beer barrels hold centre stage at Chesterfield's Pomegranate Theatre this week - to STUNNING effect.

However Bouncers, written by John Godber, isn't what you might expect from the title.

Not a play about four macho men flexing their muscles at the doors of various drinking and dancing establishments around the identikit towns.

Not a theatrically licensed job description either.

It is simply the best part of 90 minutes of a wickedly observed, and cleverly woven, microcosm of events of one night out - from three points of view.

Four actors - Ian Reddington (Eastenders), Ace Bhatti (Spooks), Don Gilet (Eastenders) and William Ilkley (Hollyoaks) play four bouncers - 'Lucky' Eric, Ralph, Les and Judd.

In the course of time they also morph into four 'lads' - Kev, Baz, Terry and Jerry and, with just the props of handbags slung nonchalantly, four girls - Maureen, Elaine, Rosie and Suzie.

Describing the punters' journey through the hairdressers (not ones like you will ever have visited before), the pub crawl before arrival at the 'Asylum' - and the bouncers arrival at work and the build up to their job, John Godber and the cast pull off the seamless transition from character to character and in the process observe, entertain but also provoke thought on the consequences of what appears to be a fun, cobweb blowing Friday night jaunt, but one which has a seedy and dark side.

The 'fab four' in all parts are hugely engaging, portraying forms of 'dad' dancing, mincing and butch one-upmanship with equal skill and humour, but it's the nuances, the looks, the mimicry and the girlish giddiness which provokes guffaws and squeals of knowledgeable laughter from the packed stalls.

John Godber has surpassed himself with the descriptive one liners - describing the after effects of the inevitable drink filled couplings as seeing 'condoms scattered like dead smurfs' around the place.

There is however, as the play unfolds, a nod to the dark side of the night cloaked world - the 'seen it all' world-weariness of the 'Bouncers' as they predict the sights of the evening ahead and the wry 'debriefing' of their evening on the doors towards the end.

Interwoven through are the four soliloquies by Lucky Eric (Reddington) which capture the mind - calmly delivered, in a fierce spotlight mid stage. They describe the sad and drunken underbelly of the night club world - the young, underage girls dressing up and trying to be women without realisation of the consequences - and the advantage taking young men who prey like vultures on women so drunk as to be virtually unconscious and certainly non-consensual.

Modern music and recognisable ditties make this three-decade-old play modern, but I, like many, was taken back many years ago to the Aquarius and the memories of a mis-spent youth!

And that I guess, is the key to success of Bouncers - a look back down Memory Lane through the eyes of someone else, but with the clarity of mind and wisdom of age - a representation of our ability to laugh at our teen selves but - through the title roles - with a nod to adult moral caution.

Bouncers is there all week - I can heartily recommend buying a ticket.




'BOUNCERS'

Written by John Godber

Starring Ace Bhatti, Don Gilet, Ian Reddington and Bill Ilkley


Contact Pomegranate Theatre Box Office for ticket details.
RECENT STORIES
GINNY DAVIES APPEARS IN 'SOMETHING FISHY' AT HOLLINGWOOD HUB -
After her wonderful performance of 'Double Booked' last year, the Chesterfield Canal Trust is delighted to welcome Ginny Davis back to the Hollingwood Hub. More...
FORMER CHESTERFIELD THEATRE MANAGER REMEMBERED -
The Friends of Chesterfield Theatres have presented a framed photograph of Derek Coleman, which will be hung in the bar of the Pomegranate Theatre in memory of him. More...
DÉDA LAUNCHES SEARCH FOR YOUNG DANCE STARS -
A Chesterfield-based youth contemporary dance company is holding auditions next month to give talented local youngsters the chance to develop their performance skills. More...
WIN A PAIR OF TICKETS TO ISLA ST CLAIR'S 'EYES FRONT' SHOW -
We have two tickets to give away to a wonderful 'Live and Local' event , organised by two local councillors - Shirley Niblock and Howard Borrell More...
PANTO SEASON BECKONS IN CHESTERFIELD...
OH YES IT DOES! -
The children may have just gone back to school but thoughts are turning to the festive season already - and that means Panto! More...
GET WED AT THE WINDING WHEEL! -
One of Chesterfield's premier venues is now licensed to hold wedding and civil partnership ceremonies. More...
ARE YOU A YOUNG DANCING HOPEFUL? READ ON... -
Derby-based Déda has teamed up with Chesterfield Borough Council and Dance4's (CAT), to launch a 2nd auditioned youth dance company - giving local young people the chance to develop their talents. More...
CHESTERFIELD'S YOUNG DANCERS SOUGHT FOR DANCE PROGRAMME -
Talented young dancers in Derby and Derbyshire are being urged to come forward for a chance to perform in a professional venue in front of 100s of people. More...
WIN 2 TICKETS FOR THE VAGINA MONOLOGUES -
A great, free competition to win 2 tickets to see the world famous show 'The Vagina Monologues', by Eve Ensler - at the Pomegranate Theatre on Friday 28th September More...
STARS OF SCREEN COME TO TOWN WITH RENOWNED SHOW -
The Vagina Monologues - Britain's funniest and sexiest show - comes to The Pomegranate, Chesterfield on 28th September at 7.30pm for ONE night only! More...
GROUNDFORCE FAIRY CHARLIE TO TACKLE FLESHCREEP -
There'll be a 'ground force' to be reckoned with on stage this Christmas when the nation's favourite gardener swaps her spade for a magical wand More...
JOSEPH DREAMS IN CHESTERFIELD -
In what's seen as a huge coup for Chesterfield, Keith and his company will be the first West End production show to perform at the town's Winding Wheel More...
CHOIR WARMS UP FOR CHESTERFIELD'S BIG PRODUCTION -
The final choir has now been selected for the hit show Joseph, which comes to the Winding Wheel in Chesterfield in May. More...
TRIBUTE TO POMEGRANATE THEATRE DIRECTOR -
A tribute to one of Chesterfield's most well known and loved artistic producers and directors, Colin McIntyre, took place on 9th March at the Pomegranate Theatre in Chesterfield. More...
CHESTERFIELD VEHICLE FIRM GIVES LYCEUM A THEATRE ON THE GO -
A mini mobile theatre project may soon be a star turn in Sheffield thanks to a local firm. More...
TICKET SALES BOOST FOR WEST END'S JOSEPH -
It's been announced that The West End production of Joseph, due to come to Chesterfield in May, is already proving popular - and that there is now local interest in the production too. More...
JOSEPH TRAVELS TO THE WINDING WHEEL -
The West End production of Joseph and the Amazing Technicolour Dreamcoat is coming to Chesterfield in May 2012 More...
PRICE INCREASE FOR CHESTERFIELD VENUES -
We've been informed that Chesterfield Borough Council has agreed to a small increase in ticket prices at the Pomegranate Theatre and the Winding Wheel. More...
ARKWRIGHT'S STORY RELIVED -
The unique history of this North East Derbyshire village has been brought to life as part of a community art and drama project. More...