Monday 5th November 2012
Keith Brisland pic courtesy Rotherham Advertiser



If we asked you what Dave Allen, Owner and Chairman of Chesterfield Football Club and William Hague had in common, you might be stumped for an answer, however, one book, to be published on Friday, is about to reveal all!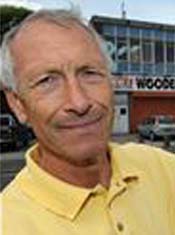 The Charade Nightclub - The untold story, is written by Rotherham Historian Keith Brisland, (left) and shares memories of those who worked at - and danced at - The Charades nightclub in Rotherham, which was the first club to be owned by Dave Allen and where his entertainment empire began. He has provided the foreward for the book and, Keith says, enjoyed sharing some forgotten memories of his time in charge.

The Chesterfield Post interviewed Keith earlier today and he told us that the book has been a labour of love and one he can't wait to see published.

Before it became a nightclub, the building, on the stag roundabout and now a dance school, was a jazz club. It was, says Keith, a small club holding 200 - but not unusual to have 300 in at weekends.

The music was cutting edge and innovative and it was unusually open 5 nights a week and Sunday afternoons. It is fondly remembered in Rotherham and is viewed as ahead of its time.

It certainly seemed to capture the imagination of the locals and Keith added that all interviews have been recorded and will go into Rotherham's archives for posterity.

Keith has interviewed Dave's 3 managers and some of his staff - along with 10 DJ's, bar staff and doormen and those from bands who played there.

Dave Allen purchased the club in the latter part of 1968, before Josephine's in Sheffield - as he was running portable nightclubs with his partner John Stead, just one-offs at venues.

They went to see Nobby Clark who owned it as the Jazz club and asked if they could run a disco on there on Friday nights and Dave, rather then splitting the money with Nobby, asked if they could have the money on the door with Nobby keeping the bar takings - knowing full well that they'd make more that way! It quickly took off and people were queuing to get in - mainly because, says Keith, it had a bar.

After a few weeks Dave asked Nobby what he thought about the venture and Nobby said he hated the music and was thinking of selling the lease! Dave asked how much it was worth and was told he couldn't afford it, but on finding out that £3,000 was the asking price, promptly borrowed money from friends and family to buy it - with his house up for collateral. The rest, as they say, is history.

"It was so popular", recounts Keith, "that in '69, they only advertised 4 times, it simply spread through word of mouth. There were offices at the back but the dance floor couldn't be extended due to the drop ceiling, so that was where A&S Leisure began, basing itself there for 3 years before moving to Sheffield.

"There were some notable attendees there through the years - William Hague's older sisters used to go there, as his family supplied all the drinks to the Dave Allen empire of nightclubs (see, we told you!) and Sir Norman Bettison, disgraced Chief Constable of West Yorkshire used to go before becoming a policeman. Bob Marley's driver and several Miss World's were also known to drink there."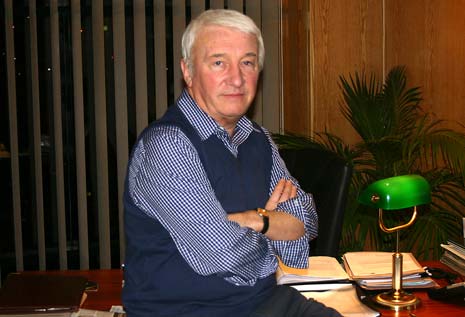 All those that Keith interviewed have fond memories of Dave (above) and "thought the world of him" says Keith. "He was a tough boss but very much respected, with a 'unique' style of management."

"Having sacked one of his DJ's for being late, Dave wasn't happy when he promptly caused the exodus of punters to a rival venue for a short time before they came to an agreement, which meant that the 'Co-op club' would play different styles of music on different nights to 'The Charades' which was good for the area."

Everyone that Keith spoke with could remember when Dave set them on and could remember exactly how they were set on, "They'd just be having a conversation and he'd set them on - or fire them!"

Keith added, "They all liked him and the impression I got was that he gave them a lot of leeway - if they did things properly and got people in the club, they were fine, but if he wasn't happy then he let them know! There were certain boundaries that they couldn't go over but he tended to leave them to it if the club was full."

The book is out this Friday, but is available to order at bookshops now.
OTHER STORIES
£60 TRAINING DISCOUNT FOR DERBYSHIRE'S YOUNG DRIVERS -
To the relief of many a parent in Derbyshire, cut-price training that helps 17-20 year olds to become better drivers is now being offered by Derby and Derbyshire Road Safety Partnership. More...
SANTA CLAUS CRUISE WITH CHESTERFIELD CANAL TRUST -
Ahead of his very busy period, Santa took time out to visit Tapton Lock to meet a host of VIPs on Saturday and to publicise the Chesterfield Canal Trust's Santa Special cruises. More...
TRAINING PROVIDER EXPANDS -
Leading national training provider TBG Learning is expanding its services across Derbyshire following a major contract win, which is one of the first of its kind in the country. More...

ASH WOODLAND LOCATIONS PLEA -
People are being asked to notify the Peak District National Park Authority if they have planted any ash trees in the past six years, and to choose alternatives to ash in any new tree-planting More...
CHESTERFIELD REMEMBERS -
Chesterfield's veterans shared their private memories of war on the most public of occasions, The 11th day of the 11th month and by sleight of the calendar, Remembrance Sunday. More...
TOURISM ON THE UP IN CHESTERFIELD -
Chesterfield Chiefs are delighted after latest tourism figures for Chesterfield show the town is growing in popularity as a place to visit. More...
BABY LUV SHINES IN CHESTERFIELD -
Chesterfield continues to enjoy both consumer and company retail confidence - high profile arrivals of Debenhams and Hawkshead seem to evidence that - and 'baby luv' is the latest new arrival in town. More...
MILLER HOMES EXTEND PORTFOLIO INTO EAST MIDLANDS AND CHESTERFIELD -
Miller Homes East Midlands has announced plans to launch four new housing developments in 2013 meaning potential new jobs for contractors in Chesterfield. More...
CHESTERFIELD YOUNGSTER UP FOR AWARD -
Scott Smith, 16, from Chesterfield, who has turned his life around with help from youth charity The Prince's Trust, has been nominated for a prestigious royal award. More...
A DAY TO REMEMBER-
Chesterfield's Civic Remembrance Service will take place on Sunday, 11th November, at the Parish Church, starting at 2.30pm followed by a parade to the War Memorial on Rose Hill More...
EAST MIDLANDS TRAINS SUPPORT 2012 POPPY APPEAL -
As the country gears up to remember those that have made the ultimate sacrifice in war, East Midlands Trains will also be helping to support the 2012 Poppy Appeal. More...
BUY A POPPY POEM -
In 1984, a local man wrote an inspiring poem encouraging people to think about the horrors of war and of buying a poppy. With Remembrance Day approaching, we publish it in full here More...
YOUNG BUSINESSMEN DRIVE CHESTERFIELD FORWARD -
There has been a sharp increase in young director appointments during the first half of the year in Chesterfield, according to the latest Duport Report. More...
WHAT HAS DERBYSHIRE EVER DONE FOR THE WORLD? -
Hear the word 'Derbyshire' and most think of the beautiful Peak District, but one particular river valley has contributed far more to the history of the world than you might think. More...
NEW JOBS AT NEW ALDI IN KILLAMARSH -
Jobseekers are invited to a recruitment open day to find out more about job opportunities being created at the new Aldi store in Killamarsh. More...
WEIGHT LOSS IS A FAMILY AFFAIR FOR CHESTERFIELD MUM AND SON -
A mother and son from Chesterfield are celebrating after losing 5 and a half stone between them. More...
A FALCON AND A PUPPY TAKE UP RESIDENCE IN CHESTERFIELD -
The Yards shopping area in Chesterfield's town centre is now home to a falcon and a puppy More...
NEW 'VENTURE FOR ADVENTURE' LAUNCHES IN CHESTERFIELD -
Despite the continued grim economic forecast, Chesterfield is still seen as a vibrant and viable centre for retail outlets. More...
UP TO 90 DAYS GROSS PAY FOR FORMER WAVERLEY TBS EMPLOYEES -
Local residents who lost their jobs after the sudden closure of a Chesterfield company are being urged to make sure they have the correct information on their rights. More...
WINGFIELD VICTORIAN RAIL STATION ON UK ENDANGERED LIST -
Wingfield Railway Station in Derbyshire, has been included on the Victorian Society's list of the ten most endangered buildings in England and Wales. More...
AVERAGE OF 35,000 CHILD ABUSE IMAGES FOUND EVERY DAY -
The NSPCC is calling for urgent action to stamp out the illegal trade in child abuse images, after figures revealed that nearly 26 million have been confiscated in the last two years. More...
DO YOU OWN A TOYOTA? -
You may want to read on after the company issued a statement earlier today regarding the recall of some of their vehicles. More...
GOING UNDERGROUND WITH PUBSTOPS IN CHESTERFIELD -
As part of what is an innovative and creative project Chesterfield now has its own 'tube style' map of its pubs and drinking holes. More...
CHESTERFIELD IS BLOOMING! AWARDS NIGHT AT RINGWOOD HALL -
Various schools, organisations and keen gardeners have done the town proud by scooping awards in a prestigious nationwide competition. More...