Monday 12th November 2012



They came to remember and, in scenes replicated across the UK, Chesterfield's veterans shared their private memories of war on the most public of occasions - The 11th day of the 11th month and by sleight of the calendar, Remembrance Sunday.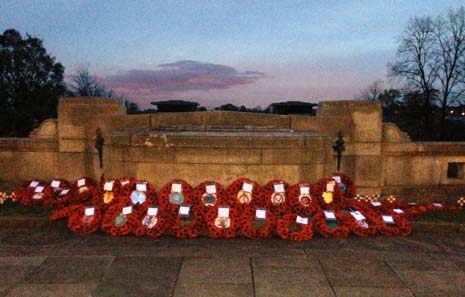 "At the going down of the Sun and in the morning, we will remember them " - wreaths laid at the Chesterfield War Memorial

At 11am, the town came to a standstill as villages, shops and supermarkets observed one minute's silence to honour the fallen of many wars. Services of Remembrance were also held at various points across Chesterfield and North East Derbyshire throughout the day - with more taking place in the evening.

On Sunday afternoon, a cold but bright Autumn day, The Mayor and Mayoress of Chesterfield, along with other Councillors, and dignitaries including The Lord Lieutenant of Derbyshire, William Tucker, and the Duke of Devonshire, led a parade through town and attended Chesterfield's Service of Remembrance at the Crooked Spire.

The church was full as Cadets, Scouts and representatives of the St John's Ambulance also turned out to pay their own tributes.

During the service, conducted by the Chaplain of St Mary and All Saints, Canon Rev Michael Knight, hymns including 'All people that on earth do dwell', 'O worship the King' and 'Through the sight of sound and sorrow' were sung and prayers said for the continued safety and support for troops, their families and the organisations that help them.

The reading was St Matthew 5. 1:12, and the Address was given by the Mayor's Chaplain, Reverend Richard Harris.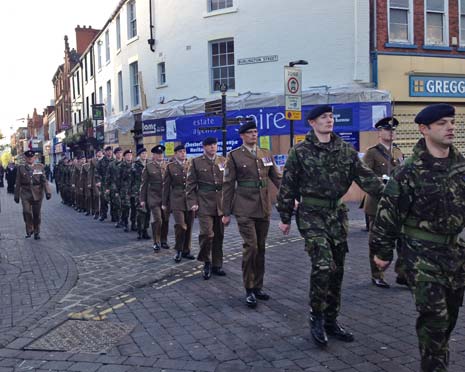 The congregation left church and, watched by hundreds of residents who lined the streets, made their way to the War Memorial on Rose Hill where wreaths were laid by The Lord Lieutenant, The Mayor - along with the Duke of Devonshire (pictured below) and MP for Chesterfield, Toby Perkins. Veterans and cadets also took part, observing a two-minute silence and then laying their own tributes in front of the Town Hall.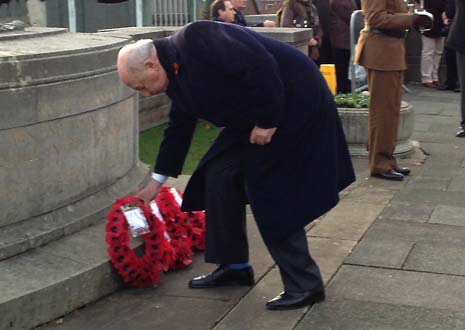 The Duke of Devonshire lays a wreath at the Chesterfield War Memorial on Rose Hill

Afterwards, the Chesterfield Post spoke with a representative from The Royal British Legion, and a serving officer, who told us just how important today, is for, both of them.

Firstly we spoke with Captain Colin Whitehead of the 9/12th Royal Lancers who was at the service and he told us he was very proud of the support on the streets today, "I'm particularly proud of Chesterfield as it's my home town and only last year, we received the Freedom of The Borough of Chesterfield. It was a particularly poignant event and a real privilege to be here.

"It's good to see people wearing poppies around this time and supporting us. I think over recent years, the public have generally been proactive in supporting the Armed Forces and it's really heart warming.

"For someone of my era, and with our time in Afghanistan, it's quite personal, particularly seeing the losses we have and the injured soldiers and, definitely for the families, the support they receive as well is great."

Captain Whitehead also filled us in on what was happening with the 9/12th Royal Lancers at the moment, "We're still stationed in Hohne and it's been a long haul but we're going to amalgamate with the Queen's Royal Lancers in 2015. It's not such a bad thing if ever there was a match to be made. There was the match to make and we'll embrace that, understanding there has to be cutbacks in the British Army. We're all positive and looking forward to that."

But links to Chesterfield will stay strong, "I came back up here in February and had the privilege of staying up here for a few drinks. I think post operational tour, April 2014 you may see us return for a Homecoming Parade."

Joe Roberts is a familiar face around town and is a passionate member of the Royal British Legion in Chesterfield. Having been involved in the Poppy Appeals for many years, he was thrilled that today, Chesterfield people had, once again, turned out in their droves to support the Veterans and Service Personnel. He told us, "We seem to get more coming each time and it's touching. I wasn't in conflict, but it's dawned on me the last two decades what it actually means.

"There are young men and women doing so much under great stress and I think it's coming to light what it does - not just to your body but to your mind. I think these people deserve the recognition that they get.

"Today was a typical example of just what we owe. There were thousands here today and that was a sign that we believe in them. My message to those serving in the Forces is to say 'Keep up the good work and, if you need any help, The British Legion will be with you'."
OTHER STORIES
SANTA ARRIVES AT CHESTERFIELD CO-OP IN RED HOT VINTAGE FIRE ENGINE -
Santa Claus arrived in style at the Midlands Co-op on Elder Way, Chesterfield vin a vintage Fire Engine rather than his usual reindeer-drawn sleigh More...
CHESTERFIELD AUTO REPAIR BUSINESS COMPLETES DEAL -
Chesterfield-based ADR (Accident Repair Centres) has been sold to AutoRestore Limited to create a new fixed and mobile repair business. More...
BUSINESS LOAN BOOST FOR CHESTERFIELD CREATIVE -
Mat Wood had his first tattoo at 17, now 5 years later, he's adorned from head to toe with some impressive and colourful artwork and now opened his own tattoo studio in Chesterfield. More...
HOLIDAYS ARE COMING, HOLIDAYS ARE COMING... TO CHESTERFIELD! -
The clocks have gone back, the nights are drawing in and one of the most famous and much loved TV commercials is on our TV screens. It can only mean one thing… Holidays Are Coming to Chesterfield! More...
£60 TRAINING DISCOUNT FOR DERBYSHIRE'S YOUNG DRIVERS -
To the relief of many a parent in Derbyshire, cut-price training that helps 17-20 year olds to become better drivers is now being offered by Derby and Derbyshire Road Safety Partnership. More...
SANTA CLAUS CRUISE WITH CHESTERFIELD CANAL TRUST -
Ahead of his very busy period, Santa took time out to visit Tapton Lock to meet a host of VIPs on Saturday and to publicise the Chesterfield Canal Trust's Santa Special cruises. More...
TRAINING PROVIDER EXPANDS -
Leading national training provider TBG Learning is expanding its services across Derbyshire following a major contract win, which is one of the first of its kind in the country. More...

ASH WOODLAND LOCATIONS PLEA -
People are being asked to notify the Peak District National Park Authority if they have planted any ash trees in the past six years, and to choose alternatives to ash in any new tree-planting More...
TOURISM ON THE UP IN CHESTERFIELD -
Chesterfield Chiefs are delighted after latest tourism figures for Chesterfield show the town is growing in popularity as a place to visit. More...
BABY LUV SHINES IN CHESTERFIELD -
Chesterfield continues to enjoy both consumer and company retail confidence - high profile arrivals of Debenhams and Hawkshead seem to evidence that - and 'baby luv' is the latest new arrival in town. More...
MILLER HOMES EXTEND PORTFOLIO INTO EAST MIDLANDS AND CHESTERFIELD -
Miller Homes East Midlands has announced plans to launch four new housing developments in 2013 meaning potential new jobs for contractors in Chesterfield. More...
NEW BOOK SHOWS WHERE IT ALL BEGAN FOR SPIREITES OWNER DAVE ALLEN -
If we asked you what Dave Allen, Owner and Chairman of Chesterfield FC and William Hague had in common, you might be stumped for an answer, but a new book is about to reveal all! More...
CHESTERFIELD YOUNGSTER UP FOR AWARD -
Scott Smith, 16, from Chesterfield, who has turned his life around with help from youth charity The Prince's Trust, has been nominated for a prestigious royal award. More...
A DAY TO REMEMBER-
Chesterfield's Civic Remembrance Service will take place on Sunday, 11th November, at the Parish Church, starting at 2.30pm followed by a parade to the War Memorial on Rose Hill More...
EAST MIDLANDS TRAINS SUPPORT 2012 POPPY APPEAL -
As the country gears up to remember those that have made the ultimate sacrifice in war, East Midlands Trains will also be helping to support the 2012 Poppy Appeal. More...
BUY A POPPY POEM -
In 1984, a local man wrote an inspiring poem encouraging people to think about the horrors of war and of buying a poppy. With Remembrance Day approaching, we publish it in full here More...
YOUNG BUSINESSMEN DRIVE CHESTERFIELD FORWARD -
There has been a sharp increase in young director appointments during the first half of the year in Chesterfield, according to the latest Duport Report. More...
WHAT HAS DERBYSHIRE EVER DONE FOR THE WORLD? -
Hear the word 'Derbyshire' and most think of the beautiful Peak District, but one particular river valley has contributed far more to the history of the world than you might think. More...
NEW JOBS AT NEW ALDI IN KILLAMARSH -
Jobseekers are invited to a recruitment open day to find out more about job opportunities being created at the new Aldi store in Killamarsh. More...
WEIGHT LOSS IS A FAMILY AFFAIR FOR CHESTERFIELD MUM AND SON -
A mother and son from Chesterfield are celebrating after losing 5 and a half stone between them. More...
A FALCON AND A PUPPY TAKE UP RESIDENCE IN CHESTERFIELD -
The Yards shopping area in Chesterfield's town centre is now home to a falcon and a puppy More...
NEW 'VENTURE FOR ADVENTURE' LAUNCHES IN CHESTERFIELD -
Despite the continued grim economic forecast, Chesterfield is still seen as a vibrant and viable centre for retail outlets. More...
UP TO 90 DAYS GROSS PAY FOR FORMER WAVERLEY TBS EMPLOYEES -
Local residents who lost their jobs after the sudden closure of a Chesterfield company are being urged to make sure they have the correct information on their rights. More...
WINGFIELD VICTORIAN RAIL STATION ON UK ENDANGERED LIST -
Wingfield Railway Station in Derbyshire, has been included on the Victorian Society's list of the ten most endangered buildings in England and Wales. More...
AVERAGE OF 35,000 CHILD ABUSE IMAGES FOUND EVERY DAY -
The NSPCC is calling for urgent action to stamp out the illegal trade in child abuse images, after figures revealed that nearly 26 million have been confiscated in the last two years. More...
DO YOU OWN A TOYOTA? -
You may want to read on after the company issued a statement earlier today regarding the recall of some of their vehicles. More...
GOING UNDERGROUND WITH PUBSTOPS IN CHESTERFIELD -
As part of what is an innovative and creative project Chesterfield now has its own 'tube style' map of its pubs and drinking holes. More...
CHESTERFIELD IS BLOOMING! AWARDS NIGHT AT RINGWOOD HALL -
Various schools, organisations and keen gardeners have done the town proud by scooping awards in a prestigious nationwide competition. More...