Monday 14th November 2011


Nine-year-old Emily Salmon didn't panic when her mum fainted in the bathroom, she put her in the recovery position and raised the alarm.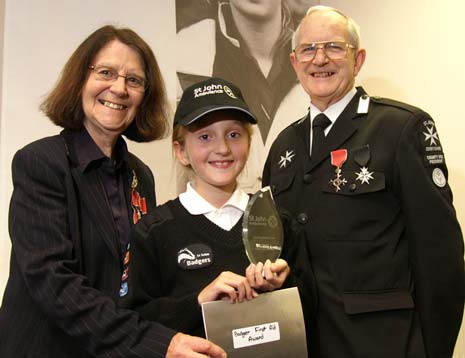 Emily Salmon receives her award from Doctorrs Jill and Tony Bethell

And just weeks later - during a trip to Toys'R'Us as a reward for her quick actions - Emily (above) used her first aid skills again when a young boy collapsed with hypoglycemia. 

And, this week, Emily, of Walton, won official recognition for her actions when she was presented with the Badger First Aid prize at Derbyshire's first ever St John Ambulance Youth Awards.

The evening, at county headquarters in Derby Road, Chesterfield, recognised outstanding members of St John Ambulance's youth organisations: Badgers (age 5-10) and Cadets (age 10-17).

County Cadet of the Year is Martin Crompton (15) of Loundsley Green, who won the honour during a day of activities in which contenders were put through their paces.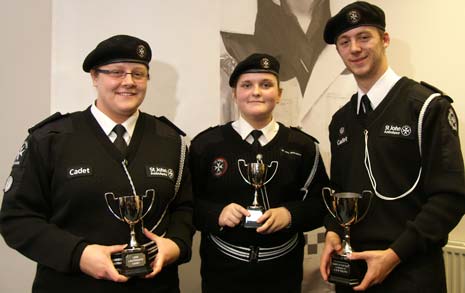 County Cadets of the Year (l to r): Jayne Williams, Shannon Herberts and Martin Crompton

Martin joined St John Ambulance nine years ago and has already achieved his Grand Prior award. He was able to put his skills into practice when a friend suffered a serious knee injury during a football game.

The county accolade means a lot to Martin, who also takes part in first aid competitions with his team from Chesterfield Quad: "I like competing, but I come second every time - finally I've won something!" he said.

"I really enjoy being a Cadet, you're always learning new things and it gives you skills that can actually save a life. I want to be a teacher eventually and I think this will give me an edge."

Deputy County Cadet is Shannon Herberts (15) of Glapwell and Lord Lieutenant's Cadet is Jayne Williams (17) of Pleasley. Badger of the Year is Lara Cocking (age10) of Pleasley.

Principal Youth Officer Carl Makins said picking the winners had been a tough job: "The entries were extremely strong, and it was heartwarming to read about people who give hours and hours of their time over the years."

Chair of St John Ambulance Derbyshire, Dr Cheryle Berry, said: "I'm immensely proud to be here tonight. What we've seen is the family of St John in action and I pay huge tribute to you all. Without you all, the lives of people in Derbyshire would not be as good or as safe.

"It's clear this evening that the future of youth in this county is in extremely good hands."

Other youngsters singled out for honours included:
Luka Burrell (aged 9) of Parkhouse Division near Clay Cross, who was named Caring Badger of the Year;

Ryan Smith of Staveley (aged 15) - Active Cadet;

Huw Stacey (aged 13) of Bolsover - Cadets' Cadet

Lauren Smith (aged 16) of Glapwell - Community Cadet.

Badger Set of the Year went to Bolsover; Cadet Unit to Glapwell; Division of the Year to Pleasley; and the Youth Leader award to Bridget Mullarkey of Staveley.

The oldest winner was Ernie Maycock, aged 80, of West Park in Chesterfield, who was presented with the Lifetime Achievement Award for his services to St John Ambulance youth.

To learn more about the youth awards or St John Ambulance youth groups in Derbyshire, contact Carl Makins on (01246) 200 272.
RECENT STORIES
NEW YEAR CELEBRATIONS CRITICAL FOR EMAS -
As predicted, the New Year brought a challenging time for East Midlands Ambulance Service, who were busy responding to people who needed help More...
EMAS WARNS 'DON'T START 2013 IN AN AMBULANCE' -
East Midlands Ambulance Service NHS Trust (EMAS) is preparing for New Year's Eve with a plea to those celebrating to start 2013 safe and well. More...
LEARN HOW TO SAVE A LIFE THIS SEPTEMBER -
St John Ambulance, the nation's leading first aid charity, is again running its 'Save a Life September'. More...
CHERYLES MARATHON FUNDRAISER FOR ST JOHN AMBULANCE -
Clay Cross woman Cheryle Berry has completed this year's London Marathon in aid of St John Ambulance - and hopes to raise at least £2,000. More...
BOLSOVER CADETS WIN ROYAL RECOGNITION -
Two Bolsover St John Ambulance Cadets have won royal recognition for their achievements during an official reception at Buckingham Palace.
More...
LESSONS IN LIFE SAVING THANKS TO £500 AWARD -
Young first aiders in Clay Cross will be able to learn vital life-saving techniques thanks to a £500 award from the Mansfield Building Society's Community Support Scheme. More...
CAROL CLOCKS UP 25 YEARS WITH BOLSOVER BADGERS -
Cadet Carol Owen was just 19 when St John Ambulance launched its Badger movement for the under 10s - and this week she led the group's 25th anniversary celebrations. More...
ST JOHN AMBULANCE PREPARES FOR WINTER -
St John Ambulance staff and volunteers in Derbyshire are now busy making preparations to support the emergency services More...
CHESTERFIELD VOLUNTEER RECEIVES TOP HONOUR -
Ken Cook, a leading influence within St John Ambulance Derbyshire over the past decade, has been honoured with investiture as a Commander of the Order of St John More...
FIRST AIDER'S LIFE SAVING SUPPORT FOR CHARITY -
A routine 'First Aid At Work' course proved to be a life-changer for Chesterfield banker Ian Boston who became a volunteer for St John Ambulance More...
LIFE SAVERS TAKE TO THE STREETS -
Chesterfield's new 'street pastors' will be equipped with life-saving skills when they take to the town centre next month - thanks to St John Ambulance. More...
PUTTING THEIR SKILLS TO THE TEST -
St John Ambulance members from across Derbyshire put their skills to the test last weekend in a bid to become county champions. More...
FESTIVE SAFETY
TIPS -
With the Big day nearly upon us, St John Ambulance in Derbyshire has issued some festive tips to help people enjoy an injury-free Christmas and New Year. More...
MOVING ON... -
After three years in post, one of the St John's Ambulance most respected members has retired from his role as Chair of Council. More...
DRUMMING UP SUPPORT FOR LOCAL BAND -
Local musician Claire Atack is drumming up support and trying to secure the future of one of the area's longest-established brass bands. More...
VOLUNTEERS RAISE £600 - Derbyshire volunteers who staged a six-hour sponsored first aid marathon raised £600 for the charity that taught them. More...
Volunteers at a Charity's Chesterfield HQ took part in a six hour fundraiser today.
St John's Ambulance members in the town held a sponsored resuscitation event to raise cash for the branch. More...
DO YOU KNOW HOW TO SAVE A LIFE -
Now, if you're planning to visit any of the shows, matches or carnivals around in Chesterfield this summer you may come across the St John's Ambulance Service there... More...