Tuesday 21st September 2010

PANTHERS 1st XV 17 - 22 TUPTON 1st XV

Panthers lost to their local rivals Tupton much to the obvious delight of the opposition supporters.

Despite missing several key players Panthers could have won this game and can not use this as an excuse.

The loss was even more difficult to take given the nature of the home side's rather inept performance. Mis-timed tackles, dropped passes, failure to catch high kicked ball and a host of infringements took their toll.

The only highlight of the match was a great solo try from Tom Arnold who was deservedly Panthers man of the match.

As it was Tupton played to their strengths and their endeavor and well worked game plan came to fruition. Credit to them!

Panthers points came with tries from Rob Collins and Tom Arnold plus two conversions and a penalty from Antony Barnett.


PANTHERS 2nd XV 29 - 15 TUPTON 2nd XV

A strong performance from the Second team saw them gain a little revenge for the league defeat suffered by the Firsts.

Tries from Eddie Williams (2), Matt Simms, Mark Wilson and James Fletcher along with two Liam Allford conversions clocked up the Panther's points


ASHFIELD (U17s) 25 - 8 PANTHERS (U17s)

Chesterfield travelled to local rivals Ashfield for their first league encounter of the season and came away a disappointing second.

Ashfield took the lead with a fifth minute try followed by a penalty.

Chesterfield's Steve Rawson broke through the home side's defence to reduce the arrears, but Ashfield scored again to lead 13 - 5 at half time. Ashfield scored a try after the break to increase their lead over the Panthers.

A Sam Curry penalty gave the visitors hope, but a further try and conversion by the home side put the result beyond doubt.

Man of the Match was Jake Hampson.


DONCASTER (U14s) 0 - 24 PANTHERS (U14s)

Chesterfield got off to a promising start in their first game of the season, running in four tries whilst keeping a clean sheet.

In a tight first half, Panthers showed some excellent defensive work as they withstood strong pressure from a lively Doncaster side and then took the lead with a Matt Lamin try to go in five points up at half time.

The second half was a different story as two further tries from Lamin stretched the lead. James Marshall rounded off a great team performance by scoring under the posts following a scorching individual run from the back of a maul. With two conversions from Alistair Taylor completing the scoring the Panthers finished quite comfortable winners and look forward to another successful season.


PANTHERS (U13s) 5 - 40 DONCASTER (U13s)

A tough fixture to start the season saw the Panthers lads come second to a strong Doncaster team.

Up against a much larger pack, the scrum performed well taking several strikes against the head and with an outstanding performance from Matt White who tackled all round the pitch. Sadly a lack of fitness and a number of missed tackles allowed the visitors to take control of the game and the result was never really in doubt.

The Chesterfield try came from Joe Heath.

Man of the match, with an overall consistent game at scrum half was Guy Bassett.


ROTHERHAM (U12s) 30 - 0 PANTHERS (U12s)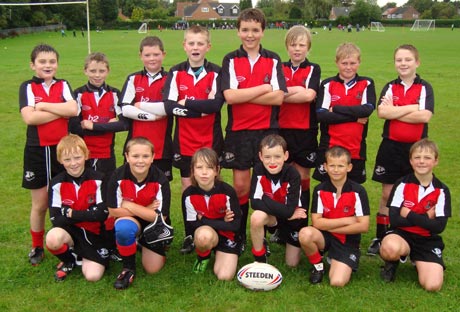 Panthers travelled to Rotherham for their first competitive outing of the season with a number of new players and despite a brave effort came out second best to a strong and well drilled Rotherham team.

Several crunching tackles from Sam Dawson at full back and some strong running from Finlay Milne earned the split vote for man of the match.

Pictured (above) after the game, the team were not disheartened and look forward to a successful season.


ROTHERHAM (U10s) 0 - 30 PANTHERS (U10s)

The miserable wet and blustery conditions failed to dampen the enthusiasm of the Panthers team as they ran in six tries without conceding any to record a good victory in their opening fixture of the season.
RECENT STORIES
MATCH REPORTS, 6th - 7th NOV 2010 -Chesterfield made the long journey to Grantham for their latest league encounter and put in a creditable performance, although the score-line doesn't reflect their dominance. More...
MATCH REPORT -
U14's v ASHBY
31st OCTOBER -
There were no Halloween horrors as an excellent team performance from the Panthers brought a well-deserved victory. More...
WORK BEGINS ON NEW RUGBY GROUND -
Work has begun on the Chesterfield Panthers RUFC's new ground at Dunston after a "First Sod Turning" ceremony was held last week More...
MATCH REPORTS, 16th - 17th OCT 2010 -
With the long journey to the West Midlands for this National Vase game, the Panthers team took to the field without time to warm up, reflecting in their first half performance. More...
MATCH REPORTS, 9th - 10th Oct 2010 -
Panthers played host to a good, well organized side from Boston and a high scoring game ensued. More...
MATCH REPORTS, 2nd - 3rd OCT 2010 -
Panthers lost to Belper in this away league game with the players and spectators wondering how? More...
A WHIZZ-BANG FRIDAY NIGHT PROMISED-
Friday evening (1st Oct) will see the Club putting on a firework display that will light up the sky in the neighbourhood... More...
MATCH REPORTS, 25th - 26th SEPT 2010 -
Panther's second team manager Mark Blair was delighted to have a squad of 26 players for this home game with Hope Valley. More...
MATCH REPORTS, 11th - 12th SEPT 2010 -
Panthers travelled to the seaside for their first league game of the season and ran out comfortable winners in a high scoring game. More...
LAND BOUGHT FOR NEW FACILITIES -
Chesterfield Panthers Rugby Union Football Club is pleased to announce the acquisition of land at Dunston... More...