Monday 18th October 2010

ALDRIDGE 1st XV 11 - 26 PANTHERS 1st XV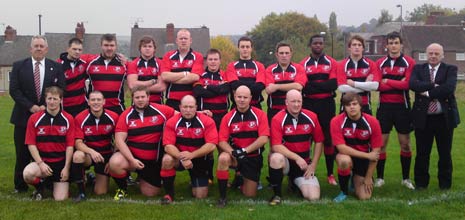 The Panthers in their new strip prior to the victory over Aldridge

With the journey to the West Midlands for this National Vase game made even longer by major road works and diversions, the Panthers team took to the field without any time to warm up and this was reflected in their first half performance.

With little cohesion and poor application it looked for a while that the trip would have been fruitless. As it was, urged on by Captain Malc Wellor and with some tenacious tackling and ground work from Ricky Poulter, they dug in and ground out a victory.

Man of the match Rob Collins organized the back line to produce the tries and in the end the Chesterfield side was in total control.

Tries for Chesterfield came from David Simms, Rob Collins, Richard Cooke and Kyle Gambles. Ant Barnett kicked three conversions.


LONGTON LADIES 14 - 34 PANTHERS LADIES


A rewarding result for the Ladies side as they settle into their higher league status.

A strong team performance brought a victory to put them mid table after two games.


PANTHERS (U17's) 38 - 11 EAST RETFORD (U17's)


Chesterfield took on East Retford at Stonegravels in this league encounter and recorded a creditable victory.

The home side started the game with a "we must win attitude", and it showed as Marcus Walker picked up the ball from the scrum and crashed over the line for the first try of the match.

After conceding a penalty, Panthers stretched the lead as Dillon Samuels ran in a try and then great work by the forwards set up Jordan White to score under the posts and Chesterfield led 19 - 3 at half time.

The second half saw further tries from Curry and Walker before East Retford came back briefly to score a try and a penalty.

Greg Hopkinson then broke through the visitors defence to score the Panthers final try. Sam Curry kicked three conversions and Jack Heath one to complete the scoring.
Man of the Match was Sam Parkes.
MARPLE (U14's) 26 - 19 PANTHERS (U14's)

Chesterfield were unlucky not to come away with at least a draw in this thrilling game between two equally matched sides.

Under immediate pressure from the kick off, Panthers went seven points down after only two minutes. Marple went further ahead from a scrum in front of the posts when their No.8 picked up and crashed over the line for a converted try.

Panthers responded with their first fluid movement of the game and Nick Foan ran in to score under the posts. Alistair Taylor converted.

Marple replied very quickly and broke through in mid-field to score a runaway try under the posts which was converted. 19 - 7 to Marple at half time.

Chesterfield regrouped at the break and came out strongly to pull back a try out wide on the left through Alistair Taylor.

Some penetrating runs put Marple under pressure and only very brave tackling from Marple kept them from breaking through. A score eventually came from Alistair Taylor who converted his own try to level the scores at 19 all with only two minutes left.

To their credit Marple never gave up and forced their way back into the Chesterfield half and laid siege to the line one last time to score a converted try which sealed the game.
Man of the Match was Danny Burrows


PANTHERS MINI RUGBY
The Panthers Mini Section travelled to Doncaster for a triangular tournament against Doncaster and Selby, both strong clubs and able to field two sides each so an entertaining morning's rugby ensued.

For the Under 10's, tries came from Darrell Grafton and Jack Burton as they held the Doncaster team to a 10 -10 draw.

Grafton scored again as the Panthers lost 25 - 5 to a strong Selby team.

The Under 11's, fielding several new players, found the going tough against two very strong sides. Strong scrummaging, led by Brendan Polteiger and Rowan Barnard saw the team hold it's own up front, but the well disciplined backs of the opponents tipped the scales in their favour.

The star victory of the day came from the Under 12's as they beat the Doncaster side after having lost to Selby. Penetrating runs by Finlay Milne took the game to the opponents and some strong tackling by Aled Jackson and Sam Dawson helped to keep the visitors at bay.
RECENT STORIES
MATCH REPORTS, 15th - 16th JAN 2011 -
After the long enforced break, the Panthers Ladies finally got back into action with this away trip to Oxford... More...
LAST MINUTE TRY SEALS CUP WIN -
After a six week lay off due to bad weather both teams were desperate to play rugby and on a morning ideal for rugby a cracking game ensued. More...
MATCH REPORTS, 20th - 21st NOV 2010 -
Panthers took arguably the youngest side in the league to third placed East Leake and pulled off a great win. More...
RUGBY STARS RETURN TO WHERE IT STARTED -
Chesterfield Panthers RUFC played host last week to a group of players, all local lads, who had started their careers at Stonegravels More...
MATCH REPORTS, 13th - 14th NOV 2010 -
The game began with both sides exchanging attacks and neither really getting the upper hand until Panthers managed to work some space... More...
MATCH REPORTS, 6th - 7th NOV 2010 -Chesterfield made the long journey to Grantham for their latest league encounter and put in a creditable performance, although the score-line doesn't reflect their dominance. More...
MATCH REPORT -
U14's v ASHBY
31st OCTOBER -
There were no Halloween horrors as an excellent team performance from the Panthers brought a well-deserved victory. More...
WORK BEGINS ON NEW RUGBY GROUND -
Work has begun on the Chesterfield Panthers RUFC's new ground at Dunston after a "First Sod Turning" ceremony was held last week More...
MATCH REPORTS, 9th - 10th Oct 2010 -
Panthers played host to a good, well organized side from Boston and a high scoring game ensued. More...
MATCH REPORTS, 2nd - 3rd OCT 2010 -
Panthers lost to Belper in this away league game with the players and spectators wondering how? More...
MATCH REPORTS, 25th - 26th SEPT 2010 -
Panther's second team manager Mark Blair was delighted to have a squad of 26 players for this home game with Hope Valley. More...
A WHIZZ-BANG FRIDAY NIGHT PROMISED-
Friday evening (1st Oct) will see the Club putting on a firework display that will light up the sky in the neighbourhood... More...
MATCH REPORTS, 18th - 19th SEPT 2010 -
Panthers lost to their local rivals Tupton much to the obvious delight of the opposition supporters. More...
MATCH REPORTS, 11th - 12th SEPT 2010 -
Panthers travelled to the seaside for their first league game of the season and ran out comfortable winners in a high scoring game. More...
LAND BOUGHT FOR NEW FACILITIES -
Chesterfield Panthers Rugby Union Football Club is pleased to announce the acquisition of land at Dunston... More...