Friday 20th May 2011

If you've attended any major event in Chesterfield then you will have seen the Chesterfield Musketeers Showband adding colour and music to it.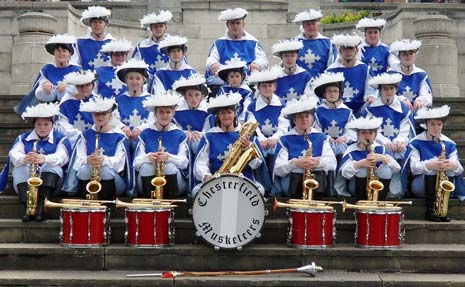 They're not regulars in the town though - they attend events throughout the country and internationally too with members too also drawn from as far away as Eastwood.

Currently the largest, most travelled and most successful Band of it's type in the East Midlands and Yorkshire region and possibly England, the band has, in the last year, performed at London's St Patrick's Day Parade and this year will be performing for the 6th year at Jerseys famous Battle of Flowers representing Chesterfield. They have also been invited to Germany for an international Music Festival in early June but due to confirmed bookings are unable to attend. Arrangements will be made however for 2012.

Despite other Bands losing members and performing with as little as 16 members, the Chesterfield Musketeers are still healthy - they boast between 22 and 26 members all playing Brass, Woodwind and percussion instruments.

Members are all ages - currently between 8 years and 71 years and are all unpaid volunteers that give up their time to participate in what is known to many as a hobby. However there is a serious and valuable point to it too, educating youngsters and teaching them Music, Arts and discipline whilst travelling the country entertaining at many Charity events.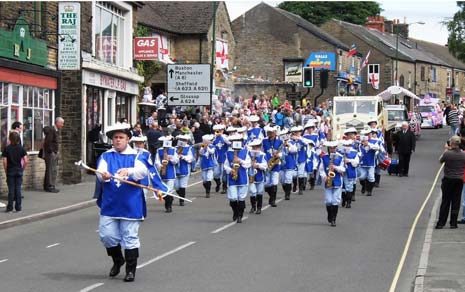 The band has performed locally at Hasland Carnival, Barlow Carnival, Bakewell Carnival, The Hollingwood Fun Day, Cutthorpe Carnival, Friends of Stand Road Park, Parade of Witness Chesterfield, Old Whittington Gala, and many more within Derbyshire and opening most of the shows and leading the parades.

They travel the length and breadth of the Country gaining awards and commendations including best band on parades and leading Mayoral parades. Some other successes have included All England Champions as well as World Champions on 3 occasions.

The club is always on the lookout for new members - and vacancies currently exist for tenor/alto sax players, Euphonium, trumpet and Drummers. If you can't play but would still like to take part, training can be given.

The band will supply free uniforms, instruments, travel and training and the subscription rate is 50p a week for 10 year olds and upwards.

For more information please check out www.musketeers-showband.co.uk
RECENT STORIES
LOCAL YOUTH GROUP CELEBRATES BIG LOTTERY
INVESTMENT -
The Old Whittington Recreation Ground Youth Empowerment Project received £190,081 from Big Lottery Fund's Reaching Communities programme. More...
SCOTTISH THEMED EVENING -
Chesterfield and District Caledonian Association are holding their Annual Scottish Evening in Walton Village Centre on Saturday 22nd October, at 7.30pm. More...
LOCAL SCOUT GROUP APPEALS FOR HELP -
1st Whittington scout troop is putting out an urgent request to anyone who could donate a lock up for the group's equipment. More...
MOTHS AND OTHER INSECTS! -
The Derbyshire Wildlife Trust's first talk of the season, 'Moths and Other Insects', will take place tomorrow, Tuesday 13th September. More...
HELPING THE ROTARY FIGHT TO ERADICATE POLIO -
The Mayor and Mayoress of Chesterfield added their support towards the worldwide eradication of polio at the Rotary Club of Chesterfield's stand at the Tesco Community Fair More...
CHESTERFIELD CIVIC SOCIETY NEWS -
Chesterfield Civic Society is a group which meets at the Eyre Chapel on the 2nd Tuesday of each month to hear from guest speakers. More...
CHESTERFIELD CALEDONIAN'S GOLF DAY 29th JULY -
The Chesterfield And District Caledonian Association are holding their Annual Golf Competition and Supper. More...
NEW PRESIDENT FOR CHESTERFIELD CALEDONIANS -
Mr Mark Macartney has been elected as the Chesterfield and District Caledonian Association's new President More...
ORCHID SHOW RETURNS TO CHATSWORTH -
Each May for nearly 30 years the Sheffield and District Orchid Society has presented an orchid show in the Cavendish Hall, Chatsworth. More...
TALKING 'COFFEE' -
The Chesterfield And District Caledonian Association are hosting a talk by James Pogson of Northern Tea Merchants on 'Coffee'. More...
HELP MAKE IT A TRIP TO REMEMBER -
The 1st Calow Scouts are holding a 'Pub Quiz' at the White Hart, Calow on Thursday 31st March, commencing at 8.30pm More,,,
BRINGING BESS OF HARDWICK TO LIFE -
Chesterfield and District Caledonian Association hosted Sonia Preece who gave a talk on Hardwick Hall and it's most famous resident 'Bess of Hardwick'. More...
SCOUTING ... FOR NEW RECRUITS -
The European Scout Federation is still going strong all these years later and looking for new recruits. More...
ROLLING ON... -
It began life as a gift to Lord Baden Powell at the 21st birthday of Scouting and, after several different owners, Rolls Royce 'Jam Roll' has returned to the Scouting fold. More...
A GUIDING LIGHT -
She is referred to as 'The mother of millions' and nearly 40 years after her death, is still a huge influence to over 10,000 girls throughout Derbyshire... More...
JOG ON... -
Getting fit will probably be one of the most common resolutions made in the New Year and now people in Derbyshire have no excuse... More...
HORSES FOR GOOD CAUSES -
A local Scout group is appealing for help in raising enough money to enable a delegation of young local people to travel to Ontario, Canada More...
THE CHESTERFIELD & DISTRICT CALEDONIAN ASSOCIATION -
Founded 100 years ago in October 1910, the Association was not the first collective of Scots in Chesterfield and the surrounding District. More...
CHESTERFIELD ROTARY CHARTER ANNIVERSARY CELEBRATION -
The Rotary Club of Chesterfield celebrated its 88th birthday with a Charter Anniversary luncheon at the Ringwood Hall Hotel. More...
PROMOTE YOUR DIRECTORY IN NEW LOCAL DIRECTORY - Chesterfield Borough, North East Derbyshire and Bolsover District Councils have teamed up to create a free directory for Sports clubs and Physical Activity groups across our area. More...
THE CHESTERFIELD WALK THIS WAY GROUP -
CWtW began in 2001 as a collaborative project between Chesterfield Borough Council and Derbyshire County Council Countryside Service to start Walking for Health (WfH) groups in the Chesterfield Borough. More...