Tuesday 14th December 2010

Now, it doesn't quite have the glitz and Glamour of the 'X Factor' and there's no chance of a million pound contract but Chesterfield residents are being asked to support Chesterfield in trying to prove it has the 'M' factor and in giving a boost to local traders and shoppers too.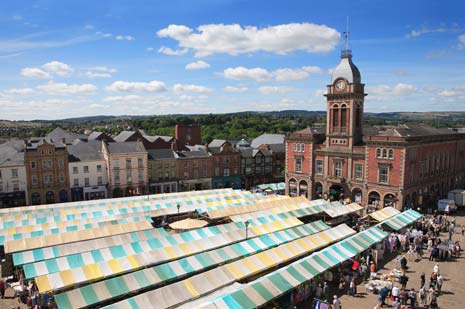 People who live in Chesterfield know just how good the market is ... you can buy anything from fabric to fruit, it's one of the town's strongest selling points and it brings in thousands of tourists per year.

Shoppers in the town are now being asked to support the market by voting for it in the 'Britain's Favourite Market' Competition organised by the National Association of British Market Authorities.

It's easy to do, to vote for your favourite market, just visit www.nabma.com and click on the red apple, or you can visit the Tourist Information Centre in Chesterfield and they'll do it for you!

Voting is open now till mid January. Cllr Ray Russell,Leader of Chesterfield Borough Council has already offered his support to the Campaign and is urging others to do so , saying "The market in Chesterfield is much loved by many people in the town and it continues to thrive even in these hard economic times. I'd urge everyone to vote to support their local market traders and to help promote our town to a wider audience."

The Chesterfield Post has already voted, and here's why we're supporting the campaign ...

Chesterfield Market is one of the oldest and largest open-air markets in England.

There's over 150 stalls that provide quality, value for money goods and fresh seasonal produce from friendly market traders. You can buy more or less anything on it, and anything you can't find, someone can probably get for you.

The general markets held on Monday, Friday and Saturday sell everything, whilst the ever popular Thursday Flea Market, which is one of the biggest of it's kind in the UK sells a variety of antiques, bric-a-brac, vintage clothes, jewellery, books, furniture, collectables, militaria and the increasingly popular 'shabby chic'.

Customers come from all over the world to visit and bring a real buzz to the town centre. It has a strong following in the UK too, with coach groups regularly coming from Hull, Fareham, London, Burnley and Lincolnshire, to name a few.

The Market has signed up to the National Shoppers Charter (which promises polite and helpful stallholders, good value, high standards and an enjoyable experience) and the Real Deal National Markets Charter (which promotes working together for fake free markets, in conjunction with local Trading Standards Departments).

It's the heart of the Town Centre, and supports local charties and causes during a varied programme of events throughout the year including the Medieval Market, Bank Holiday Markets and Continental Markets. In partnership with other organisations and traders, the Markets team have run several initiatives this year, including:
The Cotton bags scheme - this was paid for by the trader's promotional fund, the Council and sponsors. It aimed to encourage shoppers to be more environmentally friendly by not using plastic bags. During the launch week customers were asked to donate clothing in exchange for a bag. The clothes were donated to the local hospice. Bags have been spotted as far afield as Australia.

Chesterfield Market Festival - this annual event supports the Market with various events and, this year, Jonty Hearnden, from 'Cash in the Attic' did valuations for local people and judged a charity 'Bargain Hunt' between Fairplay and the Samaritans. Other market events include an Arts Corridor and a Sausage Competition.

Markets Football Team - these took part in a charity tournament organised by Tesco. They collected sponsorship for the event and raised £250 for the CLIC Sargent Cancer Charity.


Chesterfield Markets is hoping for your vote too!
RECENT STORIES
MARKET FUN DAYS IN N E DERBYSHIRE -
Street entertainment, kids' activities, free raffles and a range of stalls will be on offer at a series of market events being held in North East Derbyshire this month. More...
AND THE VOTES ARE IN... -
The shoppers of Chesterfield have voted, and, in a closely fought contest, have crowned their Market Retailer of the Year. More...
CHESTERFIELD MARKET CLEANS UP -
Chesterfield market traders have signed a new agreement with Chesterfield Borough Council to work together in keeping the town's market clean and tidy. More...
MARKET RATES FROZEN -
Chesterfield Borough Council has today announced that, in recognition of their value to the town, there is to be no rent increase for the town's market stalls. More...
YOUNG PEOPLE SHOW THEIR ENTERPRISE SKILLS AT MARKET -
Despite the current financial climate, young people in Chesterfield proved that the spirit of enterprise is alive and well... More...
YOUNG ENTERPRISE TRADE FAIR AT CHESTERFIELD MARKET -
Students from local schools are preparing to take part in the North Derbyshire Young Enterprise Trade Fair on Thursday 3rd March. More...
MARKET FUN DAY A SUCCESS -
A family fun day took place at Clay Cross, one of a series of events aimed at getting local residents to love their local market. More...
LOVE YOUR LOCAL MARKET -
"They're Valuable Assets", says Cllr Pat Kerry from NE Derbyshire District Council as she encourages local people to shop at local markets in the region. More...
SUPPORT LOCAL RETAILERS THIS CHRISTMAS -
Christmas shoppers in Chesterfield are being asked to shop locally and support market and local retail traders with news that we can all enjoy additional markets throughout December. More...
NE DERBYS SETS IT'S STALL OUT FOR CHRISTMAS -
Shoppers are invited to join in some festive fun while supporting local businesses, at a series of Christmas Markets being held in NE Derbyshire this year. More...
ARTS & CRAFTS MARKET ADDS BRIGHTNESS TO SWITCH ON -
A new Arts and Craft market is setting up for this year's Christmas lights switch-on event in Chesterfield. More...
LAST DAY FOR 'COTTON FOR COTTON' AT CHESTERFIELD MARKET -
Look out any old items of clothing which you no longer want and take them along to the market to be swapped for a cotton bag to encourage recycling and shopping locally and raise funds for Ashgate Hospice. More...
COUNTDOWN TO ARTS AND MARKET FESTIVAL -
Chesterfield is preparing to stage its biggest and best ever Arts and Market Festival. More...
"IT'S THE HEART OF THE TOWN!" -
That's Markets Manager Andy Bond on the Market held in Chesterfield four days a week. More...
DAY OF DANCE -
A Day Of Dance descended on Chesterfield Market on Saturday 11th September, and we have some pictures for you. More...
FOOTBALL FEVER -
Chesterfield Market Traders donned their football boots for charity and raised £250 for CLIC Sargent Cancer Charity. More...
MARKET FACES, DON HOLLINGWORTH -
To all of us living in Chesterfield Donald Hollingwood is a familiar face and voice. Ayres fruit stall would simply not be the same place without him. More...
One of the more fun events the Mayor and Mayoress have taken part in recently was the Medieval Market. The weather was great and the Town was filled with not only... More...
The open air market is at the heart of Chesterfield town centre. Taking place every Monday, Thursday, Friday and Saturday, it's one of the biggest in the UK with over 200 stalls to fill. More...