Friday 18th February 2011

A family fun day took place at Clay Cross, one of a series of events aimed at getting local residents to love their local market.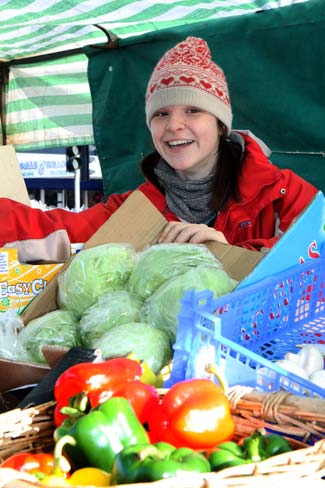 Balloon modelling, free fairground rides, face painting, entertainment from the Young Inspirations Theatre Company and a great range of stalls were just some of the attractions on offer. Carrie Priestley (left) even tried her hand at running Shaun's Fruit and Veg stall.
It was one of a series of themed events will be running at markets across the district as part of North East Derbyshire District Council's 'Love Your Market' campaign.
Similar events will be happening in Killamarsh on Thursday 24th Feb and Eckington on Friday 25th Feb - visit their website for more details.
The events are being run as part of the council's Marketing the Marketing project - funded by the Bolsover and North East Derbyshire Leader Approach.
The project is also supported by Clay Cross Parish Council, Eckington Parish Council, Killamarsh Community Trust Association and Dronfield Town Council who manage the markets in their towns.
For more information visit www.ne-derbyshire.gov.uk/markets
RECENT STORIES
MARKET HALL FUNDING APPROVED -
Chesterfield Borough Council's cabinet has this week approved the funding for the £4million refurbishment of the town's Market Hall. More...
'MARKETING THE MARKETS' SUCCESS -
Events organised to boost the local economy and promote the markets have been a success after crowds descended on Eckington, Clay Cross and Killamarsh events. More...
MARKET FUN DAYS IN N E DERBYSHIRE -
Street entertainment, kids' activities, free raffles and a range of stalls will be on offer at a series of market events being held in North East Derbyshire this month. More...
AND THE VOTES ARE IN... -
The shoppers of Chesterfield have voted, and, in a closely fought contest, have crowned their Market Retailer of the Year. More...
CHESTERFIELD MARKET CLEANS UP -
Chesterfield market traders have signed a new agreement with Chesterfield Borough Council to work together in keeping the town's market clean and tidy. More...
MARKET RATES FROZEN -
Chesterfield Borough Council has today announced that, in recognition of their value to the town, there is to be no rent increase for the town's market stalls. More...
YOUNG PEOPLE SHOW THEIR ENTERPRISE SKILLS AT MARKET -
Despite the current financial climate, young people in Chesterfield proved that the spirit of enterprise is alive and well... More...
YOUNG ENTERPRISE TRADE FAIR AT CHESTERFIELD MARKET -
Students from local schools are preparing to take part in the North Derbyshire Young Enterprise Trade Fair on Thursday 3rd March. More...
LOVE YOUR LOCAL MARKET -
"They're Valuable Assets", says Cllr Pat Kerry from NE Derbyshire District Council as she encourages local people to shop at local markets in the region. More...
THE 'M' FACTOR -
Chesterfield residents are being asked to support Chesterfield in trying to prove it has the 'M' factor and in giving a boost to local traders and shoppers too More...
SUPPORT LOCAL RETAILERS THIS CHRISTMAS -
Christmas shoppers in Chesterfield are being asked to shop locally and support market and local retail traders with news that we can all enjoy additional markets throughout December. More...
NE DERBYS SETS IT'S STALL OUT FOR CHRISTMAS -
Shoppers are invited to join in some festive fun while supporting local businesses, at a series of Christmas Markets being held in NE Derbyshire this year. More...
ARTS & CRAFTS MARKET ADDS BRIGHTNESS TO SWITCH ON -
A new Arts and Craft market is setting up for this year's Christmas lights switch-on event in Chesterfield. More...
LAST DAY FOR 'COTTON FOR COTTON' AT CHESTERFIELD MARKET -
Look out any old items of clothing which you no longer want and take them along to the market to be swapped for a cotton bag to encourage recycling and shopping locally and raise funds for Ashgate Hospice. More...
COUNTDOWN TO ARTS AND MARKET FESTIVAL -
Chesterfield is preparing to stage its biggest and best ever Arts and Market Festival. More...
"IT'S THE HEART OF THE TOWN!" -
That's Markets Manager Andy Bond on the Market held in Chesterfield four days a week. More...
DAY OF DANCE -
A Day Of Dance descended on Chesterfield Market on Saturday 11th September, and we have some pictures for you. More...
FOOTBALL FEVER -
Chesterfield Market Traders donned their football boots for charity and raised £250 for CLIC Sargent Cancer Charity. More...
MARKET FACES, DON HOLLINGWORTH -
To all of us living in Chesterfield Donald Hollingwood is a familiar face and voice. Ayres fruit stall would simply not be the same place without him. More...
One of the more fun events the Mayor and Mayoress have taken part in recently was the Medieval Market. The weather was great and the Town was filled with not only... More...
The open air market is at the heart of Chesterfield town centre. Taking place every Monday, Thursday, Friday and Saturday, it's one of the biggest in the UK with over 200 stalls to fill. More...