Monday 30th April 2012
picture courtesy of Chesterfield FC and Tina Jenner Photography


Well-known football fan Sir Elton John will be taking two pieces of Chesterfield back with him when he performs at the b2net shortly.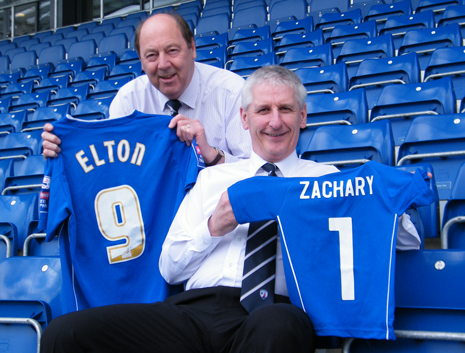 Chesterfield FC's Alan Stevenson (left) and Jim Brown prepare to hand over the replica shirts ahead of the big concert

It's been announced today that he is to take ownership of a couple of Spireites replica shirts ahead of his big concert at the B2net Stadium, which takes place on Saturday 9th June 2012.

The World's biggest rock star has requested a replica Chesterfield shirt for himself, with No 9 on the back, and a replica shirt for 'No1 son' Zachary.

Chesterfield's Director of Marketing, Alan Stevenson said. "Elton John retains his keen interest in football as honorary life president of Watford FC, but his support for the Spireites is not so well-known - and so we are delighted to meet his request."

The concert is the biggest ever to be staged in Chesterfield and the last few tickets are now on sale.


Elton John Concert Details
The fully reserved, seated Elton John concert at the B2net Stadium on Saturday 9th June 2012, will give up to fifteen thousand fans the opportunity to dance and sing along to his much-loved songs.
Hotline numbers: 0844 481 5816, 0844 847 2441
On-line:
www.ticketsoup.com or www.ticketmaster.co.uk  (Tickets sold subject to booking fee)
The last few VIP executive packages went on sale last week on a first come first served basis.

These prestigious packages include top priced reserved seats directly in front of the stage, plus bucks fizz reception, 4 course meal, post-concert finger buffet, and licensed bar, all in the giant marquee for £225 (incl VAT).

Contact Janice Kew at the football club on 01246 209765, Ext 4153 or email janicekew@chesterfield-fc.co.uk

RELATED STORIES
CHESTERFIELD JAZZ CLUB - 2012 DIARY DATES -
Chesterfield Jazz Club meets on the third Thursday of every month at Club Chesterfield on Chester Street More...
DALEDIVA TAKE CENTRE STAGE FOR CHARITY CONCERT -
People are being invited to enjoy an evening of entertainment when the stars of local chorus, DaleDiva, take to the stage for a charity concert in Ashover. More...
WALTON & WEST COMMUNITY FORUM HOPE YOU'LL 'STAND IN LINE' -
One local Community Forum has decided to try and bring live, top class entertainment to the local area - at an affordable price. More...
LOCAL MUSICIANS TAKE TO THE BANDSTAND -
Local musicians will have a once-in-a-lifetime opportunity to take part in the largest closing cultural event of London 2012 on 9th September, thanks to Chesterfield Borough Council. More...
TAKE THE 7 PLAY THE WELLINGTON, NEW WHITTINGTON -
Take The Seven play at the Wellington, High Street, New Whittington, Chesterfield on Saturday 16th from 9pm More...
I'M STILL STANDING AFTER SIR ELTON ROCKS 'CHEZ VEGAS' -
It was THE event of the year in Chesterfield, over 12 months in the making and the result of much planning, preparation and purpose. More...
THE 'ROCKET MAN' PREPARES TO LAND -
The stage is set and, in less than 48 hours, Chesterfield will witness the biggest show to come to the town in years. More...
FINAL TICKETS RELEASED FOR ELTON JOHN AT THE B2NET -
With just over two weeks until the first ever show at the B2net Stadium, the final few tickets for Elton John have been released for sale to the general public. More...
MUSIC FESTIVAL CELEBRATES A DERBYSHIRE HERO -
Love, Life and Liberty: A celebration of Chesterfield's unique role in inspiring better places for people and the life of Raymond Unwin More...
2CELLOS TO SUPPORT ELTON JOHN AT THE B2NET -
Sir Elton John has announced that very special guests 2CELLOS will join him for his forthcoming live show this summer. More...
SUCH SWEET THUNDER -
Steve Steinhaus, the charismatic singer with the big personality who fronts both his Swing Band and the Dr Teeth Big Band, returns to Whitwell with his brand new show More...
MAGNETS ATTRACTED TO CHESTERFIELD -
They've performed with Blondie and at private parties for the likes of Hugh Grant and Elle McPherson - and now The Magnets are coming to Chesterfield. More...
ELTON JOHN PLAYS CHESTERFIELD FC'S B2NET! -
Superstar Elton John will be the first ever artist to perform at the B2net when he plays there in Summer 2012. More...

600 FOLLOW FEROCIOUS DOG AT MUSIC FESTIVAL! -
Whitwell Forward Community Group and 4Ward Promotions have extended Whitwell Festival Of Music 2011 and attracted 23 top quality bands More...
DO YOU HAVE TALENT? -
For the third year running, the Mayor of Chesterfield will once again be hosting 'Chesterfield's Got Talent' and is looking for talented acts from across the Borough. More...
ON SONG FOR TOWN, CARL NEWTON -
A day of firsts at the B2net on Saturday - first home game of the season and the first unfurling of the Champions Flag - also the first time the new 'Town song' rang out across the terraces More...
A STAR IS BORN... AND SHE'S FROM CHESTERFIELD -
One young girl from Chesterfield says she has to pinch herself every single day after hitting the big time and with her band preparing to launch its first single, next month. More...
HARLEY HANSON PLAYS HARLEY'S BAR-
Harley Hanson, International Singer and Songwriter returns to his home town of Chesterfield to launch his music video's and CD "When My Guitar Crys" and to film for his new video. More...

Music Event Diary -
Here is the place to find the latest Live Music Gigs from around Chesterfield. More...