Monday 10th December 2012

A book, which I was given sight of before our interview and written by Nonna's very own co owner Gian Bohan, bears the title 'Strada Della Nonna' which translates as 'the way of the Granny' and that, in a nutshell, is the philosophy which led to Gian fulfilling a dream, but more importantly, continuing to follow and learn about the passion of the Italian way of life.

And pass it on, which Gian does through good food and company - with an enthusiasm that very quickly becomes infectious - and an unbending ethos which he believes his customers want and grow to embrace.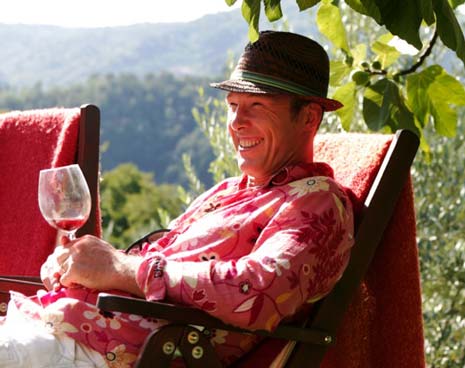 Born in Sheffield, Gian (above) says his Italian roots were never far away and much celebrated as a child, "It all stems from my Nonna, my earliest memories are of my Italian grandparents - he used to come over in his Giuletta 1.6 and no one could be mistaking he was Italian - short, little cap, cigarette in his mouth and looking like an odd-job mafia guy! But he'd come out the car with fantastic prosciutto and my uncle's 25 year old Balsamic. We used to have nutella - this was 35 years ago, so when you were on a school trip with that, no-one had ever heard of it. But that was our norm, our food at home."

He admits that, with an Italian mother and Irish father, holidays could be unique, and a little cosmopolitan, "Christmas Day involved her lasagne, which took 8 hours and then we'd have an English roast and then back to pannetone. Iin the summer times, we went to Italy where my Nonna had a deli and that experience of food and the genuine article we had at an early age seeped into my veins."

Luckily Gian found someone early on who shared his ideals and vision, "Maurizio, my business partner, had the same background - there was quite a an Italian community in Sheffield at the time as they had restaurants.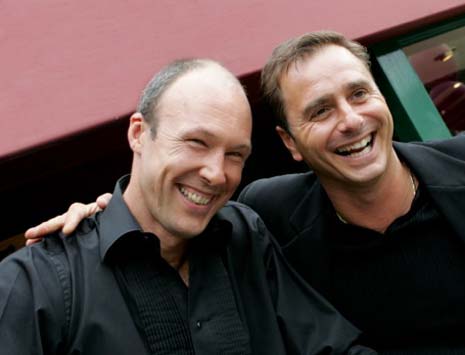 "By now my mum had gone into the restaurant business and as they were the first Italian pioneers over here - they brought their products over here and tweaked them, we were used to that, both of us.

"We both went away and did degrees but always came back to the restaurant industry. We found a spot on Ecclesall Road, mainly to showcase Italian producers as there was no where to showcase them at the time.

"We always knew what we wanted to do and go into espresso bars and deli's - spontaneity when you're younger is easier and thankfully, Maurizio agreed. We didn't know where to get all the products and that spurned the journey to Italy to buy those and we're still in contact with the people we met now."

He admits though that even amongst the community in Sheffield, there was a reluctance to see how it would work, "It was strange that when we opened the doors even some of the Italian community were a little wary. To us, what we were doing was normal, but that was the starting gun of the journey and from then we stuck to our ethos - what we believed food-wise - fresh herbs and making as many products in the building as possible.

"There were dishes on that menu 16 years ago that are still on now and the rest of the menu changes with the seasons. It started very small and then grew and that became too small - we've been very fortunate to have this organic growth and be able to share the culture and the education.

"Italian cooking is not Italian cooks - it's 22 regions of cookery and you can spend a lifetime learning to blend those. We're lucky and we like the customers to come in and share that journey with us."

Being demonstrably passionate about Italy has other spin offs too, "Over the years, we've built up a contact base which we can pass on to our customers when they travel to Italy. It's not unusual to have customers come in, spread a map on the table and say, we're going there where should we go?

"I always say, start a conversation by asking 'Where should we go for pizza?', it all comes back to food!

"Despite the problems Italy has, they still have a wonderful larder of food and it always comes back to their products."

But he concedes it's more than that too - a family ethos which bears dividends in the area around it, "If you've got somewhere that people face each other over a table, with food, all sorts of things happen - everything centers around the kitchen, it's all about the Italian emotions and passions.

"When we visit Italy, we know the idiosyncrasies of life - don't go at 12.30, it's lunchtime! It's a big part of their DNA. This is where the Mercato came across - pop in have a browse, get some bread and have a look round. It has a bit of soul to it, it's an experience, a nomadic kind of market."

Gian is a busy man who is driven to succeed and learn, even now, "Along the way we got into cycling - Italy, travel and food are all linked. I'm driven by the basics of life - up there in the top three are food, wine and to get a living out of what you enjoy is wonderful.

"Sometimes, we don't stop and think but when you talk to people and say what you've done, you realise how much you've done. Sometimes there's no written agenda - we just go with the flow. A lot of guys take the michael when they see all my photos of vegetables on my phone!

"But a lot of things we've tried haven't worked - sometimes things are a step too far. There is still a lot we would like to do and 16 years on, we are still as enthused as we were on day one - and we're still learning, with great staff who have been with us along the way. We're all passionate about genuineness.

"One thing is when I look back over 16 years, I've educated my own palate and I'm always looking what other people are doing - it's a good way to learn."

Nonna's of course began in Sheffield but has now expanded to Chesterfield, where it is proving a boost for the jobs market and the town, "There are 20 staff here and 32 in Sheffield.

"We chose Chesterfield because there still is an up and coming area on Chatsworth Road, a whole new generation of people coming in and it's a very innovative town, a unique mix of older traditional communities and young vibrant core and that is us - looking back to our authentic Italian roots with the looking forward to pushing the boundaries, authenticity combined with innovation - and I think that matches Chesterfield very well."
OTHER STORIES
HISTORIC PUB IN WINGERWORTH IS REBORN! -
The Wingerworth Pub & Kitchen (formerly known as the Hunloke Arms) is to re-open tomorrow - Friday November 8th - following a £500,000 refurbishment. More...
A MICHELIN LISTING FOR THE DEVONSHIRE ARMS -
The award-winning Devonshire Arms at Middle Handley has been given a place in the prestigious Michelin Hotel and Restaurant Guide for Great Britain and Ireland 2014. More...
MERRY CHRISTMAS FROM DEVONSHIRE ARMS OR MAYBE HOLA! INSTEAD... -
Is it ever too soon to wish everybody a Happy Christmas? Not according to the team at The Devonshire Arms! More...
BURGERS FOR INDEPENDENCE DAY AT THE DEVONSHIRE ARMS -
Celebrate American Independence Day with the food that made (another) nation great, at The Devonshire Arms at Middle Handley More...
ARMED FORCES GET A FREE CROWN ON ARMED FORCES DAY -
Crown Carveries in Chesterfield are celebrating Armed Forces Day 2013 by treating all Army, Navy and Air Force men and women, past and present, to a free meal. More...
JOIN ST GEORGE FOR A FULL ENGLISH AT THE DEVONSHIRE ARMS -
What better way to celebrate St George's Day than with that great culinary tradition, the Full English Breakfast? More...
LOCAL CHEFS COMPETE FOR RED NOSE DAY HONOURS -
The team at the Devonshire Arms in Middle Handley are aiming to put a smile on costumers' faces with their own Comic Relief version of the 'Great British Menu' competition! More...
BATTLE OF THE RELISHES AT GREAT BRITISH PIE NIGHT -
Henderson's and Worcestershire Sauce battle it out for the title of top tastebud tickler at Devonshire Arms Great British Pie Night, Middle Handley More...
LET IT BEAN! -
The Highwayman Beefeater Grill In Chesterfield has recreated the iconic image of The Beatles crossing Abbey Road - using items from the great British breakfast! More...
DELHI 41 CELEBRATES SUCCESSFUL FIRST YEAR -
Delhi 41 on Whittington Moor has now been open for 12 months and is fast gaining a reputation as one of the best Indian Restaurants in Chesterfield. More...
CASA ACHIEVES 2nd AA ROSETTE FOR COCINA -
Chesterfield's Casa Hotel has scooped yet another accolade having been awarded a prestigious 2nd Rosette for Cocina restaurant. More...

RESTAURANT REVIEWS -
Reviews, and updates for local restaurants in and around Chesterfield. More...