Tuesday 18th June 2013

Crown Carveries in Chesterfield are celebrating Armed Forces Day 2013 by treating all Army, Navy and Air Force men and women, past and present, to a free meal.

According to recent figures revealed by the MOD (Ministry of Defence), there are 4.6 million veterans across the country and over 176,000 current serving personnel who make up the current Armed Forces community, from serving troops to cadets and reservists across the Army, Royal Air Force and Naval Service; many of whom have risked their lives in battle to protect us back home here in the UK.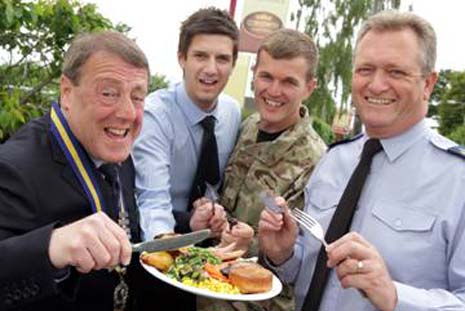 Adam Simpson (second from left) from Crown Carveries presents a carvery to (l-r) Veteran Andy Greg, WO2 Ian Collins (Army) and W01 Dennis Hawkins (RAF)

So now Crown Carveries in Chesterfield, including the De Rodes Arms in Barlborough and Young Vanish Inn in Glapwell, are offering all service personnel and veterans a complimentary full English breakfast or delicious carvery during the week leading up to Armed Forces Day (Monday 24th June to Saturday 29th June inclusive) to salute Her Majesty's Armed Forces.

Enjoying the free meal couldn't be easier. All those who are currently serving, or have served, in the forces, simply need to visit www.crowncarveries.co.uk or www.facebook.com/crowncarveries to download the 'Free Forces Meal' voucher and present this along with their current ID card (or veteran lapel badge) to staff at their local restaurant.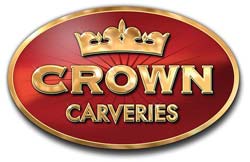 Christopher Vose, Manager at the Young Vanish Inn Crown Carvery, said: "We pride ourselves in being the UK's most regal carvery brand, our name says it all, and as a result we feel best placed to support our serving and past troops on this commemorative day.

"An old saying states that 'an army marches on it's stomach', so we hope our full English breakfast or a royally good roast dinner will provide a hearty morale boost for all our proud veterans and hardworking military personnel, and help them to celebrate Armed Forces Day 2013."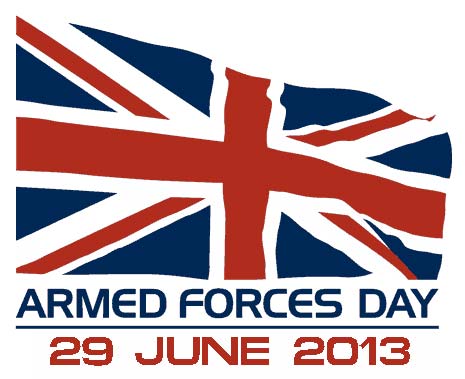 Armed Forces Day 2013, which takes place on Saturday 29th June, is a nationwide celebration of Her Majesty's Armed Forces.

A number of parades, events and commemorations take place across the country, giving the public the opportunity to show their support for all serving force personnel and veterans, as well as those who have given their lives for the country.  

To find your local Crown Carvery or to download the voucher visit www.crowncarveries.co.uk
OTHER STORIES
CHESTERFIELD McDONALDS GOES DIGITAL AFTER REVAMP -
Chesterfield is set to be given a significant investment boost with the bold transformation of the McDonald's restaurant, creating up to 10 new jobs. More...
NANDO'S BRINGS PERI-PERI CHICKEN
TO CHESTERFIELD -
Chesterfield residents and visitors are in for a tasty treat as Nando's, home of legendary Portuguese flame-grilled PERi-PERi chicken, opened to the public More & Audio...
FANCY THE CHANCE TO BUILD YOUR OWN DREAM BURGER? -
Ever wanted to make your mark on the menu at your local pub? Well now's your chance with Chesterfield's Donkey Derby Pub. More...
A NEW CHEF, NEW MENU AND NEW AWARD FOR THE DEVONSHIRE ARMS -
There's not just a new chef and a new approach to dining at The Devonshire Arms, Middle Handley, but now there's another new award too. More...
HISTORIC PUB IN WINGERWORTH IS REBORN! -
The Wingerworth Pub & Kitchen (formerly known as the Hunloke Arms) is to re-open tomorrow - Friday November 8th - following a £500,000 refurbishment. More...
A MICHELIN LISTING FOR THE DEVONSHIRE ARMS -
The award-winning Devonshire Arms at Middle Handley has been given a place in the prestigious Michelin Hotel and Restaurant Guide for Great Britain and Ireland 2014. More...
MERRY CHRISTMAS FROM DEVONSHIRE ARMS OR MAYBE HOLA! INSTEAD... -
Is it ever too soon to wish everybody a Happy Christmas? Not according to the team at The Devonshire Arms! More...
BURGERS FOR INDEPENDENCE DAY AT THE DEVONSHIRE ARMS -
Celebrate American Independence Day with the food that made (another) nation great, at The Devonshire Arms at Middle Handley More...
JOIN ST GEORGE FOR A FULL ENGLISH AT THE DEVONSHIRE ARMS -
What better way to celebrate St George's Day than with that great culinary tradition, the Full English Breakfast? More...
LOCAL CHEFS COMPETE FOR RED NOSE DAY HONOURS -
The team at the Devonshire Arms in Middle Handley are aiming to put a smile on costumers' faces with their own Comic Relief version of the 'Great British Menu' competition! More...
BATTLE OF THE RELISHES AT GREAT BRITISH PIE NIGHT -
Henderson's and Worcestershire Sauce battle it out for the title of top tastebud tickler at Devonshire Arms Great British Pie Night, Middle Handley More...
IT ALL COMES BACK TO FOOD! - NONNAS' GIAN BOHAN TALKS ITALY -
The passion of the Italian way of life is passed on by Gian Bohan, co- owner of Nonnas, and he does it through good food and company - with an enthusiasm that very quickly becomes infectious. More...
LET IT BEAN! -
The Highwayman Beefeater Grill In Chesterfield has recreated the iconic image of The Beatles crossing Abbey Road - using items from the great British breakfast! More...
DELHI 41 CELEBRATES SUCCESSFUL FIRST YEAR -
Delhi 41 on Whittington Moor has now been open for 12 months and is fast gaining a reputation as one of the best Indian Restaurants in Chesterfield. More...
CASA ACHIEVES 2nd AA ROSETTE FOR COCINA -
Chesterfield's Casa Hotel has scooped yet another accolade having been awarded a prestigious 2nd Rosette for Cocina restaurant. More...

RESTAURANT REVIEWS -
Reviews, and updates for local restaurants in and around Chesterfield. More...