Friday 18th January 2013

It's the battle of the condiments…two meal time giants battling it out for the title of top tastebud tickler!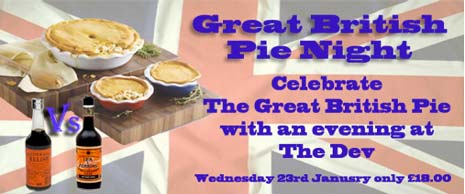 In one corner there's Henderson's Relish, the one thing that any true Sheffielder will tell you brings dinner to life. A firm family favourite made to a secret recipe for more than a hundred years.

In the other corner there's Worcestershire Sauce, the Lea and Perrins brand that has been a global hit since 1837.

But they finally come face to face at The Devonshire Arms in Middle Handley on January 23rd with a special Great British Pie Night challenge.

For guests will be given the chance to stimulate their tastebuds and take a blindfold test to see if they can taste the difference between Hendo's and its big brand rival - with a free pint of local ale for anybody who can tell which is which!

"Our Great British Pie Night is going to be a celebration of traditional food values and tastes," said Devonshire Arms manager Alistair Myers.




"Our award winning Head Chef Tom Lawson is already creating some very special pies for the night - real pies with both a pastry base and lid.

"But anybody from Sheffeld will go on about how the only true accompaniment to a pie is a good dash of Henderson's Relish, which we will of course be serving.

"And for anybody who really does think Worcestershire Sauce is just as good, there'll be the chance to take part in our Relish Challenge - and sort out once and for all who's backing the right relish!"

Another attraction on the night will be the Devonshire Arms Great Pie Quiz, a series of questions about the world's most celebrated pies.

"We think this is going to be a memorable night for food lovers," said Alistair, "And we aim to prove once and for all whether Henderson's is 'King of the condiments'!"

For more information about the Great British Pie Night and other events at the Devonshire Arms, visit www.devonshirearmsmiddlehandley.com or call 01246 434 800.
OTHER STORIES
A NEW CHEF, NEW MENU AND NEW AWARD FOR THE DEVONSHIRE ARMS -
There's not just a new chef and a new approach to dining at The Devonshire Arms, Middle Handley, but now there's another new award too. More...
HISTORIC PUB IN WINGERWORTH IS REBORN! -
The Wingerworth Pub & Kitchen (formerly known as the Hunloke Arms) is to re-open tomorrow - Friday November 8th - following a £500,000 refurbishment. More...
A MICHELIN LISTING FOR THE DEVONSHIRE ARMS -
The award-winning Devonshire Arms at Middle Handley has been given a place in the prestigious Michelin Hotel and Restaurant Guide for Great Britain and Ireland 2014. More...
MERRY CHRISTMAS FROM DEVONSHIRE ARMS OR MAYBE HOLA! INSTEAD... -
Is it ever too soon to wish everybody a Happy Christmas? Not according to the team at The Devonshire Arms! More...
BURGERS FOR INDEPENDENCE DAY AT THE DEVONSHIRE ARMS -
Celebrate American Independence Day with the food that made (another) nation great, at The Devonshire Arms at Middle Handley More...
ARMED FORCES GET A FREE CROWN ON ARMED FORCES DAY -
Crown Carveries in Chesterfield are celebrating Armed Forces Day 2013 by treating all Army, Navy and Air Force men and women, past and present, to a free meal. More...
JOIN ST GEORGE FOR A FULL ENGLISH AT THE DEVONSHIRE ARMS -
What better way to celebrate St George's Day than with that great culinary tradition, the Full English Breakfast? More...
LOCAL CHEFS COMPETE FOR RED NOSE DAY HONOURS -
The team at the Devonshire Arms in Middle Handley are aiming to put a smile on costumers' faces with their own Comic Relief version of the 'Great British Menu' competition! More...
IT ALL COMES BACK TO FOOD! - NONNAS' GIAN BOHAN TALKS ITALY -
The passion of the Italian way of life is passed on by Gian Bohan, co- owner of Nonnas, and he does it through good food and company - with an enthusiasm that very quickly becomes infectious. More...
LET IT BEAN! -
The Highwayman Beefeater Grill In Chesterfield has recreated the iconic image of The Beatles crossing Abbey Road - using items from the great British breakfast! More...
DELHI 41 CELEBRATES SUCCESSFUL FIRST YEAR -
Delhi 41 on Whittington Moor has now been open for 12 months and is fast gaining a reputation as one of the best Indian Restaurants in Chesterfield. More...
CASA ACHIEVES 2nd AA ROSETTE FOR COCINA -
Chesterfield's Casa Hotel has scooped yet another accolade having been awarded a prestigious 2nd Rosette for Cocina restaurant. More...

RESTAURANT REVIEWS -
Reviews, and updates for local restaurants in and around Chesterfield. More...