Monday 1st July 2013

Celebrate American Independence Day with the food that made (another) nation great, at The Devonshire Arms at Middle Handley.

The award winning pub and restaurant actually gets in ahead of the competition by hosting its Independence Day festivities a day early, this Wednesday, July 3rd.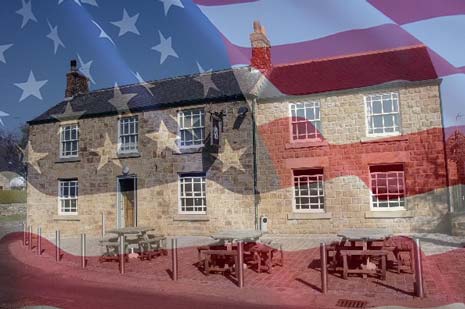 But the taste choices are pure Americana as award winning Head Chef Tom Lawson delivers some Stateside classics at his special American Burger Evening.

There's a starter combo platter that includes sticky ribs, mozzarella dippers, southern fried wings, onion rings and garlic mushrooms.

The big attraction in the main courses will be the classic New Yorker, a quarter pound beef burger with BBQ sauce, bacon, cheese, iceberg lettuce and tomato, or the Texas Ranch, a double quarter pound beef burger served with bacon, blue cheese, onion rings, ranch dressing, jalepenos and iceberg lettuce.

Other main course choices include the Kentucky, a southern fried chicken breast with spicy mayonnaise, iceberg lettuce and tomato, the Boston Bay Shrimp, a shrimp burger with lettuce, crab mayonnaise and tomato or the LA Falafel, spiced falafel with mint yoghurt, roasted peppers and iceberg lettuce.

In true American style, all the mains are served with fries and coleslaw.

Rounding the evening off, desserts include Mississippi Mud Pie or Keylime Pie, both served with vanilla ice cream or pouring cream.

Two courses cost £17 while the full three courses cost just £20, with a £2 supplement for the Texas Ranch.

For more information about the Independence Day American Burger Evening and other events at the Devonshire Arms visit www.devonshirearmsmiddlehandley.com or call 01246 434 800.
OTHER STORIES
DERBYSHIRE MEETS SPAIN IN STEVE PEREZ'S NEW 'MI CASA' COOKBOOK -
Hot on the heels of Casa Hotel being voted 5th best hotel in the UK, in Trip Advisor's 2015 Travellers Choice Awards, Steve Perez has unveiled a Spanish influenced cookbook, 'Mi Casa: Spanish-Inspired Recipes from the Heart of Derbyshire'.
More & Audio...
CHESTERFIELD McDONALDS GOES DIGITAL AFTER REVAMP -
Chesterfield is set to be given a significant investment boost with the bold transformation of the McDonald's restaurant, creating up to 10 new jobs. More & Audio...
NANDO'S BRINGS PERI-PERI CHICKEN
TO CHESTERFIELD -
Chesterfield residents and visitors are in for a tasty treat as Nando's, home of legendary Portuguese flame-grilled PERi-PERi chicken, opened to the public More & Audio...
FANCY THE CHANCE TO BUILD YOUR OWN DREAM BURGER? -
Ever wanted to make your mark on the menu at your local pub? Well now's your chance with Chesterfield's Donkey Derby Pub. More...
A NEW CHEF, NEW MENU AND NEW AWARD FOR THE DEVONSHIRE ARMS -
There's not just a new chef and a new approach to dining at The Devonshire Arms, Middle Handley, but now there's another new award too. More...
HISTORIC PUB IN WINGERWORTH IS REBORN! -
The Wingerworth Pub & Kitchen (formerly known as the Hunloke Arms) is to re-open tomorrow - Friday November 8th - following a £500,000 refurbishment. More...
A MICHELIN LISTING FOR THE DEVONSHIRE ARMS -
The award-winning Devonshire Arms at Middle Handley has been given a place in the prestigious Michelin Hotel and Restaurant Guide for Great Britain and Ireland 2014. More...
MERRY CHRISTMAS FROM DEVONSHIRE ARMS OR MAYBE HOLA! INSTEAD... -
Is it ever too soon to wish everybody a Happy Christmas? Not according to the team at The Devonshire Arms! More...
ARMED FORCES GET A FREE CROWN ON ARMED FORCES DAY -
Crown Carveries in Chesterfield are celebrating Armed Forces Day 2013 by treating all Army, Navy and Air Force men and women, past and present, to a free meal. More...
JOIN ST GEORGE FOR A FULL ENGLISH AT THE DEVONSHIRE ARMS -
What better way to celebrate St George's Day than with that great culinary tradition, the Full English Breakfast? More...
LOCAL CHEFS COMPETE FOR RED NOSE DAY HONOURS -
The team at the Devonshire Arms in Middle Handley are aiming to put a smile on costumers' faces with their own Comic Relief version of the 'Great British Menu' competition! More...
BATTLE OF THE RELISHES AT GREAT BRITISH PIE NIGHT -
Henderson's and Worcestershire Sauce battle it out for the title of top tastebud tickler at Devonshire Arms Great British Pie Night, Middle Handley More...
IT ALL COMES BACK TO FOOD! - NONNAS' GIAN BOHAN TALKS ITALY -
The passion of the Italian way of life is passed on by Gian Bohan, co- owner of Nonnas, and he does it through good food and company - with an enthusiasm that very quickly becomes infectious. More...
LET IT BEAN! -
The Highwayman Beefeater Grill In Chesterfield has recreated the iconic image of The Beatles crossing Abbey Road - using items from the great British breakfast! More...
DELHI 41 CELEBRATES SUCCESSFUL FIRST YEAR -
Delhi 41 on Whittington Moor has now been open for 12 months and is fast gaining a reputation as one of the best Indian Restaurants in Chesterfield. More...
CASA ACHIEVES 2nd AA ROSETTE FOR COCINA -
Chesterfield's Casa Hotel has scooped yet another accolade having been awarded a prestigious 2nd Rosette for Cocina restaurant. More...

RESTAURANT REVIEWS -
Reviews, and updates for local restaurants in and around Chesterfield. More...