Wednesday 4th July 2012
by CHARLIE HAWKINS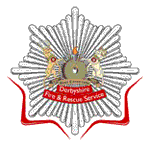 Derbyshire Fire and Rescue Service is available to respond to calls across Derbyshire every minute of every day and works hard to reduce the risks of fires, road traffic accidents and other incidents across the county through its activities.

To do this, the Service employs over 1,000 personnel and has a total of 31 fire stations based in strategic areas to cover the local area. In 2007 Local Authority Fire and Rescue Services attended 804,100 fires, or false alarms in the UK, meaning being a fire-fighter is a stressful and very demanding job, as you have to be ready for what hits you.

The Chesterfield Post met with Firefighter Deborah Dixon (below) to find out just what life was like being a firefighter in the Chesterfield area.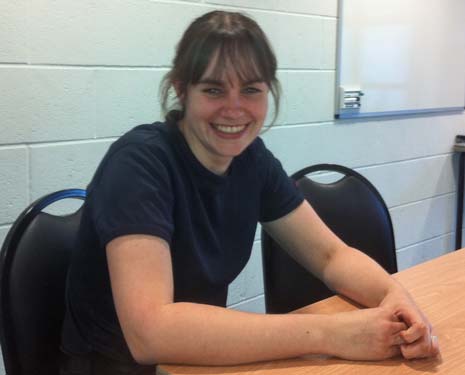 What sort of things made you want you to become a fire-fighter?
"I always wanted to do it as a child. I visited a fire station when I was young and I really enjoyed it. I also met some of the watchmen before I applied. It was always something I was always interested in doing."

What training did you have to take to become a fire-fighter?
"It starts off as a recruitment process by sending an application form. There are fitness tests and also job related tests, for example, you have to climb ladders to prove you're not scared of heights, there are tests in confined spaces and all sorts of things like that. These are done so when you start the job, they know you won't come across things you don't want to do."

What's the worst fire or incident that you have attended to?
"The worst ones tend to be when people are involved, you can go to a really big fire on a really large scale with lots of trucks there, but if nobody is injured, then it's just a fire that needs to be put out! If somebody is inside, it ups the scale a lot. That's what sometimes makes the job scary."

It's not just about fires; it's about prevention as well isn't it?
"Yes it is. In the afternoon we tend to do community safety - fitting smoke alarms, home safety checks, school visits. We have also got a big safety thing on at the moment where a safety crew get involved with the children, which we do here at the station actually, I was involved in the water safety part of that. It's all about educating and preventing things from happening."

What's a typical day like for you?
"We start at 8am, when we get here we do all our safety checks, check the BA (Breathing Apparatus) sets, check the trucks and make sure everything we need is ready to use.

"Every day we have a rota of what we do and that changes every week, we do height training; use the rope sets and things like that. We then do 45 minutes of gym training to maintain fitness. Then we have our lunch break.

"But all this depends on whether we get a call to attend to a fire; it really does depend on what happens.

"Then every afternoon we do community service. We also do something called 'direct engagement' where we actually knock on people's doors and offer them smoke alarms and advice.

"We also do risk assessment where we visit places like Holmewood industrial estate and assess the risks in the area."

What was it like when you were first called to a fire?
"It was more than 3 weeks before I got called actually! Yes, I was nervous, adrenalin was pumping, but my watch (team) were really good, they knew I was nervous, so they told me what I needed to do and they talked me through what had to be done."

It strikes me that it's like a family here, what's it like?
"Yes it is. There's a lot of banter. At the end of the day we spend 4 days a week together, so we have to get on so that if we have problems we can get over them quickly."

And finally - would you recommend the job to young people thinking of fire fighting as a career?
"Yes definitely! But you have to be sure that's what you want to do. If you're scared of heights or anything like that, it's not the job for you, but it's a fantastic opportunity and there are great prospects for promotion and things like that."



For more information on how to become a fire-fighter or to seek advice on how to stay safe from fires and danger visit www.derbys-fire.gov.uk where you will find information on the role Deborah has, along with more useful information about how the Fire Service raise awareness of fires and danger in the community.
RECENT STORIES
DERBYSHIRE FIRE AND RESCUE SERVICE WARN HOAX CALLS CAN KILL -
A reminder that hoax fire calls divert fire engines away from potential life-threatening situations where urgent help is needed. This could mean the difference between life and death More...
BONFIRE NIGHT - ADVICE AND WHERE TO SEE A DISPLAY IN CHESTERFIELD -
Bonfire Night is almost upon us and whilst bonfires and fireworks can be fun they can also be dangerous and even lethal. More...
FIRE CADETS FIRST IN DERBYSHIRE TO RECEIVE BTEC LEVEL 2 CERTIFICATE -
Five Fire Cadets aged
15-17, are the first in Derbyshire to have successfully completed the Level 2 BTEC Certificate in Fire and Rescue Services in the Community More...
UPDATE ON ONGOING INCIDENT AT LOWS LANE, STANTON-BY-DALE -
Derbyshire Fire & Rescue Service says that all roads are now open, but it continues to have a presence at a fire which started at a recycling facility on Lows Lane, Stanton-by-Dale last Saturday More...
FIRE AT LOWS LANE, STANTON-BY-DALE -
We reported on Sunday on a severe fire near the M1, J25 and J26 and today, Derbyshire Fire & Rescue Service have told us that they continue to work to fight the blaze More...
MAJOR FIRE AT RECYCLING FACILITY IN DERBYSHIRE -
Derbyshire Fire & Rescue Service is currently in attendance at a large fire at a recycling facility on Lows Lane, Stanton-by-Dale, Derbyshire. More...
DERBYSHIRE FIRE & RESCUE SERVICES' AWARDS CEREMONY -
On Thursday 6th September, Derbyshire Fire & Rescue Service held its annual awards ceremony at Pride Park Stadium, Derby. More...
WARNING AFTER RECALLED BEKO FRIDGE FIRE -
Derbyshire Fire and Rescue Service have issued a reminder that certain fridge freezers made by BEKO have been recalled after they attended a house fire which had been caused by the type identified. More...
DERBYSHIRE FIRE & RESCUE SERVICE ONE OF THE BEST! -
Derbyshire Fire & Rescue Service has been awarded 'Excellence' - the highest level of achievement More...
"WE FEARED THE WORST" DERBYSHIRE FIRE & RESCUE -
Derbyshire Fire and Rescue Service has this morning confirmed that the fire at Mitchell Way, New Whittington is not being treated as suspicious. More...
NEW WHITTINGTON HOUSE FIRE UPDATE -
Fire Investigations continue this morning into a blaze at a house in New Whittington. More...
ICE IS NOT NICE! FIRE OFFICER WARNS OF FROZEN DANGERS -
For one group of emergency personnel, the recent icy cold weather was a blessing in disguise. More...
THINK SPRINKLER CAMPAIGN LAUNCHED BY DERBYSHIRE FIRE SERVICE -
A seminar to highlight the benefits of having sprinklers fitted in domestic dwellings was held at the Old fire Station Sheffield Road, and the b2net More...
FIRESERVICE ADVICE ON KEEPING SAFE THIS CHRISTMAS -
Derbyshire Fire & Rescue Service is launching a campaign to remind local residents to keep safe at Christmas. More...
'FATAL ACCIDENT' ON INFIRMARY ROAD -
3 young people, including a motorcyclist, were killed in the grim weather conditions, outside Chesterfield College this morning. More...
CHIEF FIRE OFFICER SPEAKS TO THE CHESTERFIELD POST -
Bob Currie is the Group Manager of Derbyshire Fire and Rescue and he was present at the incident the whole time. More...
FIRE - "IT COULD HAVE BEEN WORSE" -
The Chesterfield Post has just left a press conference with Sarah Turner-Saint, (left) Head of Communications More...
HOSPITAL FIRE UPDATE -
Chesterfield Royal Hospital is this morning assessing damage to it's A&E, Fracture Clinic and Main Entrance after fire ripped through the departments last night. More...
HOSPITAL FIRE STATEMENT -
This is the statement issued by Chesterfield Royal Hospital at 23.36 pm tonight: More...
MAJOR FIRE AT CALOW HOSPITAL TONIGHT -
There is a major incident at Chesterfield Royal Hospital tonight with 10 fire engines in attendance. More...
NUISANCE FIRES IN MASTIN MOOR -
Police are appealing for information after Derbyshire Fire service was called to a burning cabin on Worksop Road More...
NO SMOKE AT CHESTERFIELD'S FIRE STATION -
Over a hundred people attended Chesterfield's fire station ahead of today's 'Stop Smoking Day' to take part in fun activities and learn about the dangers of smoking and how to quit. More...
FIRE KILLS... -
After 4 young children lost their lives in a tragic house fire in Derbyshire earlier this week, the Derbyshire Fire Service has issued safety advice to residents in the area. More...
WINTER DRIVING SAFETY TIPS -
DERBYSHIRE Fire & Rescue Service has given us some advice to help with driving in the hazardous snowy and icy conditions. More...
SNOW WARNING FOR BOILER FLUES -
DERBYSHIRE Fire & Rescue Service is warning people to make sure the flues of their gas boilers are kept clear of snow More...
STAY SAFE IN THE SNOW -
WITH snow covering Chesterfield, Derbyshire Fire & Rescue Service are urging people to take extra care both in the home and when they are out and about. More...