Monday 21st July 2014


Small businesses in Derbyshire are being helped to develop and grow with grants of up to £75,000 - and there's still time for local firms to bid for cash.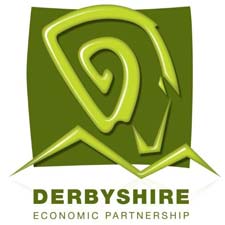 Derbyshire Economic Partnership - backed by Derbyshire County Council - secured £3m for small businesses from the Government's Regional Growth Fund.

Businesses around the county are already benefitting with around £0.5 million already awarded to 25 businesses through the Global Derbyshire Small Business Support Programme.

The programme, which was set up to distribute the funding, aims to create at least 200 new jobs, safeguard at least 48 more and attract £4m of private sector investment into the county.

Now the bidding process has been simplified to encourage more small businesses to bid for a share to help boost the local economy and generate jobs.

Businesses could be eligible for a grant of between £4,000 and £75,000 if it leads to the employment of at least one extra person.

Grants are available to:
Help set up a new business
Buy plant, equipment or machinery
Fund staff training and development
Pay for website development
Set-up online trading
Develop a new product or service
Employ external specialist support
Refurbish offices
Fund a broadband connection for your business
Buy equipment to help your business export goods.
Help prepare firms to export or buy equipment to allow them
to trade overseas.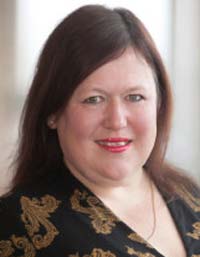 Councillor Joan Dixon, Derbyshire County Council Cabinet Member for Jobs, Economy and Transport, (left), said: "If your business could benefit from a grant of up to £75,000, we want to hear from you.

"In challenging economic times, we understand small business may think twice about committing the necessary investment to grow. The match funding available through this project might just give them the helping hand required to take the next step towards job creation.

"Small businesses are at the heart of the Derbyshire economy and we're committed to doing all we can to support them to flourish and compete in a global market. Our team of experts are on hand to advise so please get in touch to see how a Global Derbyshire grant might be able to help your business."

Businesses already awarded funding from the programme are seeking to create 80 jobs from their grant projects.

Richard Horsley, Chairman of the Derbyshire Economic Partnership, said: "The aim of Derbyshire Economic Partnership is to champion the needs of business, promote growth across our great county and ensure all the key movers and shakers in Derbyshire are focused on delivering jobs and prosperity. Global Derbyshire demonstrates our commitment to this aim but the funding is time limited. I would urge all businesses with eligible projects to contact us."

Businesses need to apply for funding by November 2014 and any projects awarded funding need to be complete by 31 March 2015.

Anyone who thinks their business could be eligible for a grant can visit www.derbyshireeconomicpartnership.org.uk or contact Derbyshire County Council by emailing globalderbyshire@derbyshire.gov.uk, calling 01629 539325 or 01629 538245 or visiting www.derbyshire.gov.uk/globalderbyshire

Two small businesses which have already been awarded Global Derbyshire grants are Intrepid Brewery in Brough near Hathersage and R.A Labone and Co Ltd in Ilkeston (see case studies below).
CASE STUDY 1
Hope Valley's first microbrewery has been set-up thanks to funding from the Global Derbyshire small business support programme.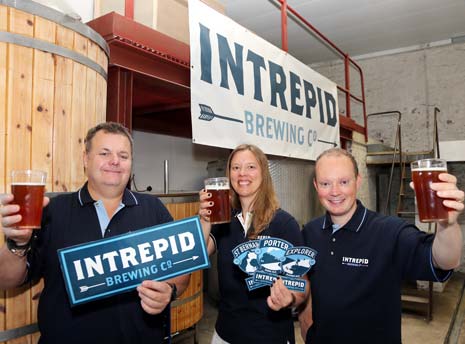 (l-r) Intrepid's Sales Negotiator Paul Towers, marketing manager Rebecca McIntyre and head brewer Ben McIntyre.

Intrepid Brewery based at Vincent Works, Brough has received a grant of £10,000 which has enabled it to purchase two fermenters and a cask washer.

The money has allowed head brewer Ben McIntyre from Bamford to turn his hobby into a dream business with his wife Rebecca, who will do the company's marketing.

The idea to start the company came after the company's sales negotiator, Paul Towers, gave Ben a book on how to set up a microbrewery company for his birthday.

Rebecca, who will continue in her job as a freelance bid writer until the business becomes successful enough to go full-time, said: "It would not have been possible to set up the company without Global Derbyshire and the money has made a big difference to what we want to achieve.

"The help and support from the team was very useful and it is straightforward to apply if you have a clear idea of what it is you want to do."

Ben added: "The funding has helped us to get up and running and without it, we wouldn't have been able to get going, as it helps us to prove the business to get other funding and expand."

Intrepid currently has three beers which are ready to market, with a lot more ideas for new ales.

They are Explorer, a blonde beer with fruity aromas, St. Bernard, an oaked brown ale balanced by caramel and biscuit flavours and Porter, a dark ale described as rich, full bodied with a bitter finish.

Paul said: "The aim is to get them into as many pubs as possible.

"The reason I got involved was because Ben makes the best beer I have ever tasted and I know I can sell something I have 100% faith in."

The company plan to showcase their beer at Bamford's first Beer and Sausage Festival at the Anglers Rest on August 25th, before fully opening in mid-September.

For more information about Intrepid Brewery, visit www.intrepidbrew.co.uk
CASE STUDY 2
Ilkeston-based engineering firm R.A Labone and Co Ltd has two reasons to celebrate this year.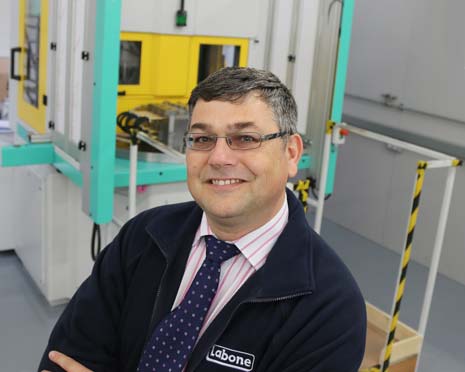 For as well as being in business for half a century the company has landed a major new contract with the help of a Global Derbyshire Small Business Support Programme.

The family business, which makes components for use in car manufacturing and for the medical device market, bid for a Global Derbyshire grant of £75,000 to help produce a new product crucial to the continued growth of the company.

And when the bid was successful, it gave the firm the extra financial backing needed to buy and install a dedicated rotary injection moulding machine and associated manufacturing cell to start producing components for tyre pressure monitoring systems that will soon be fitted to all car tyres.

Now the company, based on Lower Middleton Street, expects to recruit up to six extra staff to produce around four million parts every year.

Max Pulford, Business Development Manager at R.A Labone and Co Ltd, (pictured above), said : "The grant from Global Derbyshire was a key driver in getting this contract up and running.

"The company is making a huge financial commitment to get the project off the ground and that brings a high degree of risk but the grant helped to soften the blow. It gives the company the confidence to take that step forward and it gives the banks confidence in lending us the extra finance needed for the project."

Max said he would encourage other local businesses to apply for a Global Derbyshire grant.

He added: "We're all operating in challenging times, so anything which can help a business develop has got to be welcomed."
RECENT STORIES
BOROUGH COUNCIL
TO OPEN NEW INFORMATION AND BOOKING HUB -
A combined information and theatres booking hub for residents and visitors is to be launched at Chesterfield Visitor Information Centre, next to the Crooked Spire Church. More...
COUNTY COUNCIL'S TRAVEL TRAINING HELPS DERBYSHIRE'S YOUNGSTERS -
A successful travel scheme which helps Derbyshire youngsters with special educational needs get out and about in their communities could be continued. More...
'WE WILL REMEMBER THEM' FIRST WORLD WAR CENTENARY EVENTS -
Chesterfield residents can take part in a series of events at Chesterfield Museums to mark the 100th anniversary of the First World War. More...
TAPTON LOCK IS VOTED ONE OF THE COUNTRY'S FINEST GREEN SPACES -
Tapton Lock, a quarter mile stretch of the Chesterfield Canal, has been named one of the country's finest green spaces, after receiving a prestigious Green Flag award. More...
UPDATE ON WORK & TRAFFIC CONTROL
AT HORNSBRIDGE ISLAND -
Traffic control measures at Hornsbridge Island will be removed earlier than planned after a review into the project. More...
STILL TIME TO HAVE YOUR SAY ON LOCAL MOBILE LIBRARY SERVICES -
Residents still have three weeks to give their views on the future of Derbyshire County Council's mobile library service in a consultation to help the authority deal with budget cuts More...
HAVE YOUR SAY ON POSSIBLE CHANGES TO STREET LIGHTS -
Derbyshire residents are being urged to make sure they have their say on possible changes to the way street lights across Derbyshire are maintained, before the consultation closes on Friday 8th August. More...
IMPROVEMENT WORK TO TAKE PLACE AT THISTLE PARK, BRIMINGTON -
Children in Brimington are set to benefit from new play equipment at their local park thanks to Chesterfield Borough Council. More...
'CHESTERFIELD TO BE A SUCCESS' COUNCIL CHIEF HUW BOWEN INTERVIEW -
After an ongoing ten and a half years as part of the Chesterfield Borough Council, Huw Bowen, the current Chief Executive spoke to The Chesterfield Post about his roles as part of the council and ongoing issues within The Borough. More...
CABINET DECIDES ON SITE FOR NEW QUEEN'S PARK SPORTS CENTRE -
At their meeting today (Tuesday, 15th July) Chesterfield Borough Council's cabinet decided the centre can be built on the site of Queen's Park Annexe, subject to planning permission. More...
DISRUPTION TO COUNCIL SERVICES DURING THURSDAY'S STRIKE ACTION -
There is expected to be widespread disruption to services across the area on Thursday, July 10th, as public sector workers strike over pay. More...
BOROUGH COUNCIL REFUSES NEW LICENCE FOR BAR CENTRO -
Chesterfield Borough Council's licensing committee has refused a licence for a bar previously closed because of drug dealing. More...
PLANS SUBMITTED FOR QUEEN'S PARK SPORTS CENTRE REPLACEMENT -
New plans have been submitted by Chesterfield Borough Council for the replacement Queen's Park Sports Centre. More...
A NEW FOOTBRIDGE IS TO BE OPENED AT CHESTERFIELD CANAL FESTIVAL -
A new footbridge which has been built in Staveley over Chesterfield Canal will be officially opened on Saturday 28th June. More...
TRADING STANDARDS ISSUE AN E-CIG SAFETY ALERT -
Residents in Derbyshire are being warned to be extra vigilant when charging electronic cigarettes following incidents where the devices have exploded in people's homes. More...
FLAG RAISING PARADE TO MARK ARMED FORCES DAY IS CANCELLED -
A parade planned in Chesterfield to mark Armed Forces Day on 23 June has been cancelled. More...
WORK SET TO BEGIN ON HORNSBRIDGE ISLAND -
Work is set to begin on transforming a key gateway into Chesterfield town centre after planning permission has been granted. More...
DETAILS OF FORMER COUNTY COUNCIL CHIEF EXEC'S £219k PAY OFF TO BE PUBLISHED -
Derbyshire County Council's former chief executive Nick Hodgson received a £219,211 severance payment when he left the authority last year. More...
BOLSOVER COUNCIL HARNESSES THE POWER OF THE SUN AND SAVES MONEY -
Bolsover District Council is doing its bit for the environment as they prepare to install photovoltaic cells (solar panels) onto the roof of its offices in Clowne and save over £34,000 of council taxpayers' money every year. More...
COUNTY COUNCIL'S SENIOR MANAGERS' REVIEW TO SAVE £2 MILLION -
More senior managers' jobs are to go at Derbyshire County Council as part of the organisation's drive to cut £157 million from its budget by 2018. More...
GRASSMOOR HOUSING DEVELOPMENT RECEIVES OUTLINE APPROVAL -
North East Derbyshire District Council has granted outline planning permission for a maximum of 165 dwellings at Windwhistle Farm in Grassmoor. More...
LOCAL RESIDENTS ENCOURAGED TO TAKE PART IN 'LEGAL HIGHS' SURVEY -
A national survey that aims to gather information about the use of 'legal highs' is being supported by Derbyshire County Council.
More & Video...
NEDDC COUNCIL APPROVES REGENERATION PLANS -
North East Derbyshire District Council has approved plans to move their main administrative headquarters from Saltergate to Mill Lane, Wingerworth in early 2015. More...
CHESTERFIELD BOROUGH COUNCIL IS PRAISED BY PEERS -
An independent assessment has praised Chesterfield Borough Council for the huge commitment to the borough by both councillors and employees. More...
NEW FIGURES SHOW URGENCY OF CHESTERFIELD'S HOUSING CRISIS -
New figures, released to local MP Toby Perkins by the National House Building Council reveal that new house building in Chesterfield has fallen to just one third of the national average. More...
COUNTY COUNCIL'S CHILDREN IN CARE
TO PLAN BRIGHT FUTURES -
Young people will be able to consider their future at a Derbyshire County Council careers event hosted specifically for children in care and care leavers. More...
COURT UPHOLDS COUNCIL'S DECISION ON BAR CENTRO -
A town centre bar has been refused permission to re-open, after magistrates upheld the decision by Chesterfield Borough Council's licensing committee to revoke its licence. More...
OUTGOING NEDDC CHAIR - OVER 8,000 FOR CHARITY TO BE HAPPY! -
North East Derbyshire District Council's outgoing Chairman, Councillor Ken Savidge and generous residents from across the area, have helped raise thousands of pounds through an annual charity appeal. More...
'STILL PUNCHING ABOVE OUR WEIGHT!" Cllr JOHN BURROWS ON CHESTERFIELD -
In a wide ranging interview, Council Leader John Burrows talked to us on developments which have been mooted in the town, admitting that the financial climate and unforeseen issues had significantly impacted on the 'master plan' More...
PLANS FOR NEW QUEEN'S PARK SPORTS CENTRE ARE APPROVED -
Members of Chesterfield Borough Council's planning committee have approved plans for the new centre to be built on the site of Queen's Park Annexe, subject to planning conditions. More...
COURT SENTENCES APPLIANCE REPAIR MAN TO 160 HOURS UNPAID WORK -
An appliance repair man from Chesterfield has been ordered to carry out 160 hours of unpaid work and compensate victims, after a successful prosecution by the County Council's trading standards team. More...
ENVIRONMENTALLY FIRENDLY WAY TO DISPOSE OF YOUR FOOD WASTE -
An environmentally friendly way to dispose of food waste is being introduced for residents in the Bolsover District, Chesterfield Borough and North East Derbyshire District Council areas. More...
CHILDREN'S CENTRES REVIEW AGREED BY DERBYSHIRE COUNTY COUNCIL -
Derbyshire residents will be asked how they think children's centre services should be delivered in a review to begin this month. More...
POTHOLE FIXING 'JETPATCHER' MACHINES TO STAY
IN COUNTY -
Two specialist 'Jetpatcher' machines are to stay in Derbyshire until mid-July to continue work to fix potholes across the county. More...
LOCAL MP, NATASCHA ENGEL CONTINUES
TO LEAD THE FIGHT AGAINST HS2 -
MP for NE Derbyshire, Natascha Engel, continues to campaign against the case for HS2 and demand that the Government gives more say to the people who will be directly affected by the project. More...
COUNCIL WARNING TO CHESTERFIELD RESIDENTS TO AVOID FLY TIPPING -
Chesterfield Borough Council is warning residents to make sure anyone they pay to dispose of their rubbish is licensed and does so legally. More...
MAJOR REFORMS OF SPECIAL EDUCATIONAL NEEDS ARE ON THE WAY -
Families whose children have special educational needs and disabilities, can have a say in how major reforms will affect them, as part of a consultation launched by Derbyshire County Council. More...
CHESTERFIELD BOROUGH COUNCIL REMINDS RESIDENTS TO CHECK FOR ID -
Chesterfield Borough Council is reminding residents to always check for ID from staff who are carrying out work on behalf of the council.
More...
WORK TO FURTHER EXPAND MARKHAM VALE IS DUE TO START -
Work to expand Derbyshire County Council's flagship regeneration site is due to start next month, after a visit to Markham Vale by Eric Pickles confirmed Government cash is in the pipeline. More...
MAKE SURE YOU
ARE READY TO VOTE IN THE EURO ELECTIONS -
Chesterfield Borough Council is reminding residents to make sure they are registered to vote in the elections to the European Parliament. More...
CRACKDOWN ON
BLUE BADGE MISUSE CONTINUES COUNTYWIDE -
A crackdown on people who are misusing Blue Badges has seen just over 700 checks carried out in four months. More..