Friday 9th September 2011

Power forward Neil Clark is expected back in the Steelers line up for Saturdays home opener against Dundee Stars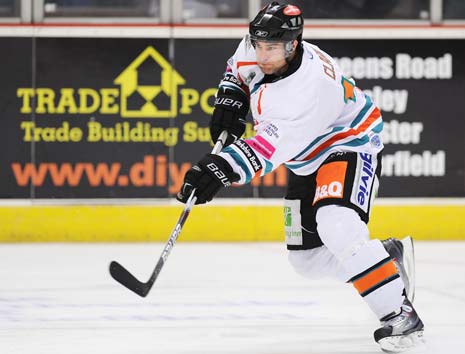 Clark (pictured above) missed Tuesday's exhibition game against local rivals Sheffield Steeldogs as a precaution but head coach Ryan Finnerty expects the 6'3" winger back in time for Saturdays game at the arena.

"At this time of the year you want to be careful and Neil had a knock which needed rest. He has seen the physio a couple of times and we have kept him off the ice. He will skate on Friday but I expect a green light and to see him in full flight against Dundee on Saturday" said Finnerty.
Steelers will have a late fitness test on Rod Sarich before Saturday's game. Sarich also missed Tuesdays game with the Steeldogs and is thought to be 50-50 ahead of the game with Dundee.
Sheffield Steelers v Dundee Stars
Motorpoint Arena - Face Off 7pm
Tickets: 0114 256 565656
www.sheffieldsteelers.co.uk
RECENT STORIES
STEELERS 'BOUNCEBACKABILITY' KEEPS THEM IN THE CHALLENGE CUP -
The Unison Sheffield Steelers bounced back from a 3-0 defeat in Nottingham on Saturday to beat the Cardiff Devils 5-3 More...
STEELERS 2, PANTHERS 4. MATCH REPORT -
Sheffield Steelers disappointed a crowd of over 6,500 with a lacklustre performance against the Nottingham Panthers in the Challenge Cup. More...
HUGE WIN FOR THE SHEFFIELD STEELERS IN CARDIFF -
After coming from behind to tie the Blaze 2-2 in the Challenge Cup game on Saturday, Ryan Finnerty's beat Cardiff on Sunday extending their winning streak to 5 games. More...
IT'S ABOUT TIME WE WON THE CHALLENGE CUP - STEELER'S BULL DOG HEWITT -
The Unison Sheffield Steelers commence their Challenge Cup campaign this weekend with a home game against Coventry Blaze, Saturday More...
STEELERS 6 - COVENTRY BLAZE 4. MATCH REPORT -
A big second period set up an outstanding 6-4 victory for the Steelers against the Coventry Blaze on Saturday night. More...
STEELERS CAPTAIN JONO UNDERGOES SURGERY -
Sheffield Steelers Captain Jonathan Phillips has undergone surgery to repair damaged knee ligaments. More...
NOW IT'S 3 OUT OF 3 FOR THE STEELERS! -
Steelers forward Neil Clark bagged another 2 goals as the Sheffield Steelers made it 3 wins out of 3 with a gutsy performance in Hull on Sunday evening. More...
2 OUT OF 2 FOR THE STEELERS -
The Steelers made it two wins out of two with a 4-1 home opening victory against the Dundee Stars on Saturday evening at the Motorpoint Arena. More...