Monday 17th October 2011


Sheffield Steelers disappointed a crowd of over 6,500 on Sunday evening with a lacklustre performance against the Nottingham Panthers in the Challenge Cup.

The Steelers took two early penalties with Nottingham advantage scoring on both power plays through player coach Corey Neilson and Guy Lepine

The middle period didn't get better for Ryan Finnerty's side with youngster Robert Lachowicz scoring a third.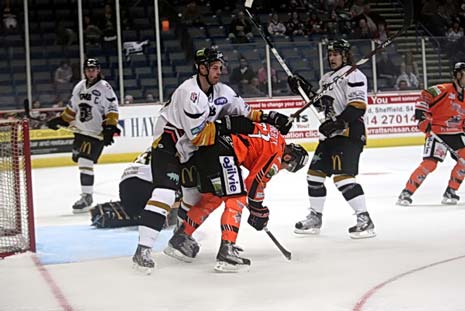 It was all too much for Steelers winger Colt King who immediately challenged Lepine at the restart and the two traded serious heavyweight punches in a brawl that had the largest crowd of the season on their feet with King the clear winner.

It was little consolation for Finnerty though, who then saw his side go 4 down to a stunning solo effort from David Clarke with just over 5 minutes remaining.

It was left to Finnerty to break Craig Kowalski's shut over with just over 3 minutes on the clock. Tom Squires scored a further strike for the Steelers but it was all too little too late as the Panthers picked up two valuable Challenge Cup points.

What the coach said...

Ryan Finnerty was fuming after the Steelers 4-2 home defeat to the Nottingham Panthers on Sunday, "We let everyone down this evening! We had a huge crowd who came to see us perform and we didn't. We were out worked and that is what hurts the most.

"You don't get out worked in your own building, you don't get out competed but we did, we just never got into the game.

"We took two early penalties and the Panthers were sharp and took advantage. From then on we were chasing the game.

"We just carried far too many passengers tonight and it hurts me to say that. I never thought a Steelers side would get out worked the way we did. I'm sorry to the fans, they deserved better, they were loud, behind us and you could feel them willing us on."
RECENT STORIES
DISAPPOINTING END TO STEELERS' EUROPEAN JOURNEY -
Steelers ended their Continental Cup experience with a 6-3 defeat at the hands of Hungarian champions Dunaujveros Bull's. More...
"FRUSTRATED, DISAPPOINTED AND UPSET" FINNERTY -
Head coach Ryan Finnerty said he was frustrated, disappointed and upset after the Steelers 3-0 loss to Herning on Saturday evening. More...
STEELERS AWAIT CLARIFICATION ON ROD SARICH -
Rod Sarich spent time in hospital following the Steelers 3-2 victory against the Nottingham Panthers on Sunday night. More...
BRAEHEAD CLAN 2, SHEFFIELD STEELERS 4. MATCH REPORT -
A 2nd period burst from the Steelers that saw them score 3 within the first 7 minutes cemented this win. More...
A SPLIT WEEKEND BUT STEELERS STILL IN CHALLENGE CUP -
The Sheffield Steelers' Challenge Cup hopes remained in place after a 2-1 home victory over the Hull Stingrays on Sunday evening. More...
DOUBLE WIN KEEPS DOUBLE ALIVE -
The Sheffield Steelers recorded two more wins over the weekend that kept their hopes of both league and challenge cup success. More...
STEELERS SHUT OUT THE BLAZE TO IN A 4 POINT WEEKEND -
The UNISON Sheffield Steelers moved into 2nd place in the league standings after a 4 point weekend with victories over Dundee and at Coventry More...
STEELERS 'BOUNCEBACKABILITY' KEEPS THEM IN THE CHALLENGE CUP -
The Unison Sheffield Steelers bounced back from a 3-0 defeat in Nottingham on Saturday to beat the Cardiff Devils 5-3 More...
HUGE WIN FOR THE SHEFFIELD STEELERS IN CARDIFF -
After coming from behind to tie the Blaze 2-2 in the Challenge Cup game on Saturday, Ryan Finnerty's beat Cardiff on Sunday extending their winning streak to 5 games. More...
IT'S ABOUT TIME WE WON THE CHALLENGE CUP - STEELER'S BULL DOG HEWITT -
The Unison Sheffield Steelers commence their Challenge Cup campaign this weekend with a home game against Coventry Blaze, Saturday More...
STEELERS 6 - COVENTRY BLAZE 4. MATCH REPORT -
A big second period set up an outstanding 6-4 victory for the Steelers against the Coventry Blaze on Saturday night. More...
STEELERS CAPTAIN JONO UNDERGOES SURGERY -
Sheffield Steelers Captain Jonathan Phillips has undergone surgery to repair damaged knee ligaments. More...
NOW IT'S 3 OUT OF 3 FOR THE STEELERS! -
Steelers forward Neil Clark bagged another 2 goals as the Sheffield Steelers made it 3 wins out of 3 with a gutsy performance in Hull on Sunday evening. More...
2 OUT OF 2 FOR THE STEELERS -
The Steelers made it two wins out of two with a 4-1 home opening victory against the Dundee Stars on Saturday evening at the Motorpoint Arena. More...
CLARK GETS GREEN LIGHT FOR HOME OPENER -
Power forward Neil Clark is expected back in the Steelers line up for Saturdays home opener against Dundee Stars More...
A WINNING START FOR THE CHAMPIONS -
A very tight low scoring encounter to open the season in Belfast with the visiting Steelers taking the extra point thanks to a shootout win More...