Friday 7th October 2011


The Unison Sheffield Steelers commence their Challenge Cup campaign this weekend with a home game at Ice Sheffield against Coventry Blaze on Saturday evening.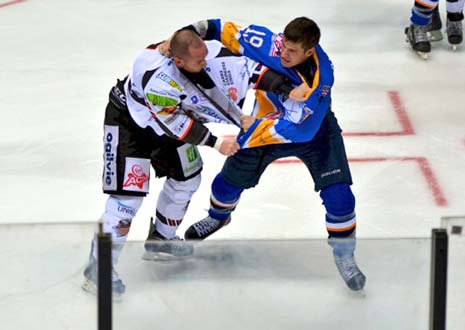 Steelers' Jason Hewitt vs the Fife Flyers

The Challenge Cup is the one trophy that has eluded the Arena side in the 8 years of the Elite Ice Hockey League, though the Steelers lifted the trophy in the ISL era on several occasions.

Forward Jason Hewitt (above) believes it's about time that the Steelers gave the Challenge Cup a better run. "I don't know why, but in recent years the Challenge Cup hasn't been our event at all. I don't know if it's because we have always been so focused on the league, or just been unlucky! What i do know is this year, we're going full out to bring it back to Sheffield.

"There are only three competitions and as players, a trophy is a trophy and this one is important. It's the only trophy I haven't won as a player and it's certainly one I and the rest of the team want to add to our collection.

"They call our group the group of death every year because it's split geographically, so we get Cardiff, Coventry and Nottingham (and Hull).

"The way the fixtures have fallen this year some of the other teams have had the jump on us. Nottingham have played 5 games, Cardiff 4, Coventry 2 and Hull 3.

"The game on Saturday against Coventry is a tough opener but I think if we beat them, we pretty much kill off their chances of qualification and we make it a 3 way fight for the two semi finals spots with Nottingham and Cardiff.

"The game two weeks ago against the Blaze showed that we have the beating of them. Saying that, they have made a change and I think they are threatening a few more, so maybe it's a different Blaze side that will arrive at Ice Sheffield.

"This last weekend showed that we can play short handed and that we have the depth to battle through the resent injuries. We will need every bit of that same effort come Saturday because the Blaze will be on their last Challenge Cup life and fighting every inch of the way."
UNISON Sheffield Steelers v Coventry Blaze
Saturday 8th October 2011
ICE-Sheffield - Face off 7.00pm
Tickets:
Steelers office 0114 242 3535 or the Arena Box Office 0114 256 5656
RECENT STORIES
STEELERS AWAIT CLARIFICATION ON ROD SARICH -
Rod Sarich spent time in hospital following the Steelers 3-2 victory against the Nottingham Panthers on Sunday night. More...
BRAEHEAD CLAN 2, SHEFFIELD STEELERS 4. MATCH REPORT -
A 2nd period burst from the Steelers that saw them score 3 within the first 7 minutes cemented this win. More...
A SPLIT WEEKEND BUT STEELERS STILL IN CHALLENGE CUP -
The Sheffield Steelers' Challenge Cup hopes remained in place after a 2-1 home victory over the Hull Stingrays on Sunday evening. More...
DOUBLE WIN KEEPS DOUBLE ALIVE -
The Sheffield Steelers recorded two more wins over the weekend that kept their hopes of both league and challenge cup success. More...
STEELERS SHUT OUT THE BLAZE TO IN A 4 POINT WEEKEND -
The UNISON Sheffield Steelers moved into 2nd place in the league standings after a 4 point weekend with victories over Dundee and at Coventry More...
STEELERS 'BOUNCEBACKABILITY' KEEPS THEM IN THE CHALLENGE CUP -
The Unison Sheffield Steelers bounced back from a 3-0 defeat in Nottingham on Saturday to beat the Cardiff Devils 5-3 More...
STEELERS 2, PANTHERS 4. MATCH REPORT -
Sheffield Steelers disappointed a crowd of over 6,500 with a lacklustre performance against the Nottingham Panthers in the Challenge Cup. More...
HUGE WIN FOR THE SHEFFIELD STEELERS IN CARDIFF -
After coming from behind to tie the Blaze 2-2 in the Challenge Cup game on Saturday, Ryan Finnerty's beat Cardiff on Sunday extending their winning streak to 5 games. More...
STEELERS 6 - COVENTRY BLAZE 4. MATCH REPORT -
A big second period set up an outstanding 6-4 victory for the Steelers against the Coventry Blaze on Saturday night. More...
STEELERS CAPTAIN JONO UNDERGOES SURGERY -
Sheffield Steelers Captain Jonathan Phillips has undergone surgery to repair damaged knee ligaments. More...
NOW IT'S 3 OUT OF 3 FOR THE STEELERS! -
Steelers forward Neil Clark bagged another 2 goals as the Sheffield Steelers made it 3 wins out of 3 with a gutsy performance in Hull on Sunday evening. More...
2 OUT OF 2 FOR THE STEELERS -
The Steelers made it two wins out of two with a 4-1 home opening victory against the Dundee Stars on Saturday evening at the Motorpoint Arena. More...
CLARK GETS GREEN LIGHT FOR HOME OPENER -
Power forward Neil Clark is expected back in the Steelers line up for Saturdays home opener against Dundee Stars More...
A WINNING START FOR THE CHAMPIONS -
A very tight low scoring encounter to open the season in Belfast with the visiting Steelers taking the extra point thanks to a shootout win More...