Tuesday 13th September 2011

Steelers forward Neil Clark (below) bagged another 2 goals as the Sheffield Steelers made it 3 wins out of 3 with a gutsy performance in Hull on Sunday evening.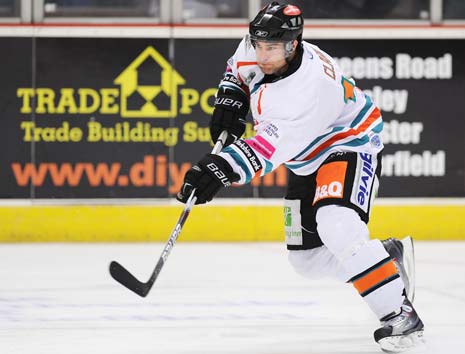 The win takes the Steelers to the top of the Elite league, though Head Coach Ryan Finnerty will have a busy week the clubs medical staff after a couple of the players picked up injuries over the weekend.

"It's been a great weekend on the ice. Two good games, two good performances and 4 points" said Finnerty. "It has come at a cost though with a couple of the guys picking up knocks. We will take a few days off and rest these bodies. A couple of the guys will get scans so we can diagnose where we are at.

"Hull played a strong game tonight. They played very well and they took it to us for a time in the final period. I was delighted how we came through and the character that we showed. Our powerplay was outstanding and we again killed very well.

"Our whole D core tonight was incredible. Tomo, Huttle, Birnstill, Stephenson and even Legue who dropped back to double shift all bought in and deserve huge credit.

"Clarkie again found the net a couple of times. He is on fire right now and long may it continue. It's not just his goals, he is playing so well. He is on the big line and he likes it. If he keeps scoring and playing like he is then he will stay on it as well."
MATCH REPORT:
Steelers skated to the top of the Elite League after game day four with an eventual comfortable victory over Hull Stingrays. Steelers however, were pegged back from 3-0 to 3-2 late in the second period and only a three goal burst in the final ten minutes saw them clear.

A quick start for the visitors saw Neil Clark shoot them ahead after only 2.52 but despite Steelers having the edge in chances, that proved to be the only counter of the period.

The visitors lead was doubled at 28.19 as Jason Hewitt was on hand to net and at 30.15 player/coach Ryan Finnerty made it 3-0 on the powerplay.

Stingrays dug deep at that point and came right back into the game when Jason Silverthorn scored a quick double at 34.17 on the powerplay and 38.49.

The scoreline stayed that way with both sides missing chances until Steelers killed of their hosts with three strikes. Jeff Legue on the powerplay at 50.03, Colt King only 43 seconds later and finally Clark with his second at 53.38 ensured the points were heading back to Sheffield with the early league leaders.

Period Scores: 0-1, 2-2, 0-3
Penalty Mins: Hul 37 - She 17
Powerplay: Hul 1/5 - She 2/10
Shots On: Christian Boucher 35 - John DeCaro 32

Referee: Andy Carson
RECENT STORIES
DOUBLE WIN KEEPS DOUBLE ALIVE -
The Sheffield Steelers recorded two more wins over the weekend that kept their hopes of both league and challenge cup success. More...
STEELERS SHUT OUT THE BLAZE TO IN A 4 POINT WEEKEND -
The UNISON Sheffield Steelers moved into 2nd place in the league standings after a 4 point weekend with victories over Dundee and at Coventry More...
STEELERS 'BOUNCEBACKABILITY' KEEPS THEM IN THE CHALLENGE CUP -
The Unison Sheffield Steelers bounced back from a 3-0 defeat in Nottingham on Saturday to beat the Cardiff Devils 5-3 More...
STEELERS 2, PANTHERS 4. MATCH REPORT -
Sheffield Steelers disappointed a crowd of over 6,500 with a lacklustre performance against the Nottingham Panthers in the Challenge Cup. More...
HUGE WIN FOR THE SHEFFIELD STEELERS IN CARDIFF -
After coming from behind to tie the Blaze 2-2 in the Challenge Cup game on Saturday, Ryan Finnerty's beat Cardiff on Sunday extending their winning streak to 5 games. More...
IT'S ABOUT TIME WE WON THE CHALLENGE CUP - STEELER'S BULL DOG HEWITT -
The Unison Sheffield Steelers commence their Challenge Cup campaign this weekend with a home game against Coventry Blaze, Saturday More...
STEELERS 6 - COVENTRY BLAZE 4. MATCH REPORT -
A big second period set up an outstanding 6-4 victory for the Steelers against the Coventry Blaze on Saturday night. More...
STEELERS CAPTAIN JONO UNDERGOES SURGERY -
Sheffield Steelers Captain Jonathan Phillips has undergone surgery to repair damaged knee ligaments. More...
2 OUT OF 2 FOR THE STEELERS -
The Steelers made it two wins out of two with a 4-1 home opening victory against the Dundee Stars on Saturday evening at the Motorpoint Arena. More...
CLARK GETS GREEN LIGHT FOR HOME OPENER -
Power forward Neil Clark is expected back in the Steelers line up for Saturdays home opener against Dundee Stars More...
A WINNING START FOR THE CHAMPIONS -
A very tight low scoring encounter to open the season in Belfast with the visiting Steelers taking the extra point thanks to a shootout win More...