Tuesday 13th September 2011

The Steelers made it two wins out of two with a 4-1 home opening victory against the Dundee Stars on Saturday evening at the Motorpoint Arena.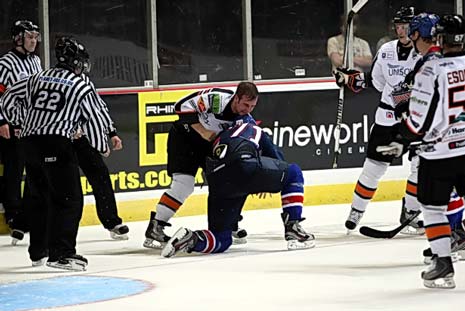 Neil Clark led the way with 2 goals and a 3 point night with further strikes coming from Mike Ramsey and Colt King, both making their home debut.

Steelers outshot the Stars 10-2 in the opening period but only had King's goal to show for it at the first break.

The middle session turned the Steelers way with 3 goals in under 10 minutes, the first coming from Neil Clark whose deflected shot sneaked past Stars new starting goalie Chris Whitley.

The new one-two punch of Jeff Legue and Mike Ramsay showed signs of great things when Legue picked up his 299th Steelers point on Ramsay's opening goal of the season. Legue though made an even better pass moments later, for his 300th, when setting up Neil Clark for his 2nd goal and the Steelers 4th.

Dundee broke the shut out for goalie John DeCaro with just over 5 minutes remaining when former Steeler Dan Ceman netted from close range

The night ended with two fights after Steelers Captain Jonathan Phillips went down after a Chris Zarb hit that was assessed with a 5 minute penalty and a game misconduct for kneeing.

Defenseman Matt Stephenson stepped in to fight Zarb with a later incident involving Chad Huttle and Jeff Hutchins rounding off an enjoyable night for the fans.
What the coach Said ...
Ryan Finnerty "I thought tonight was very encouraging. It was great to open our home fixtures with a win and I thought a convincing one. We created a ton of chances and I was pleased with the four goals.

"We are always going to take penalties, it's the way we play and tonight our penalty kill was outstanding, we gave Dundee very little on their powerplay.

"I thought the big line of Legue, Ramsay and Clark showed real signs of chemistry tonight. Neil had a big night with 2 goals and 3 points, more than that he was always a factor out there.

"We are still making those early season mistakes and they will go as time passes by."
RECENT STORIES
STEELERS SHUT OUT THE BLAZE TO IN A 4 POINT WEEKEND -
The UNISON Sheffield Steelers moved into 2nd place in the league standings after a 4 point weekend with victories over Dundee and at Coventry More...
STEELERS 'BOUNCEBACKABILITY' KEEPS THEM IN THE CHALLENGE CUP -
The Unison Sheffield Steelers bounced back from a 3-0 defeat in Nottingham on Saturday to beat the Cardiff Devils 5-3 More...
STEELERS 2, PANTHERS 4. MATCH REPORT -
Sheffield Steelers disappointed a crowd of over 6,500 with a lacklustre performance against the Nottingham Panthers in the Challenge Cup. More...
HUGE WIN FOR THE SHEFFIELD STEELERS IN CARDIFF -
After coming from behind to tie the Blaze 2-2 in the Challenge Cup game on Saturday, Ryan Finnerty's beat Cardiff on Sunday extending their winning streak to 5 games. More...
IT'S ABOUT TIME WE WON THE CHALLENGE CUP - STEELER'S BULL DOG HEWITT -
The Unison Sheffield Steelers commence their Challenge Cup campaign this weekend with a home game against Coventry Blaze, Saturday More...
STEELERS 6 - COVENTRY BLAZE 4. MATCH REPORT -
A big second period set up an outstanding 6-4 victory for the Steelers against the Coventry Blaze on Saturday night. More...
STEELERS CAPTAIN JONO UNDERGOES SURGERY -
Sheffield Steelers Captain Jonathan Phillips has undergone surgery to repair damaged knee ligaments. More...
NOW IT'S 3 OUT OF 3 FOR THE STEELERS! -
Steelers forward Neil Clark bagged another 2 goals as the Sheffield Steelers made it 3 wins out of 3 with a gutsy performance in Hull on Sunday evening. More...
CLARK GETS GREEN LIGHT FOR HOME OPENER -
Power forward Neil Clark is expected back in the Steelers line up for Saturdays home opener against Dundee Stars More...
A WINNING START FOR THE CHAMPIONS -
A very tight low scoring encounter to open the season in Belfast with the visiting Steelers taking the extra point thanks to a shootout win More...