Monday 10th October 2011


After the Sheffield Steelers came from behind to tie the Coventry Blaze in their first Challenge Cup game on Saturday (2-2), Ryan Finnerty's side went one better in a thriller in Cardiff on Sunday evening and extended their winning streak to 5 games.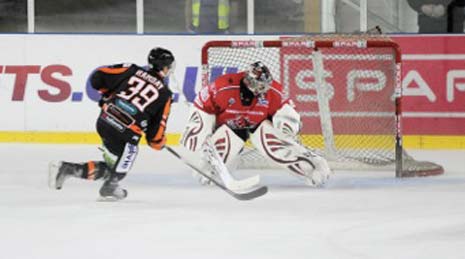 Sheffield Steelers' Mike Ramsay scores the game winner in Cardiff against the Devils

Less than a month ago, Steelers were blanked in Wales in their first visit to the 'Big Blue Tent' this season but they gained sweet revenge in this one as a Mike Ramsay shootout strike was good enough to take the extra points after the teams had shared four goals in regulation and overtime.

Steelers have now won five and tied one from their last six but it's a first loss in three for Devils.

The opening period was goalless with both sides having their chances and each missing out on a couple of powerplay opportunities.

The game broke open however in the middle session with a couple of quick goals for the visitors. Rod Sarich fired them ahead at 26.22 and then only 41 seconds later Lee Esders made it two. Devils quickly hit back through Phil Hill at 31.25 and it was a one-goal game going into the third.

Steelers soaked up a lot of home pressure, while always looking dangerous themselves at the other end but Devils were able to take the game to overtime when they punished a 2+2+10 penalty on Sarich by seeing Scott Dobben level at 58.22.

No goals in overtime but Devils' Chris Frank was ejected on a 5+ game for slashing in the final minute.

The shootout produced no goals from the original three-man round but Ramsay then stepped up to score the winner in round four and keep his side well in touch at the top end of the standings.   
 
Period Scores: 0-0, 1-2, 1-0, 0-0, (0-1)
Penalty Mins: Car 37 - She 30
Powerplay: Car 1/8 - She 0/5
Shots On: Stevie Lyle 32 / John DeCaro 50
Referee: Tom Darnell
Head coach Ryan Finnerty said, "This was a huge character win and it told me so much about this team. We came here a couple of weeks ago and didn't compete and deserved the beating the Devils gave us.

"Tonight we showed that we had learnt that lesson. We competed and we fought like dogs. It was a war here tonight and short benched and beat up we dug deep and simply refused to lose the game.

"You can't come here and be out worked, if you do you lose. Simple as. We put the injuries on the shelf and played hard from shift one. We took our chances and at the other end DeCaro was huge, as we expect him to be. He made some great saves and just gave us the platform to build on. He makes the first save every time and those in front of him then played so strong. Give credit to the defence, just 4 of them all weekend, incredible effort.

"A special word for Lee Esders. He scores his first Steelers goal tonight, a huge one for us. What is happening to him shows what we are all about. He is being rewarded with more ice time and tonight power play time because he listens, he understands and he is doing the little things right. The guys love him. He is a credit and becoming a bigger part of our team every day.

"We give you nothing here, you have to work for it and you have to earn it. Lee Esders is doing just that.

"I can't tell you how proud I feel right now. This is a massive win, the boys limped back onto the bus, ice packs all over the place. That though, is what you have to do to win in Cardiff. That's what you have to do to win a championship."
RECENT STORIES
"FRUSTRATED, DISAPPOINTED AND UPSET" FINNERTY -
Head coach Ryan Finnerty said he was frustrated, disappointed and upset after the Steelers 3-0 loss to Herning on Saturday evening. More...
STEELERS AWAIT CLARIFICATION ON ROD SARICH -
Rod Sarich spent time in hospital following the Steelers 3-2 victory against the Nottingham Panthers on Sunday night. More...
BRAEHEAD CLAN 2, SHEFFIELD STEELERS 4. MATCH REPORT -
A 2nd period burst from the Steelers that saw them score 3 within the first 7 minutes cemented this win. More...
A SPLIT WEEKEND BUT STEELERS STILL IN CHALLENGE CUP -
The Sheffield Steelers' Challenge Cup hopes remained in place after a 2-1 home victory over the Hull Stingrays on Sunday evening. More...
DOUBLE WIN KEEPS DOUBLE ALIVE -
The Sheffield Steelers recorded two more wins over the weekend that kept their hopes of both league and challenge cup success. More...
STEELERS SHUT OUT THE BLAZE TO IN A 4 POINT WEEKEND -
The UNISON Sheffield Steelers moved into 2nd place in the league standings after a 4 point weekend with victories over Dundee and at Coventry More...
STEELERS 'BOUNCEBACKABILITY' KEEPS THEM IN THE CHALLENGE CUP -
The Unison Sheffield Steelers bounced back from a 3-0 defeat in Nottingham on Saturday to beat the Cardiff Devils 5-3 More...
STEELERS 2, PANTHERS 4. MATCH REPORT -
Sheffield Steelers disappointed a crowd of over 6,500 with a lacklustre performance against the Nottingham Panthers in the Challenge Cup. More...
IT'S ABOUT TIME WE WON THE CHALLENGE CUP - STEELER'S BULL DOG HEWITT -
The Unison Sheffield Steelers commence their Challenge Cup campaign this weekend with a home game against Coventry Blaze, Saturday More...
STEELERS 6 - COVENTRY BLAZE 4. MATCH REPORT -
A big second period set up an outstanding 6-4 victory for the Steelers against the Coventry Blaze on Saturday night. More...
STEELERS CAPTAIN JONO UNDERGOES SURGERY -
Sheffield Steelers Captain Jonathan Phillips has undergone surgery to repair damaged knee ligaments. More...
NOW IT'S 3 OUT OF 3 FOR THE STEELERS! -
Steelers forward Neil Clark bagged another 2 goals as the Sheffield Steelers made it 3 wins out of 3 with a gutsy performance in Hull on Sunday evening. More...
2 OUT OF 2 FOR THE STEELERS -
The Steelers made it two wins out of two with a 4-1 home opening victory against the Dundee Stars on Saturday evening at the Motorpoint Arena. More...
CLARK GETS GREEN LIGHT FOR HOME OPENER -
Power forward Neil Clark is expected back in the Steelers line up for Saturdays home opener against Dundee Stars More...
A WINNING START FOR THE CHAMPIONS -
A very tight low scoring encounter to open the season in Belfast with the visiting Steelers taking the extra point thanks to a shootout win More...