Monday 17th September 2012

Chesterfield residents are being invited to share their special memories of Eastwood Park in Hasland, as part of a project to create a magnificent feature archway.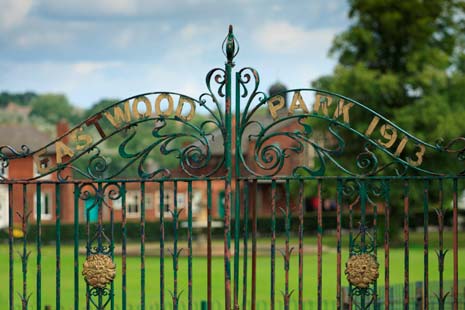 Chesterfield Borough Council is currently overseeing a complete restoration of the Park after it secured a grant of £1.07m from the Heritage Lottery Fund and Big Lottery Fund.

David Mayne, the artist of the special metal archway, is holding a 'Memory Day' so people can come and share their special memories of what they've seen, enjoyed and experienced at Eastwood Park.  He is also keen to see any photographs that people may have of the Park.

David said: "I hope to speak to a good cross section of the public to get a wide range of memories that will hopefully inspire me to incorporate their thoughts into the final design of the archway."

The event takes place at Eastwood Park Village Hall, Hasland, Chesterfield S41 0AY on Wednesday 26th September between 2 - 7pm.  For more information contact Mark Shewring, on 01246 345792 or by email at mark.shewring@chesterfield.gov.uk
Links to Relevant Websites

RELATED STORIES
CHESTERFIELD CARNIVAL MAKES A RETURN AFTER A 25 YEAR ABSENCE -
A reminder that Chesterfield Carnival takes place tomorrow - Saturday 26th July - at Stand Road Park More...
HIGH PRAISE FOR CHESTERFIELD'S HOLMEBROOK
VALLEY PARK -
Judges from the national Green Flag award have commended Holmebrook Valley Park. More...
FUNDING EASTWOOD PARK'S COMMUNITY GARDEN -
Eastwood Park in Hasland is set to benefit from a raft of improvements thanks to funding from the Lottery funded Awards for All. More...
OPENING OF NEW ADVENTURE PLAY AREA AT STAND ROAD PARK -
A new adventure play area for young children in Chesterfield is being opened by the Friends of Stand Road Park More...
£47k AWARD FORM BIFFA AWARD FOR STAND ROAD PARK -
The Friends of Stand Road Park has been awarded £47,000 from Biffa Award to build an adventure play area for young children at Whittington Moor, Chesterfield. More...
KING V PARLIAMENT THIS BANK HOLIDAY CHESTERFIELD STYLE! -
History will come alive as the English Civil War is staged in Holmebrook Valley Park in Chesterfield this Bank Holiday weekend More...
CHESTERFIELD'S QUEEN'S PARK SAYS 'FEED THE BIRDS' -
More than 100 bird lovers flocked to Queen's Park to take part in a nest box building event organised by Chesterfield Borough Council. More...
DIAMOND JUBILEE FUNDING BOOST FOR EASTWOOD PARK -
News today that Hasland has received a £25,000 funding boost from SITA Trust's QE2 Fields Fund to provide an outdoor gym and piece of dynamic play equipment at Eastwood Park More...

EASTWOOD PARK CLOSES FOR RESTORATION WORK -
Eastwood Park in Hasland, Chesterfield closes it's gates for 4 weeks from Monday 3rd September as work starts on major restoration project. More...
GET READY TO RAMBLE IN POOLSBROOK COUNTRY PARK -
Local residents are being encouraged to pull on their wellies or walking boots and to take a healthy stroll around Poolsbrook Country Park this Summer. More...
FAMILY FESTIVE FUN IN HASLAND -
Christmas is coming early in Hasland with a free family fun day to be held in Eastwood Park on Saturday, December 10th. More...

GET FESTIVE IN THE PARK -
Queen's Park in Chesterfield will be getting festive this Saturday 10th December, with the return of the annual "Winter Festivities in the Park" event. More...