Monday 20th May 2013


History will come alive as the English Civil War is staged in Chesterfield this Bank Holiday.

Jonathan Taylor (pictured below, 2nd left) has spent most of his life working in schools - he's also spent most of his life on the battlefield.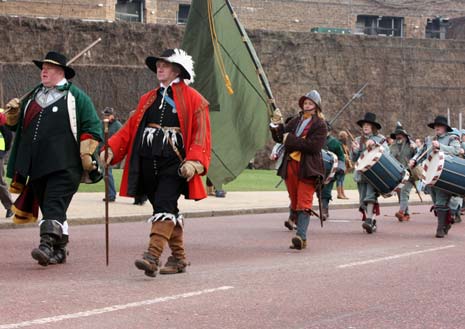 Jonathan Taylor (2nd left) and the Chesterfield English Civil War Society will be waging war at Holmebrook Vally Park this Bank Holiday weekend

The retired educational consultant is a long-standing member of the English Civil War Society and will be leading the Royalist troops at Chesterfield's Civil War event on Sunday 26th May and Bank Holiday Monday 27th May at Holmebrook Valley Park between 11am and 4pm.

Jonathan explains: "I have always been interested in political and military history and the Civil War period is crucial to understanding the democratic rule we have today.

"It's also the mid-way point between the medieval battles with bows and arrows and the type of infantry they had at the Battle of Waterloo."

The event will recreate some of the battles held in Derbyshire in the 1640s.

Jonathan said: "Chesterfield is an exciting place to hold this event. The town was full of lead miners and raised a regiment in favour of Parliament, while in nearby Bolsover, the owner of Bolsover Castle - the Marquess of Newcastle - raised an army in favour of the Royalists."

Families will also be able to visit Living History camps where they can talk to protagonists on both sides about the lives people living in that era would have experienced.

Jonathan and his fellow re-enactors had been producing artefacts such as wheelbarrows to an original 17th century design.

The members of the society are nothing if not versatile. Many swapped their muskets for placards as they played miners in skirmishes with police during Battle of Orgreave for a Channel 4 programme about the Miners' Strike of 1984 - 85: "There was little difference, apart from the costumes", Jonathan explained, "once you are able to act as a team, the rest comes naturally."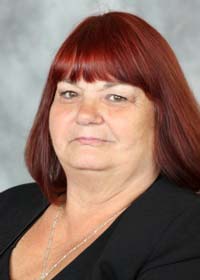 Councillor Chris Ludlow, Chesterfield Borough Council's Executive Member for Environment (left) added: "It is a real coup to get the English Civil War society to perform a live show in Chesterfield and will contribute to the council's work to promote the area as a leisure destination.

"Their show will provide a great family day out while bringing to life a pivotal moment in our country's history."

Residents living near Holmebrook Valley Park are being warned that there will be loud noises from the cannon and guns during the battle re-enactments on both days.

Hourly buses will be provided on two routes to Holmebrook Valley Park on both days of the Civil War festival event. There will be a small charge.

One bus will start in Staveley and go through Tapton to the park, while the other will leave from Barrow Hill, stopping in Whittington Moor. Both services will start at 10.30am and have return journeys starting at 4.30pm.

Further information is available by visiting www.chesterfield.gov.uk and clicking on the English Civil War festival button at the bottom of the home page or by ringing the bus operator D W Coaches on 01246 864039.

The event will also include a children's fair, stalls and a beer tent for adults.

Further information about the English Civil War Society can be found on their website at www.ecws.org.uk
Links to Relevant Websites

RELATED STORIES
XPLORER EVENT SET TO CHALLENGE FAMILIES -
Families are being encouraged to explore their local park as part of a new series of Xplorer events to be held at Hornscroft Park in Bolsover. More...
CHESTERFIELD CARNIVAL MAKES A RETURN AFTER A 25 YEAR ABSENCE -
A reminder that Chesterfield Carnival takes place tomorrow - Saturday 26th July - at Stand Road Park More...
HIGH PRAISE FOR CHESTERFIELD'S HOLMEBROOK
VALLEY PARK -
Judges from the national Green Flag award have commended Holmebrook Valley Park. More...
FUNDING EASTWOOD PARK'S COMMUNITY GARDEN -
Eastwood Park in Hasland is set to benefit from a raft of improvements thanks to funding from the Lottery funded Awards for All. More...
OPENING OF NEW ADVENTURE PLAY AREA AT STAND ROAD PARK -
A new adventure play area for young children in Chesterfield is being opened by the Friends of Stand Road Park More...
£47k AWARD FORM BIFFA AWARD FOR STAND ROAD PARK -
The Friends of Stand Road Park has been awarded £47,000 from Biffa Award to build an adventure play area for young children at Whittington Moor, Chesterfield. More...
CHESTERFIELD'S QUEEN'S PARK SAYS 'FEED THE BIRDS' -
More than 100 bird lovers flocked to Queen's Park to take part in a nest box building event organised by Chesterfield Borough Council. More...
DIAMOND JUBILEE FUNDING BOOST FOR EASTWOOD PARK -
News today that Hasland has received a £25,000 funding boost from SITA Trust's QE2 Fields Fund to provide an outdoor gym and piece of dynamic play equipment at Eastwood Park More...

WHAT ARE YOUR MEMORIES OF EASTWOOD PARK? -
Chesterfield residents are being invited to share their special memories of Eastwood Park in Hasland, as part of a project to create a magnificent feature archway. More...
EASTWOOD PARK CLOSES FOR RESTORATION WORK -
Eastwood Park in Hasland, Chesterfield closes it's gates for 4 weeks from Monday 3rd September as work starts on major restoration project. More...
GET READY TO RAMBLE IN POOLSBROOK COUNTRY PARK -
Local residents are being encouraged to pull on their wellies or walking boots and to take a healthy stroll around Poolsbrook Country Park this Summer. More...
FAMILY FESTIVE FUN IN HASLAND -
Christmas is coming early in Hasland with a free family fun day to be held in Eastwood Park on Saturday, December 10th. More...

GET FESTIVE IN THE PARK -
Queen's Park in Chesterfield will be getting festive this Saturday 10th December, with the return of the annual "Winter Festivities in the Park" event. More...