Monday 9th September 2013


Eastwood Park in Hasland is set to benefit from a raft of improvements thanks to funding from the Lottery funded Awards for All.

The Friends of Eastwood Park secured the £10,000 funding for the Chesterfield Borough Council park for the Community Garden.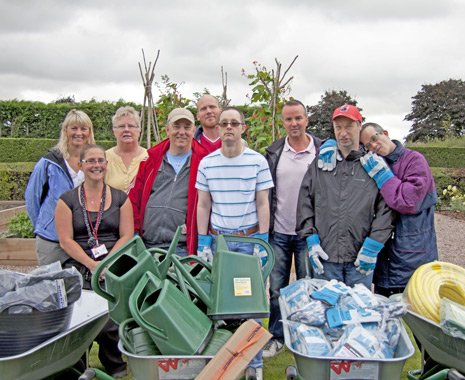 Friends and volunteers of Eastwood Park celebrate £10,000 funding for the Community Garden in Hasland's Eastwood Park

Barbara Arrandale, Chair of the Friends of Eastwood Park, said the grant will fund new seeds, plants and compost, a new set of communal tools to use in the garden as well as a new secure lock up.

Groups that use the community garden include: Girl Guides, Hasland Community School, the Macintyre Charity (which supports people with learning disabilities) and individual members of the community from Hasland.

The funding will also pay for a gazebo to offer gardeners shelter from the sun and rain and for use at events, such as the recent Eastwood Park gala day, organised by the Friends of Eastwood Park.

It will also allow them to study the area and develop nature conservation and biodiversity by providing items such as: pond dipping kits, ground sheets and bug magnifying pots.

Councillor Amanda Serjeant, Chesterfield Borough Council's Executive Member for Leisure, Culture and Tourism added: "Congratulations to the Friends of Eastwood Park for securing this funding.

"This will make a real difference to volunteers working in the community garden and will help improve the look and feel of the park."

Eastwood Park reopened as a Queen Elizabeth II field in June after a ten month refurbishment funded through a £1.3m grant from the Heritage Lottery Fund and Big Lottery Fund.

Anyone interested in becoming a volunteer at the park should contact Sarah Poulton, Parks Development Officer, on 01246 345123 or e-mail sarah.poulton@chesterfield.gov.uk.
Links to Relevant Websites

RELATED STORIES
XPLORER EVENT SET TO CHALLENGE FAMILIES -
Families are being encouraged to explore their local park as part of a new series of Xplorer events to be held at Hornscroft Park in Bolsover. More...
CHESTERFIELD CARNIVAL MAKES A RETURN AFTER A 25 YEAR ABSENCE -
A reminder that Chesterfield Carnival takes place tomorrow - Saturday 26th July - at Stand Road Park More...
HIGH PRAISE FOR CHESTERFIELD'S HOLMEBROOK
VALLEY PARK -
Judges from the national Green Flag award have commended Holmebrook Valley Park. More...
OPENING OF NEW ADVENTURE PLAY AREA AT STAND ROAD PARK -
A new adventure play area for young children in Chesterfield is being opened by the Friends of Stand Road Park More...
£47k AWARD FORM BIFFA AWARD FOR STAND ROAD PARK -
The Friends of Stand Road Park has been awarded £47,000 from Biffa Award to build an adventure play area for young children at Whittington Moor, Chesterfield. More...
KING V PARLIAMENT THIS BANK HOLIDAY CHESTERFIELD STYLE! -
History will come alive as the English Civil War is staged in Holmebrook Valley Park in Chesterfield this Bank Holiday weekend More...
CHESTERFIELD'S QUEEN'S PARK SAYS 'FEED THE BIRDS' -
More than 100 bird lovers flocked to Queen's Park to take part in a nest box building event organised by Chesterfield Borough Council. More...
DIAMOND JUBILEE FUNDING BOOST FOR EASTWOOD PARK -
News today that Hasland has received a £25,000 funding boost from SITA Trust's QE2 Fields Fund to provide an outdoor gym and piece of dynamic play equipment at Eastwood Park More...

WHAT ARE YOUR MEMORIES OF EASTWOOD PARK? -
Chesterfield residents are being invited to share their special memories of Eastwood Park in Hasland, as part of a project to create a magnificent feature archway. More...
EASTWOOD PARK CLOSES FOR RESTORATION WORK -
Eastwood Park in Hasland, Chesterfield closes it's gates for 4 weeks from Monday 3rd September as work starts on major restoration project. More...
GET READY TO RAMBLE IN POOLSBROOK COUNTRY PARK -
Local residents are being encouraged to pull on their wellies or walking boots and to take a healthy stroll around Poolsbrook Country Park this Summer. More...
FAMILY FESTIVE FUN IN HASLAND -
Christmas is coming early in Hasland with a free family fun day to be held in Eastwood Park on Saturday, December 10th. More...

GET FESTIVE IN THE PARK -
Queen's Park in Chesterfield will be getting festive this Saturday 10th December, with the return of the annual "Winter Festivities in the Park" event. More...