Tuesday 18th September 2012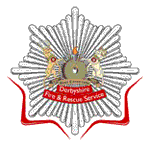 We reported on Sunday on a severe fire near the M1 - junctions 25 and 26 - and today, Derbyshire Fire & Rescue Service (DFRS) have told us that they continue to work to fight the blaze, that started at a recycling facility on Lows Lane, Stanton-by-Dale, Derbyshire, on Saturday 15th September.

Contractors are currently working alongside Firefighters, using JCB's to move unaffected wood pulp, thus reducing the size of the surrounding mound of recycled material. Firefighters continue to damp down the fire and are working to contain further spread.

Area Manager, Bryan Bennett said "Firefighters are continuing to make progress with the fire on Lows Lane, Stanton-by-Dale, under extremely arduous conditions.

"We are constantly making tactical assessments of the fire and are working with all the relevant authorities to ensure the safety of the local community and the environment."

As smoke is still being generated by the fire, DFRS would like to reinforce the message for locals to keep their windows and doors shut wherever possible. DFRS would also like to remind people of the advice given by the Health Protection Agency East Midlands, for anyone who may have been affected by the smoke:

Because smoke consists of a mixture of gases, liquid droplets and solid particles representing the decomposition and combustion products from fires, it is only possible to issue general advice in relation to smoke from fires such as this...
Any smoke can be an irritant and, as such, if people have to be outdoors, they are advised to avoid outside areas affected by any smoke or ash or to limit the time that they spend in them.


If people can see smoke outside their property, or can see evidence of soot particles on windowsills or external surfaces, then they should stay indoors with windows and doors closed and any air-conditioning either switched off or set to internally re-circulate the air until the fire has been brought under control.


For anyone who already has problems with their lungs - for example, asthma or chronic obstructive pulmonary disorder - it is advisable to stay inside while the fire is still burning, minimise infiltration of smoke by keeping windows and doors closed and to be sure to keep all necessary medicine with you.


Keep children with any respiratory problems indoors.


Some of the substances present in smoke can irritate the lining of the air passages, the skin and the eyes. Respiratory symptoms include coughing and wheezing, breathlessness, sputum (phlegm) production and chest pain. If symptoms occur, people should seek medical advice or call NHS Direct 0845 4647.
DFRS continues to work with the Environment Agency in relation to the run off from the firewater.

Lee Whitehouse, Major Incident Duty Officer for the Environment Agency, East Area said: "The Environment Agency has been at the Erewash canal following reports that run off from the firewater had got into the canal, and that a small number of dead fish and fish in distress had been seen.

"We have been using oxyjets to increase oxygen levels in the canal. We currently have six oxyjets operating along a 2.5km stretch of the canal, which will continue until oxygen levels have improved.  We have also reduced the amount of water running into the canal by diverting it to a Severn Trent Water sewer."

Lows Lane, Stanton-by-Dale continues to be closed with diversions in place. This road closure will be reviewed this evening and an update will be announced on the website www.derbys-fire.gov.uk, the DFRS twitter account (@DerbyshireFRS) and local radio.
RECENT STORIES
MAJOR FIRE IN CHESTERFIELD. FIRE SERVICE UPDATE -
Following our reports earlier today, Derbyshire Fire Service has now released an update - At 12.38, Derbyshire Fire & Rescue Service was called to attend a fire at SCA Hygiene, Goyt Side Road, Chesterfield More...
THE VICTORY ROAD FIRE - DERBYSHIRE SERVICES SPEAK
OUT -
Three people convicted of the manslaughter of 6 children in a house fire in Derby in May last year, have been sentenced. More...
DERBYSHIRE FIRE & RESCUE MAKE EVERY CONTACT COUNT -
Derbyshire Fire & Rescue Service is supporting health and care organisations across Derbyshire as part of the Making Every Contact Count (MECC) initiative. More...
BE SAFE OVER THE CHRISTMAS PERIOD -
Derbyshire Fire & Rescue Service (DFRS) is launching a campaign to remind Derbyshire residents to keep safe during Christmas and New Year. More...
DERBYSHIRE FIRE AND RESCUE SERVICE WARN HOAX CALLS CAN KILL -
A reminder that hoax fire calls divert fire engines away from potential life-threatening situations where urgent help is needed. This could mean the difference between life and death More...
BONFIRE NIGHT - ADVICE AND WHERE TO SEE A DISPLAY IN CHESTERFIELD -
Bonfire Night is almost upon us and whilst bonfires and fireworks can be fun they can also be dangerous and even lethal. More...
FIRE CADETS FIRST IN DERBYSHIRE TO RECEIVE BTEC LEVEL 2 CERTIFICATE -
Five Fire Cadets aged
15-17, are the first in Derbyshire to have successfully completed the Level 2 BTEC Certificate in Fire and Rescue Services in the Community More...
UPDATE ON ONGOING INCIDENT AT LOWS LANE, STANTON-BY-DALE -
Derbyshire Fire & Rescue Service says that all roads are now open, but it continues to have a presence at a fire which started at a recycling facility on Lows Lane, Stanton-by-Dale last Saturday More...
MAJOR FIRE AT RECYCLING FACILITY IN DERBYSHIRE -
Derbyshire Fire & Rescue Service is currently in attendance at a large fire at a recycling facility on Lows Lane, Stanton-by-Dale, Derbyshire. More...
DERBYSHIRE FIRE & RESCUE SERVICES' AWARDS CEREMONY -
On Thursday 6th September, Derbyshire Fire & Rescue Service held its annual awards ceremony at Pride Park Stadium, Derby. More...
WARNING AFTER RECALLED BEKO FRIDGE FIRE -
Derbyshire Fire and Rescue Service have issued a reminder that certain fridge freezers made by BEKO have been recalled after they attended a house fire which had been caused by the type identified. More...
A DAY IN THE LIFE OF A CHESTERFIELD FIREFIGHTER -
The Chesterfield Post met with Firefighter Deborah Dixon to find out just what life was like being a firefighter in the Chesterfield area. More...
DERBYSHIRE FIRE & RESCUE SERVICE ONE OF THE BEST! -
Derbyshire Fire & Rescue Service has been awarded 'Excellence' - the highest level of achievement More...
"WE FEARED THE WORST" DERBYSHIRE FIRE & RESCUE -
Derbyshire Fire and Rescue Service has this morning confirmed that the fire at Mitchell Way, New Whittington is not being treated as suspicious. More...
NEW WHITTINGTON HOUSE FIRE UPDATE -
Fire Investigations continue this morning into a blaze at a house in New Whittington. More...
ICE IS NOT NICE! FIRE OFFICER WARNS OF FROZEN DANGERS -
For one group of emergency personnel, the recent icy cold weather was a blessing in disguise. More...
THINK SPRINKLER CAMPAIGN LAUNCHED BY DERBYSHIRE FIRE SERVICE -
A seminar to highlight the benefits of having sprinklers fitted in domestic dwellings was held at the Old fire Station Sheffield Road, and the b2net More...
FIRESERVICE ADVICE ON KEEPING SAFE THIS CHRISTMAS -
Derbyshire Fire & Rescue Service is launching a campaign to remind local residents to keep safe at Christmas. More...
'FATAL ACCIDENT' ON INFIRMARY ROAD -
3 young people, including a motorcyclist, were killed in the grim weather conditions, outside Chesterfield College this morning. More...
CHIEF FIRE OFFICER SPEAKS TO THE CHESTERFIELD POST -
Bob Currie is the Group Manager of Derbyshire Fire and Rescue and he was present at the incident the whole time. More...
FIRE - "IT COULD HAVE BEEN WORSE" -
The Chesterfield Post has just left a press conference with Sarah Turner-Saint, (left) Head of Communications More...
HOSPITAL FIRE UPDATE -
Chesterfield Royal Hospital is this morning assessing damage to it's A&E, Fracture Clinic and Main Entrance after fire ripped through the departments last night. More...
HOSPITAL FIRE STATEMENT -
This is the statement issued by Chesterfield Royal Hospital at 23.36 pm tonight: More...
MAJOR FIRE AT CALOW HOSPITAL TONIGHT -
There is a major incident at Chesterfield Royal Hospital tonight with 10 fire engines in attendance. More...
NUISANCE FIRES IN MASTIN MOOR -
Police are appealing for information after Derbyshire Fire service was called to a burning cabin on Worksop Road More...
NO SMOKE AT CHESTERFIELD'S FIRE STATION -
Over a hundred people attended Chesterfield's fire station ahead of today's 'Stop Smoking Day' to take part in fun activities and learn about the dangers of smoking and how to quit. More...
FIRE KILLS... -
After 4 young children lost their lives in a tragic house fire in Derbyshire earlier this week, the Derbyshire Fire Service has issued safety advice to residents in the area. More...
WINTER DRIVING SAFETY TIPS -
DERBYSHIRE Fire & Rescue Service has given us some advice to help with driving in the hazardous snowy and icy conditions. More...
SNOW WARNING FOR BOILER FLUES -
DERBYSHIRE Fire & Rescue Service is warning people to make sure the flues of their gas boilers are kept clear of snow More...
STAY SAFE IN THE SNOW -
WITH snow covering Chesterfield, Derbyshire Fire & Rescue Service are urging people to take extra care both in the home and when they are out and about. More...