Thursday 2nd December 2010

Nicky Law has confirmed his commitment to the Reds, despite speculation linking him to at least three higher-level clubs.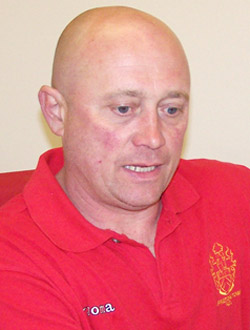 However, the Alfreton gaffer (pictured left) has pledged himself to the Reds' cause, saying "Why would I want to go to other clubs when I have not finished the job at Alfreton?

"Yes, you could just walk away and go to a job in a higher division just because that is where you want to be. But I aim to get there any way, with Alfreton.

"At the end of the day, we have worked very hard for three years to get to where we are. There have been a lot of ups and downs but we have invested a lot of faith in youngsters and I think we are bearing the fruits of that.

"Some of the boys are only 21 and 22 but they have already played around a hundred league games and they have play-off semi-final and final experience. You can't buy that type of player.

"There are numerous clubs showing an interest in them which shows we have done something right. We have developed these kids and I feel that over this season and next we are going to see the best of them.

"I don't want to sound corny or cliched, but I work for a great chairman and a good football club and it would take something very special to tempt me away from that.

"But it is not about just about that. The most important thing is that we remain focused on the job we are doing and the task ahead which is trying to reach the next level together."

"We have come on massive strides from small crowds to good crowds."
Chairman Wayne Bradley is very happy with the decision, and said: "We are delighted Nick has turned down opportunities elsewhere at higher levels.

"Perhaps if it was a Championship side he would jump at it, but the bottom line is he has turned down Blue Square Premier Division clubs to nail his colours to the mast of Alfreton Town and we are obviously delighted."

Alfreton Town suffered at the hands of the weather over the past few days, like all of us. The Reds had Blue Square Bet North games at Corby Town last Saturday and Tuesday evening's scheduled home game against Workington postponed due to ice and snow-bound pitches.

Whether this Saturday's Blue Square Bet North league game at Harrogate Town goes ahead is at the mercy of the weather, but even if it does, Anton Brown will miss out as his suspension has been moved back due to the postponements.

If the Harrogate game does go ahead, transport will depart at 9.45am and seats can be booked by contacting Mark Thorpe on 01773 836251.

Meanwhile, the Reds' home game against Blyth Spartans on Tuesday, December 28th has been confirmed as a 3pm kick-off.
FIXTURES

Alfreton's games for December are:

Saturday, December 4th - Harrogate Town, away, league, 3pm

Saturday, December 11th - Hyde, home, FA Trophy, first round, 3pm

Tuesday, December 14th - South Normanton Athletic, home, Derbyshire Senior Cup, third round, 7.45pm

Saturday, December 18th - Gloucester City, home, league, 3pm

Sunday, December 26th - Eastwood Town, away, league, 3pm

Tuesday, December 28th - Blyth Spartans, home, league, 3pm.
CHRISTMAS SHOPPING

Despite the lack of activity on the pitch, Alfreton Town fans can take advantage of a range of Christmas stocking fillers available from the club shop.

Brand new personalised gift vouchers can be obtained and these will bear the name of the recipient. These are available in £10 and £5 increments and can be redeemed for entry into a game.

The Reds have a limited quantity of polo shirts as worn by the players with the official gold ATFC logo. These are in a large size only and are available at £12.95 each.

Replica match balls autographed by the players are available at £9.95 each as well as the usual scarves and hats. There are 2010/11 club badges in home and away colours at £3 each and replica shirts at £35 for adults and £25 for children.

DVD's of each Reds home game can be ordered at £5 each and the club shop also has the 2011 Championship Manager game for the PC at the bargain price of £15.

Fans can order goodies in time for Christmas by contacting club shop manager Brian Thorpe on 01773 836251 and a midweek shop opening night is available by discussion.

Personalised vouchers, replica shirts, autographed balls and polo shirts can also be obtained by contacting Lisa Towerzey on 01159 392090 extension 108 and payment can be made by credit card or cheque.
RECENT STORIES
REDS HEAD OVER THE BORDER TO HUNT STAGS -
ALFRETON Town make the short trip over the Notts border on Saturday for an FA Carlsberg Trophy last 16 derby at Blue Square Premier near-neighbours Mansfield Town. More...
BREAK IN MATCHES AND RECORD FEE FOR FLINT -
Alfreton Town are this week preparing for their FA Trophy third round tie at near neighbours Mansfield Town a week on Saturday. More...
INS AND OUTS FOR THE REDS -
It's been a busy evening on the transfer front - the Reds have signed keeper James McKeown and skipper Aden Flint has left for Swindon More...
SIMPLY THE BEST -
After thrashing Blue Square Premiership Cambridge Utd last night, Manager Nicky Law declared it the best result Alfreton have achieved in his three-and-a-half-seasons at the club. More...
PROBABLY THE LAST 16 IN THE CUP -
ALFRETON put their Blue Square Bet North title chase on hold for the weekend and turn their attentions to reaching the last 16 in the FA Carlsberg Trophy. More...
BATTLE AT THE IMPACT -
It's a fixture that's been dubbed 'The Battle of the Reds' and ALFRETON Town can go three points clear at the top More...
WHITE OUT FOR THE REDS -
The extreme weather has hit Alfreton Town hard, in common with many teams around our region. More...
REDS ROUND UP -
The first game in 3 and a half weeks, 1 player was suspended, another cup tied and several were still suffering the effects of illness - the Red's midweek FA Trophy victory now must surely go down as a triumph over adversity. More...
ALFRETON BEGINS FA CUP RUN -
ALFRETON Town set out on the FA Trophy trail this Saturday with high hopes of a good run in the competition. More...
REDS ON UNBEATEN RUN OF 4 GAMES -
ALFRETON Town manager Nicky Law says he is relishing this season's title chase. More...
REDS BACK ON TOP -
The Reds returned to the top of Blue Square Bet North on Saturday after a deserved 2-1 home win over Worcester City More...
REDS FACE HOME TIE IN CARLSBERG CUP -
ALFRETON Town Football Club have been drawn at home in the FA Carlsberg Trophy third qualifying round. More...
REDS PREPARE TO TAKE TO THE FIELD THIS WEEKEND -
"Expect the unexpected!" is the message Reds manager, Nicky Law, is giving his players as they prepare to play their first game in a fortnight on Saturday.More...
ALFRETON PLAYER SELECTED FOR FA FIXTURE BY ENGLAND C TEAM MANAGER -
ALFRETON Town's Josh Law has been named as part of a 16-man squad by England C team manager Paul Fairclough to take part in an FA Representative XI fixture at Hallam FC More...
REDS STILL ON TOP -
ALFRETON Town manager Nicky Law is looking for an immediate response to his side's first defeat of the season. More...
A STRAIGHT 8? -
ALFRETON Town put their 100 per cent record on the line this Saturday when third-placed Boston United visits More...
REDS CAN WRITE THEMSELVES INTO THE RECORD BOOKS -
NICKY Law's side can write themselves into the Alfreton Town record books if they achieve victory at Nuneaton Town this Saturday. More...
ENGLAND CALL-UPS - Aden Flint and Paddy Gamble have both received international call-ups into the England C squad for the forthcoming game against Wales More...
2 POINTS CLEAR -
TWO wins over the August Bank Holiday weekend maintained Alfreton Town's blistering start to the season More...
NICKY LAW MANAGER OF THE MONTH - Alfreton Town manager Nicky Law has been named as the Blue Square Bet North manager of the month for August 2010. More...
ALFRETON Town have suffered an injury blow ahead of their start of season.Midfielder Anthony Howell has undergone a scan on a knee injury More...
Law Unfazed By Only Summer Defeat.
Despite losing 3 - 1 Nicky Law feels that the final warm up game pre season against Mansfield was a positive experience for the Reds team. More...
Looking Ahead. Friendly v Mansfield, 7th August 2010.
Nicky Law's men welcome Mansfield Town to The Impact Arena later today. Both sides enter the fixture with good performances behind them. More...
Red's Hoping It's Third Time Lucky.
ALFRETON TOWN kick-off the 2010/2011 season hoping it will be third time lucky as they aim to reach the top level of non league football. More...
Alfreton Town Sign New Player.
Alfreton Town manager Nicky Law has made his third signing for the new season with former Burton Albion legend Darren Stride signing a one-year deal. More...

Related Tags