Thursday 8th September 2011

Belfast Giants 1 - 2 UNISON Sheffield Steelers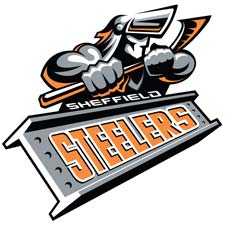 A very tight low scoring encounter to open the season in Belfast with the visiting Steelers taking the extra point thanks to a shootout win, with Mike Ramsay claiming the winning shot.
 
Steelers took little time to settle and given a powerplay opportunity when Giants' Derek LeBlanc was binned for holding, the man advantage paid off resulting in Matt Stevenson firing home on the powerplay at 4.15.
 
From that point on it was defence on top with Stephen Murphy and John DeCaro performing well between the respective pipes. Giants had no fewer than six powerplay chances before the end of the second period but failed to make them count but finally they grabbed the game tying goal at 50.29 when young Scots star Mark Garside was on hand to shoot and score - and take the game into overtime.

No scoring during the extra five minutes but in the shootout both Ramsay and Steve Birnstill scored with their penalty shots to give rookie player/coach Ryan Finnerty his first win.

Period Scores: 0-1, 0-0, 1-0, 0-0, 0-1 (0-2)
Penalty Mins: Bel 8 - She 14
Powerplay: Bel 0/7 - She 1/4
Shots On: Stephen Murphy 26 - John DeCaro 30

The Ryan Finnerty Verdict:

As you can imagine it was a delighted Ryan Finnerty that congratulated his team on their first league victory of the new season "It was a great effort and a deserved 2 points" he said. "We had chances to win it in regulation but we never let our heads go down and just kept on working.

"We made mistakes but this was the first game of the season, that was always going to happen. I liked the way we worked and we battled, we never gave up.

"I think we have to calm down a little and sure we took a few more penalties than we would have liked, saying that this is the way we are going to play, high effort, in your face so we will take penalties, but perhaps just not as many as we took tonight.

"We knew John DeCaro was going to be a key player for us and this evening he showed us why he is the goalie he is.

"We will go and celebrate this win, the boys have worked hard all week and without ice for a lot of the time. They deserve a beer tonight, especially with a 9 hour bus trip ahead of them."
Home opener this coming Saturday (10th):
Unison Sheffield Steelers vs Dundee Stars
Motorpoint (Sheffield) Arena
Face Off 7.00pm (Doors Open at 6.00pm)
Box Office: 0114 256 5656
RECENT STORIES
STEELERS 2, PANTHERS 4. MATCH REPORT -
Sheffield Steelers disappointed a crowd of over 6,500 with a lacklustre performance against the Nottingham Panthers in the Challenge Cup. More...
HUGE WIN FOR THE SHEFFIELD STEELERS IN CARDIFF -
After coming from behind to tie the Blaze 2-2 in the Challenge Cup game on Saturday, Ryan Finnerty's beat Cardiff on Sunday extending their winning streak to 5 games. More...
IT'S ABOUT TIME WE WON THE CHALLENGE CUP - STEELER'S BULL DOG HEWITT -
The Unison Sheffield Steelers commence their Challenge Cup campaign this weekend with a home game against Coventry Blaze, Saturday More...
STEELERS 6 - COVENTRY BLAZE 4. MATCH REPORT -
A big second period set up an outstanding 6-4 victory for the Steelers against the Coventry Blaze on Saturday night. More...
STEELERS CAPTAIN JONO UNDERGOES SURGERY -
Sheffield Steelers Captain Jonathan Phillips has undergone surgery to repair damaged knee ligaments. More...
NOW IT'S 3 OUT OF 3 FOR THE STEELERS! -
Steelers forward Neil Clark bagged another 2 goals as the Sheffield Steelers made it 3 wins out of 3 with a gutsy performance in Hull on Sunday evening. More...
2 OUT OF 2 FOR THE STEELERS -
The Steelers made it two wins out of two with a 4-1 home opening victory against the Dundee Stars on Saturday evening at the Motorpoint Arena. More...
CLARK GETS GREEN LIGHT FOR HOME OPENER -
Power forward Neil Clark is expected back in the Steelers line up for Saturdays home opener against Dundee Stars More...