Tuesday 6th May 2014





A new Community Centre in Staveley was opened on Friday 11th April, by his worship the Mayor of Chesterfield, with the Open Day also attended by Chesterfield MP Toby Perkins, Barry Dyke and Helen Elliot.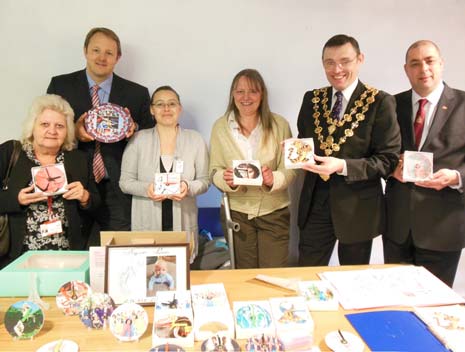 (l-r) Helen Eliot, MP Toby Perkins, Emma from Ems Gems, Yvette Dislins, Mayor of Chesterfield Cllr Paul Stone and Cllr Barry Dyke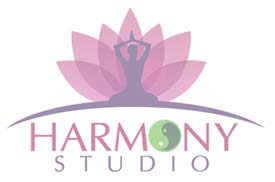 The Harmony Studio Community Centre, in conjunction with Staveley Harmony DECCA, is run by local Staveley people, who have themselves previously been in need of help from the community.

People such as Yvette Dislins, the founder of Staveley Harmony DECCA, who is physically disabled after suffering a stroke four years ago, which left her unable unable to go out without a member of the family or a friend, as she cannot walk for long. Formerly an A&E Staff nurse, Yvette's experience left her searching for a job but, with no success, she decided to set herself up in business.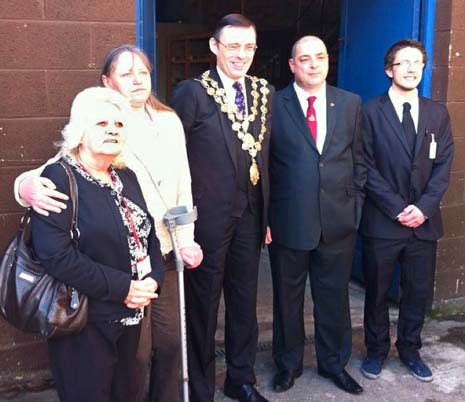 (l-r) Helen Eliot, Yvette Dislins, Mayor of Chesterfield Cllr Paul Stone, Cllr Barry Dyke and Director Patrick Matthews

Yvette's son, Patrick Matthews, a Director and Founder of Harmony studio Community Centre together with another son, David, both of whom struggled to find full-time work, decided they too would be better going self-employed.

Whilst working on setting up the project, they found that other younger members of the family were wanting somewhere safe to gather with friends and to access a place that offered affordable activities - all within walking distance in and around Staveley.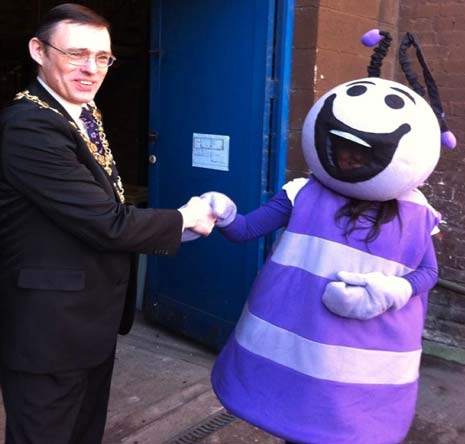 Chesterfield's Mayor meets the 'Yoga Bug'!

They found that friends felt the same too and decided to do something about it, which led to the birth of the community centre project, initially a small project that has soon grown into a very big one!

Their aim is to serve the Staveley Community and surrounding area, for all people with all types of abilities and of all ages, hoping to build on this by working with support from local businesses.
The Centre aims to offer a holistic approach to promote healthy living, a place where people will feel warm and safe, where they can attend without spending a fortune on travel and somewhere where they could afford to attend events and classes.

The Staveley Harmony DECCA (Diversity Equality Community Care Association) has been set up alongside the centre, so the public, as members, can have their say on what they would like to see taking place at the centre and how they are delivered.
ACTIVITIES that have been confirmed so far are:
Aikido - Sensei William Phillips, Monday and Thursday, 7.30-9.30pm
for 16 Yrs+


Free Craft Club for those with learning disabilities


Stitch Club for children & Adults.


Youth Centre - 13 Yrs+, Monday & Friday 5.30-7.30pm
The Youth Centre includes Bokwa tasters, giant chess, chess games, board games, videos and books. They have had Playstation 2 games donated, but as yet, no Playstation 2 console - any donations will be gratefully received!

The aim, once registered as a voluntary organisation, is to equip more, but for now, they are relying on kind donations from the public - who have already been more than generous so far, and the centre wishes to say thank you to them all! (the Youth Centre is Free to those with learning disabilities)


Chess Club for children and teenagers Tuesdays, 5.30-7.30pm
(Free to those with learning disabilities)


Laughing Yoga / Bokwa - (voluntary sector) - for both children and adults Tuesday 6.00-7.00pm, with Janine M Bailey


Karate (from 20th May) - Sensei Adam Hawke (Black Belt, 3rd dan), Tuesdays, 7.15-8.50pm for ages 5 Yrs+


Meditation - Thursdays, 6-7pm with Yvette Dislins.


Kick Boxing - Fridays 6-7pm, Sensei Gary Bull


Tai Chi - Fridays, 7-8pm Sensei Gary Bull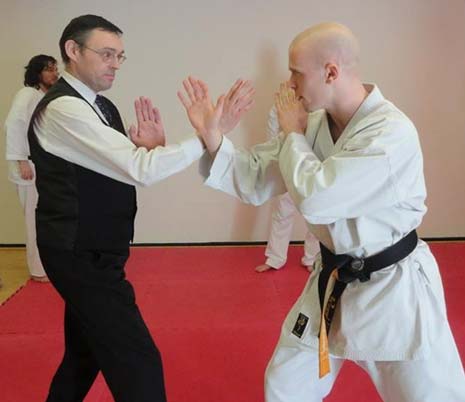 The Mayor takes on Sensei Adam Hawke in a Karate Class
GROUPS already started:
Coffee morning for the senior citizens -
for general chat and support with general activities that they request, some have requested salsa, some ball room (but we have yet to find those type of teachers), some have requested walks around Staveley, so we are in the process of working a health and safety environment and working with leads to achieve this for them.


BAME (Black African Minority & Ethnicity) Group -
Tuesdays 10.30am - 12 noon. A chance for all foreign nationals & Black African Minority & Ethnicity to interact and share local knowledge and opportunities


Book Club - for children and adults Wednesday 6-8pm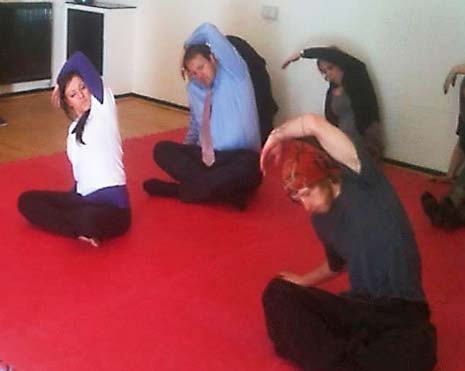 Chesterfield MP Toby Perkins (second left), stretches out during a Yoga lesson
THERAPIES / CLASSES (With Accredited Qualifications):
Reflexology
Reiki
Beauty Therapy (free mini treatments to all disadvantaged and their carers)
Sound Therapist
Music – Guitar, Eukeleili, Brass Band (Process of building band)
Health/sport trainer
Accredited Courses and WORKSHOPS:
Beauty Therapy for all abilities
Sport course for all abilities
Integrated Energy Healing Workshop
Psychic Awareness Workshop
Meditation Workshop ( giving a day of different Styles of Meditation)
QATA/PTLLS course
Fire Safety
First Aid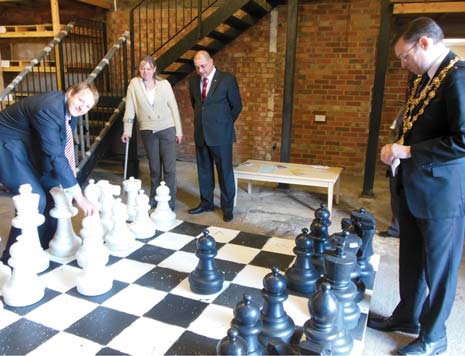 Chesterfield MP Toby Perkins takes on Chesterfield Mayor Cllr Paul Stone in a game of giant chess, watched by Yvette Dislins and Cllr Barry Dyke
And planned for the Future...
Video Club for children and parents (due to big demand!)


Women / Men's nights


New dance group. Parents have explained that although a new one is setting up, they want to access something that is just down the road in the same hall as their children's siblings who are doing martial arts, have a lounge to relax whilst they wait for their children.


Parent craft classes for young parents.


Yoga Bugs


Local community hairdressers to set up at Harmony


There have been numerous requests for a Miniature Crazy Golf course as part of the youth club, they are trying their best to get the project planned.


More stall days for local business within the Staveley community.


Several have approached us to have their department of workforce placement at the community centre, so, plans are to get in touch with the departments of works and pensions.


Building furniture out of recycled materials.


Gardening Club for all abilities.
With the centre's building conveniently situated at the Jubilee Works on Middlecroft Road, the plan is to help the community avoid long journey's to get to such a centre.

After research, the amount of help that the community needed was surprising to the committee and the Centre is working hard to involve people of all abilities and all ages. They found that some people just wanted a place to meet - just so they didn't feel so isolated - something that brought home the worth of such a community based centre and committee.

Yvette Dislins commented, "Some people had approached us and explained that they had been offered work placements that were entirely unrelated to their chosen career. This was a complaint we heard a number of times from several people.

"For example, a hairdresser had been offered a placement at the RSPCA by the unemployment office of works and pensions. She then came and asked to do a placement here, rather than working at the RSPCA - as she had no intention to ever work with animals – she had only ever wanted to work as a hairdresser.

"Therefore, after a meeting between Patrick Matthews, Director of Harmony Studio Community Centre, David Matthews a volunteer member of Staveley Harmony DECCA, Adele Matthews Director of Staveley Harmony DECCA, Ruth Belchamber a member and a volunteer of Staveley Harmony DECCA, Hayley Hatton Volunteer of Staveley Harmony DECCA and myself, we also decided to work with the Departments of Work and Pensions about making available placements here for people from the local community.

"The centre is not a place that is going into competition with local businesses - but as a place for people who could not afford to take part in activities elsewhere - and want to find motivation and inspiration in meeting with like-minded people."

Yvette continued, "Helping and pleasing everyone is impossible - but we aim to try our best to be there and work together with the community."
The Harmony Studio Community Centre is situated at Jubilee Works, Middlecroft Road, Staveley, Chesterfield S43 3XN.

You can contact them by telephone on 01246 476474 or 07512 433860
Find more details on their website at colourmed.org.uk and follow them on Facebook at facebook.com/Colourmed
RECENT STORIES
CHESTERFIELD CANAL RECEIVES £87,500 INVESTMENT -
Work to restore Chesterfield Canal continues in a bid to boost tourism and attract businesses and investment into North East Derbyshire. More...
NEW CADET TRAINING CENTRE TO OPEN IN DRONFIELD -
Works are developing in Dronfield to build a new Cadet Training Centre on Hartington Road. More...
CHESTERFIELD TO HOST NATIONAL CANAL FESTIVAL IN 2016 -
There's good news ahoy for our local Waterways - with the announcement this morning that Chesterfield Canal has been chosen to host a prestigious national festival at it's Staveley Town Basin. More...
'HEAR ALL ABOUT IT' AT HOLLINGWOOOD HUB -
The Chesterfield Canal Trust has unveiled the latest attraction at Hollingwood Hub in the shape of an 'audio post'.
More...
ECKINGTON CUBS
WIN SWIMMING GALA AND OTHER NEWS -
Eckington Cubs won the Dronfield District swimming Gala last Saturday which was held at Eckington Swimming pool leisure centre. More...
CALEDONIANS
TO MEET AT
CARSINGTON WATER WILDLIFE CENTRE -
The next meeting of the Chesterfield Caledonian Association is a Weekend Lunchtime Venture and will take place at the Wildlife Centre at Carsington Water this Saturday, 2nd August. More...
AN INVITE TO THE PEOPLE OF CHESTERFIELD FROM THE AIR CADETS -
On Sunday 20th July, the local Air Cadets are opening the gates to give you a glimpse of life as a cadet at Chesterfield's own 331 Squadron. More...
FOREVER YOUNG? A NEW COMMUNITY SOCIAL CLUB IS WAITING FOR YOU... -
If you're forever young - then a newly formed social group based in Staveley has just the thing for you! More...
LOCAL ROTARY
CLUBS PREPARE
FOR ST GEORGES
DAY CELEBRATION -
Rotary Clubs in the Chesterfield area are set to celebrate St Georges Day with a special dinner in honour of England's patron saint. More...
CALEDONIAN SOCIETY'S TALK ON THE SCOTTISH HIGHLANDS -
Chesterfield and District Caledonian Association are fortunate to have secured the presence of Mr. Andy Firth from Coal Aston for their next meeting. More...
CALEDONIAN SOCIETY'S ANNUAL BURNS CELEBRATION DINNER & DANCE -
Chesterfield and District Caledonian Association's Burns Celebration Annual Dinner and Dance takes place on 25th January 2014 at The Chesterfield Hotel. More...
FRIENDS OF STAND
ROAD PARK PLANT TREES FOR NATIONAL TREE WEEK -
Friends of Stand Road Park, and the pupils and teachers of two local schools, will plant trees on Stand Road Park as part of National Tree Week. More...
FULL & PART TIME JOB OPPORTUNITIES WITH GIRLS' BRIGADE UK -
Looking for a varied and fulfilling role? Want to support the growth of a children's and youth mission? More...
SOPHIE ADDS QUEEN'S SCOUT AWARD TO LONG LIST OF ACHIEVEMENTS -
Not content with the challenge of studying for her A Levels, an adventurous student at Ockbrook School has now added the Queen's Scout Award to her long list of personal achievements. More...
OLD WHITTINGTON GALA IS A HIT -
Old Whittington Gala is a genuine community event and is thankful for the help of agencies and organisations without whose support the event would be difficult to stage More...
THE CHESTERFIELD CANAL TRUST FESTIVAL -
The Chesterfield Canal Festival will be held at Staveley Town Basin on Saturday 29th and Sunday 30th June 2013 from 10am to 5pm More...
'VERSE AND WORSE' FROM SITWELL COUNTRY -
Local writing group 'We're All Write!', organised an evening of 'Verse and Worse' to entertain a capacity audience, which showed that writers in Eckington are continuing the local literary tradition More...
BRAMPTON BODY TRANSFORMATION CHALLENGE A TRIUMPH -
The current Brampton Body Transformation Challenge was won by Marie Collins, who, as her before and after pictures show, has completed an amazing transformation More...
CHESTERFIELD SCOUT GROUP HITS THE JACKPOT -
A traditional scout troop from Chesterfield has received a funding boost, thanks to players of charity lottery People's Postcode. More...
DARE YOU TACKLE THE 'BEAST OF BOLSOVER'? -
History, heritage and the 'Beast of Bolsover' will help put a spring in the step of those taking part in a Walking Festival featuring a murder, a Crooked Spire and an appletree knoll. More...
CHESTERFIELD'S INNER WHEEL ENJOYS TRIP TO LONDON -
President Adrienne Handley organised a two day bus trip to London on 14th and 15th March 2013 inviting Rotarians, members from other clubs, family and friends. More...
CHESTERFIELD CHEERLEADERS COME HOME CHAMPIONS -
A group of Chesterfield cheerleaders travelled to Dudley to represent the town in the Cheer Nation UK competition. More...
BRAMPTON MANOR PRIZE DRAW WINNER TERRI IS 'OVERWHELMED' -
Terri Warburton of Chesterfield picked up her prize after winning The Chesterfield Post's recent prize draw to win a six month family membership to Brampton Manor Country Club. More...
CHESTERFIELD ROTARY BURNS NIGHT CELEBRATION HELPS LOCAL CHARITY -
A traditional social event to celebrate the life of Scottish poet Rabbie Burns has also ended up helping local people recovering from drug and alcohol addiction in the Chesterfield area. More...
CHESTERFIELD LOTTERY BOAT SEEKS NEW CREW -
Eighteen months ago, the Chesterfield Canal Trust won £60,000 from the People's Jubilee Millions on ITV to build a tripboat. More...
WIN 6 MONTH FAMILY MEMBERSHIP TO BRAMPTON MANOR FITNESS CENTRE -
Brampton Manor is offering an amazing FREE 6 month family membership (2 Adults and 2 Children) to their health and fitness centre in our great FREE to enter Prize Draw. More...
CALEDONIANS CELEBRATE THEIR PATRON SAINT -
Chesterfield and District Caledonian Association held their Annual St Andrew's Church Service and lunch on Sunday 25th November. More...
NATIONAL AWARD
FOR BAKEWELL ROAD SAFETY CAMPAIGNER-
Derbyshire road safety campaigner Bill Storey has been awarded one of the country's most prestigious honours for his long and tireless efforts to improve driving standards. More...
YOUNG CHESTERFIELD WOMAN EARNS TOP GUIDING ACCOLADE -
Emily Ball, 21, from Chesterfield, has shown she is leading the way after receiving Girlguiding UK's top accolade, the coveted Queen's Guide Award. More...
CHESTERFIELD CALEDONIANS VISIT THE WESTERN FRONT-
Members of Chesterfield and District Caledonian Association joined the Caledonian Society of Sheffield to visit the Western Front More...
CALEDONIAN ASSOCIATION'S MONTHLY SESSION TAKES PLACE -
23 members and guests of the Chesterfield and District Caledonian Association attended the Telmere Lodge Restaurant in Winsick, Hasland last Thursday More...
DARMSTADT VISITORS ENJOY CHESTERFIELD VISIT -
Chesterfield U3A recently played host to their counterparts from Darmstadt, Chesterfield's German twin town. More...
CHESTERFIELD MP SPEAKS TO THE INNER WHEEL -
Chesterfield MP Toby Perkins was the Speaker at the Inner Wheel Club of Chesterfield at their meeting on Friday 7th Spetember More...
INNER WHEEL KNITS FOR AFRICA'S 'FISH AND CHIP' BABIES -
The Inner Wheel Club of Chesterfield, have knitted approximately 350 jumpers, which are bound for Gambia, Kenya and Uganda. More...
CHEERING FOR CHESTERFIELD -
A new and exciting dance and cheerleading group, Crystal Cheer And Dance, has just been formed in Chesterfield More...
GOLD FOR ASHOVER FLOWER ARRANGERS -
While many eyes were focussed on events at the London Olympics, flower arrangers in Ashover were busy collecting gold awards of a different kind. More...
COULD YOU BE PART OF SOMETHING WORTHWHILE? -
Ladies from The Inner Wheel Club of Chesterfield held a Charity Stall at The Rotary Classic Car & Bike Show at Ashover Show Ground on Sunday
More...
GRANTS ALLOCATED TO 4 CHESTERFIELD SPORT CLUBS -
Chesterfield Borough Council has told us that it has awarded around £1,000 in grants each to four Sport Clubs in the Borough. More...
CHESTERFIELD CHOIR FESTIVAL ON SONG -
"Anyone and everyone can sing!" - that was the message being relayed through song in various parts of the town centre on Saturday during the Chesterfield Town Centre Choir Festival. More...
DWT HOLD 24 HOUR EVENT CELEBRATING 50 YEARS -
The 50th Anniversary of the Derbyshire Wildlife Trust, includes a 24 hour event at The Avenue Washlands between Sat 23rd and Sun 24th June. More...
CHRISTIANS TOGETHER FOR CHESTERFIELD AGM -
Monday, May 14th sees the third AGM of Christians Together for Chesterfield - founded in September 2009 to be a network for the 'total Christian enterprise' in the town. More...
CHESTERFIELD ART CLUB EXHIBITION -
The Chesterfield Art Club will hold the first of their 4 annual Art Exhibitions this year at Ashover Parish Hall, to coincide with the village May Day Carnival. More...
MARVELLOUS HANDS AT HOLLINGWOOD HUB -
There are many people who like crafts and they do it for a hobby - but why not show the public what you are able to do and, maybe sell your products? More...
SUSAN MALLINSON LGSM TALKS -
Chesterfield and District Caledonian Association is hosting a talk by Susan Mallinson L.G.S.M. and you'd be very welcome to attend. More...
CALEDONIANS ENJOY A 'FANTASTIC' BURNS NIGHT -
Chesterfield and District Caledonian Association held their Annual Burns' Dinner and Dance celebrating 253 years since the birth of Robert Burns More...
CHESTERFIELD CHINESE ASSOC CELEBRATE YEAR OF THE DRAGON -
Chesterfield Chinese Association celebrates Chinese New Year for 2012, the Year of the Dragon, on Tuesday 31st January 6:30pm to 10.30pm at the Winding Wheel More...
BURNS SUPPER CELEBRATIONS -
Chesterfield and District Caledonian Association are holding their Annual Burns Supper Celebration at Chesterfield Hotel on Saturday 21st January 2012. More...
TOP GUIDING AWARD FOR CHESTERFIELD WOMAN -
Stephanie Jackson-Horner has shown she is leading the way after receiving Girlguiding UK's top accolade, the coveted Queen's Guide Award. More...
ASHOVER PANTO HITS THE STAGE... (OH YES IT DOES!) -
Fairies will rub shoulders with a group of ghouls and a beautiful princess will face up to wicked Queen Lucricia Vicious at Ashover's Parish Hall early in January. More...
ST ANDREW'S THANKSGIVING SERVICE A SUCCESS -
Unlike last year there was no snow and wind factor to detract from the enjoyment of the service of Thanksgiving and Praise on Sunday 28th November. More...
LOCAL YOUTH GROUP CELEBRATES BIG LOTTERY
INVESTMENT -
The Old Whittington Recreation Ground Youth Empowerment Project received £190,081 from Big Lottery Fund's Reaching Communities programme. More...
SCOTTISH THEMED EVENING -
Chesterfield and District Caledonian Association are holding their Annual Scottish Evening in Walton Village Centre on Saturday 22nd October, at 7.30pm. More...
LOCAL SCOUT GROUP APPEALS FOR HELP -
1st Whittington scout troop is putting out an urgent request to anyone who could donate a lock up for the group's equipment. More...
MOTHS AND OTHER INSECTS! -
The Derbyshire Wildlife Trust's first talk of the season, 'Moths and Other Insects', will take place tomorrow, Tuesday 13th September. More...
HELPING THE ROTARY FIGHT TO ERADICATE POLIO -
The Mayor and Mayoress of Chesterfield added their support towards the worldwide eradication of polio at the Rotary Club of Chesterfield's stand at the Tesco Community Fair More...
CHESTERFIELD CIVIC SOCIETY NEWS -
Chesterfield Civic Society is a group which meets at the Eyre Chapel on the 2nd Tuesday of each month to hear from guest speakers. More...
CHESTERFIELD CALEDONIAN'S GOLF DAY 29th JULY -
The Chesterfield And District Caledonian Association are holding their Annual Golf Competition and Supper. More...
NEW PRESIDENT FOR CHESTERFIELD CALEDONIANS -
Mr Mark Macartney has been elected as the Chesterfield and District Caledonian Association's new President More...
SHOWBAND ON SHOW-
If you've attended any major event in Chesterfield then you will have seen the Chesterfield Musketeers Showband adding colour and music to it. More...
ORCHID SHOW RETURNS TO CHATSWORTH -
Each May for nearly 30 years the Sheffield and District Orchid Society has presented an orchid show in the Cavendish Hall, Chatsworth. More...
TALKING 'COFFEE' -
The Chesterfield And District Caledonian Association are hosting a talk by James Pogson of Northern Tea Merchants on 'Coffee'. More...
HELP MAKE IT A TRIP TO REMEMBER -
The 1st Calow Scouts are holding a 'Pub Quiz' at the White Hart, Calow on Thursday 31st March, commencing at 8.30pm More,,,
BRINGING BESS OF HARDWICK TO LIFE -
Chesterfield and District Caledonian Association hosted Sonia Preece who gave a talk on Hardwick Hall and it's most famous resident 'Bess of Hardwick'. More...
SCOUTING ... FOR NEW RECRUITS -
The European Scout Federation is still going strong all these years later and looking for new recruits. More...
ROLLING ON... -
It began life as a gift to Lord Baden Powell at the 21st birthday of Scouting and, after several different owners, Rolls Royce 'Jam Roll' has returned to the Scouting fold. More...
A GUIDING LIGHT -
She is referred to as 'The mother of millions' and nearly 40 years after her death, is still a huge influence to over 10,000 girls throughout Derbyshire... More...
JOG ON... -
Getting fit will probably be one of the most common resolutions made in the New Year and now people in Derbyshire have no excuse... More...
HORSES FOR GOOD CAUSES -
A local Scout group is appealing for help in raising enough money to enable a delegation of young local people to travel to Ontario, Canada More...
THE CHESTERFIELD & DISTRICT CALEDONIAN ASSOCIATION -
Founded 100 years ago in October 1910, the Association was not the first collective of Scots in Chesterfield and the surrounding District. More...
CHESTERFIELD ROTARY CHARTER ANNIVERSARY CELEBRATION -
The Rotary Club of Chesterfield celebrated its 88th birthday with a Charter Anniversary luncheon at the Ringwood Hall Hotel. More...
PROMOTE YOUR DIRECTORY IN NEW LOCAL DIRECTORY - Chesterfield Borough, North East Derbyshire and Bolsover District Councils have teamed up to create a free directory for Sports clubs and Physical Activity groups across our area. More...
THE CHESTERFIELD WALK THIS WAY GROUP -
CWtW began in 2001 as a collaborative project between Chesterfield Borough Council and Derbyshire County Council Countryside Service to start Walking for Health (WfH) groups in the Chesterfield Borough. More...