Friday 8th June 2012


The stage is set and, in less than 48 hours, Chesterfield will witness the biggest show to come to the town in years.



Elton's stage and the covered pitch as it looks on Friday morning

The b2net will, on Saturday evening, play host to International star Sir Elton John who will be making his first trip to the town. It's a huge coup for the stadium, and, with 15,000 people expected to pack the pitch and seating areas, a huge operation to get it here.

Anyone who has driven past the venue in the last couple of days will doubtless have seen the crane and the marquees - the 'advance party' for the star and home to the team preparing the way for the extravaganza.

65 year old Elton is known for his tireless performances and has, this week alone performed at Taunton, Harrogate and Belfast - and of course for the Queen despite recovering from a hospital stay. His schedule is exhausting but his team says, more than manageable for a man who has survived 4 decades in the industry.

Yesterday we spoke with Ben Martin, from promoters Marshall Arts and he told us that Elton is looking forward to the venue...
"Elton is on a major European tour, Chesterfield falls slap bang in middle of UK dates. He's already performed two outdoor shows at Taunton and Harrogate this week, and of course was one of the many British artists to perform for the Queen at Buckingham Palace.

"Elton is always touring - it's something he loves doing. He was in the US before - he has his residency in Las Vegas, it's the second residence he has there - the first was The Red Piano, this, the second, is The Million Dollar Piano - but Elton gives you, wherever you are, the same fantastic show - two and a half hours from a back catalogue of 40 years of hits."

You've touched on it yourself, he loves touring and he really does appreciate the audience right across the world?
"Yes he really does, and part of his longevity is that he takes the show to different places. If you look at the schedule, he's taking his show to people, Taunton, Harrogate, Falkirk - none of the places have an arena - he'll look out places where he's never performed or not for years and he'll take his show there.

"He's played in Sheffield at the Arena and at Chatsworth. This is a different show, with a band rather than solo, they've been with him since he started. There is newer talent onstage with him in the form of 2 cellos - 2 chaps from Croatia that Elton met through the Royal Academy of Music where he was a student and who he still supports."
The tour is no small undertaking is it?
"We will have started in earnest on site on Monday, and started the build Tuesday - a 3 day build. We will have covered the pitch to protect the surface for next season and now the seating will be going in, because it's a reserved seated concert.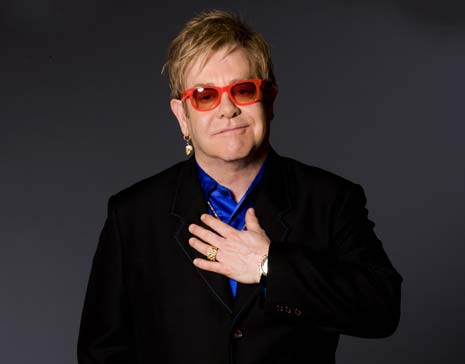 "The stage will be in place and the cover will be over the pitch and the seats will be in now. Elton is in Belfast tonight [Thursday] - as soon as he's finished that, his lights, his video and instruments will come across the Irish Sea tonight in 8 trucks. By tomorrow night [Friday] the lighting engineer will be here and up till early in the morning trying to set the lights up - and on show day we have 150 people on site - all the sound checks will begin and they will working flat out.

"We then have a show In Falkirk on Sunday so food will be prepared for the crew so they can get on the bus, have something to eat and get a few hours sleep and when we get into Falkirk at about 7am, it will all start again!"

Elton does well...
"He's an amazing man! It was well documented that a little over a fortnight ago he had a chest infection and had to cancel 3 shows in Las Vegas, but has done 5 shows in a row, in Europe and the UK in the last two weeks. This man is robust and gets on stage and gives 2 and half hours.

"This is an incredible show from someone with incredible stamina - Elton has a large back catalogue and wants to showcase it - it's a night of hits and he wants to cover all of those. The moment he steps on stage at 8pm until the moment he steps off, everyone will enjoy a journey through his musical career.

"The flow of the concert means that people will be on their feet then sitting down but it's an amazing spectacle to see them and they will leave the arena on Saturday having had an amazing night!"

Football stadiums do seem to have a resonance for Elton?
"Clearly his relationship with Watford is important - he still does shows there to help them. I think we've performed in more stadiums than I can reel off. It means that we can walk into a venue that has 4 walls, food drink and toilets and we can then bring in other elements.

"We're bringing in nearly 15,000 people and we hope that some of them will return for the football next season from the wider community. We have worked very closely with the club to make sure that season ticket holders can have tickets but we want to make sure that Elton fans get their chance too."

What's your message to Elton fans?
"I have 3 really - if you haven't got a ticket yet, tickets will be available until the beginning of the show. Those who have, plan your journey as there won't be any parking at the grounds. Park and walk facilities are available, look on the club's website. And the weather hasn't been incredible - make sure you dress appropriately, bring a waterproof - we ask people not to use umbrellas as people behind may not get a view. Hopefully the weather will improve though and we won't have rain."

We also went along to the club this morning to see the preparations for ourselves, and talk the man who helped make it happen, Chesterfield FC's Marketing Director, Alan Stevenson.
It's fair to say that the b2net is now unrecognisable as a football stadium, with chairs lined up on the pitch and a huge stage erected in what is usually the away end.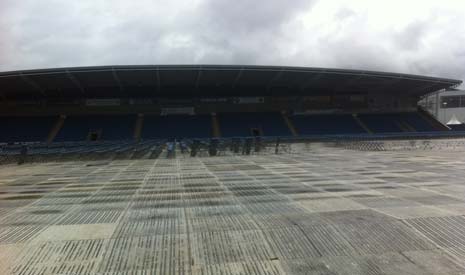 With just over 24 hours to go until the concert gets underway Alan (below), a Chesterfield lad himself, admits it's a proud moment...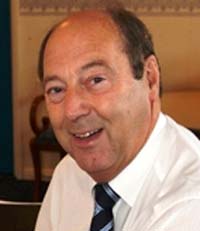 "Yes I'm very pleased. Everything has gone to plan, it was September last year when we finalised the deal, though we'd been talking to them for 6 months before that so it's over a year, yes.

It's fantastic, great that a superstar like Elton John who played for the Queen on Monday is here on Saturday - it's great for the town.

"Tickets are still selling well - there's been a bit of a rush on actually over the last few days and they will be available until the moment Elton steps put on stage. He's looking forward to being here as he's a football man, he's only playing at 2 football stadiums, we're the only one in England - the other is in Scotland."

A huge boost for the b2net and the town...
"It is! It puts us on the map, we want to be seen as a premier team and a premier venue, so it sets our place in Derbyshire. There are lots of local tradesman involved in the work here this week and hotels are booked up so it's been great for the town, with jobs and a boost to the local economy - we're really pleased."

The seats are up and the lighting and video equipment is on its way across the Irish Sea (prompting Alan to joke that he hoped it hadn't been rough overnight), It must have been fascinating to watch the venue transformed from a football pitch into a concert venue for the first time?
"It's been amazing, you look at it and think 'is this a football stadium?' It's changed from a football pitch to a concert venue in days - and they haven't had the best of weather to work in - they've done really well.

"Hopefully though the weather will turn and we'll be OK tomorrow. They are tried and tested, they know what they're doing - they did it at Taunton earlier in the week and they're playing cricket on it next week, so the pitch will be fine. It will be reseeded too before the season, so it will be fine."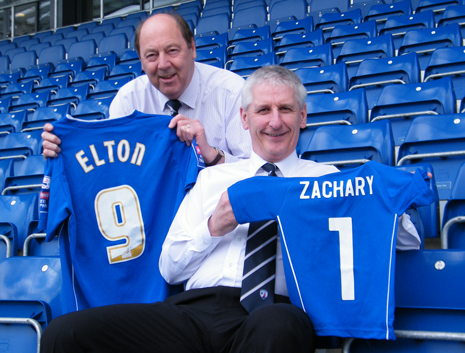 And Elton will receive two Spireite Shirts to take home too?
"Yes they're all ready. We have one for his son Zachary as well so he can take them home and wear them with pride. Zachary has number 1 and Elton has 9 on the back - maybe he's a frustrated Centre Forward! He's just a football fan at heart."
RELATED STORIES
WIN TICKETS FOR THE NEURYTHMICS AT THE PROACT -
We have two tickets to see Eurythmics tribute act - The Neurythmics - at the PROACT stadium on Friday 28th September. More...
BANDSTAND MARATHON COMES TO QUEEN'S PARK THIS WEEKEND -
Come along, watch and listen to a jam-packed musical programme at Chesterfield's Queen's Park as part of the London 2012 Festival closing celebrations. More...
CHESTERFIELD JAZZ CLUB - 2012 DIARY DATES -
Chesterfield Jazz Club meets on the third Thursday of every month at Club Chesterfield on Chester Street More...
DALEDIVA TAKE CENTRE STAGE FOR CHARITY CONCERT -
People are being invited to enjoy an evening of entertainment when the stars of local chorus, DaleDiva, take to the stage for a charity concert in Ashover. More...
WALTON & WEST COMMUNITY FORUM HOPE YOU'LL 'STAND IN LINE' -
One local Community Forum has decided to try and bring live, top class entertainment to the local area - at an affordable price. More...
LOCAL MUSICIANS TAKE TO THE BANDSTAND -
Local musicians will have a once-in-a-lifetime opportunity to take part in the largest closing cultural event of London 2012 on 9th September, thanks to Chesterfield Borough Council. More...
TAKE THE 7 PLAY THE WELLINGTON, NEW WHITTINGTON -
Take The Seven play at the Wellington, High Street, New Whittington, Chesterfield on Saturday 16th from 9pm More...
I'M STILL STANDING AFTER SIR ELTON ROCKS 'CHEZ VEGAS' -
It was THE event of the year in Chesterfield, over 12 months in the making and the result of much planning, preparation and purpose. More...
FINAL TICKETS RELEASED FOR ELTON JOHN AT THE B2NET -
With just over two weeks until the first ever show at the B2net Stadium, the final few tickets for Elton John have been released for sale to the general public. More...
COULD ELTON BE A SECRET SPIREITE -
Well-known football fan Sir Elton John will be taking two pieces of Chesterfield back with him when he performs at the b2net shortly. More...
MUSIC FESTIVAL CELEBRATES A DERBYSHIRE HERO -
Love, Life and Liberty: A celebration of Chesterfield's unique role in inspiring better places for people and the life of Raymond Unwin More...
2CELLOS TO SUPPORT ELTON JOHN AT THE B2NET -
Sir Elton John has announced that very special guests 2CELLOS will join him for his forthcoming live show this summer. More...
SUCH SWEET THUNDER -
Steve Steinhaus, the charismatic singer with the big personality who fronts both his Swing Band and the Dr Teeth Big Band, returns to Whitwell with his brand new show More...
MAGNETS ATTRACTED TO CHESTERFIELD -
They've performed with Blondie and at private parties for the likes of Hugh Grant and Elle McPherson - and now The Magnets are coming to Chesterfield. More...
ELTON JOHN PLAYS CHESTERFIELD FC'S B2NET! -
Superstar Elton John will be the first ever artist to perform at the B2net when he plays there in Summer 2012. More...

600 FOLLOW FEROCIOUS DOG AT MUSIC FESTIVAL! -
Whitwell Forward Community Group and 4Ward Promotions have extended Whitwell Festival Of Music 2011 and attracted 23 top quality bands More...
DO YOU HAVE TALENT? -
For the third year running, the Mayor of Chesterfield will once again be hosting 'Chesterfield's Got Talent' and is looking for talented acts from across the Borough. More...
ON SONG FOR TOWN, CARL NEWTON -
A day of firsts at the B2net on Saturday - first home game of the season and the first unfurling of the Champions Flag - also the first time the new 'Town song' rang out across the terraces More...
A STAR IS BORN... AND SHE'S FROM CHESTERFIELD -
One young girl from Chesterfield says she has to pinch herself every single day after hitting the big time and with her band preparing to launch its first single, next month. More...
HARLEY HANSON PLAYS HARLEY'S BAR-
Harley Hanson, International Singer and Songwriter returns to his home town of Chesterfield to launch his music video's and CD "When My Guitar Crys" and to film for his new video. More...

Music Event Diary -
Here is the place to find the latest Live Music Gigs from around Chesterfield. More...