Sunday 10th June 2012


It was THE event of the year in Chesterfield, over twelve months in the making and the result of much planning, preparation and purpose.

No one we spoke to in the run up to it could quite believe it was happening and, most walking into the stadium on Saturday night, expressed a sense of shocked delight to see the change in the venue in 5 short days.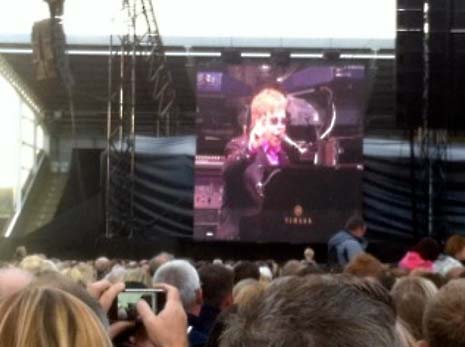 However, anyone planning to venture to the b2net last night would have been forgiven for thinking that 'Wet Wet Wet' may have been a more appropriate act for that evening. The heavens had chosen to empty all day and sales of macs in town had risen threefold.

They do say though that the sun shines on the righteous, and, someone at Chesterfield FC must have been very good lately as just on cue, the clouds disappeared and was replaced by blue sky.

It's fair to say that the event, the first ever of its kind at the stadium, starring one of the biggest names in the Industry, was a huge gamble for the club and there were no doubt some sleepless nights in the build up to the big day.

However, there is no doubt at all that they pulled it off in style and the b2net, so synonymous of late with bouncing, didn't just bounce - it rocked!

Few there will ever forget the sight of thousands upon thousands jigging and singing in unison to 'I'm Still Standing' and 'Rocket Man'.

15,019 people, of all ages, from Chesterfield and beyond, packed in with their funky Elton glasses and their picnics to watch one of the greatest superstars at work.

Anyone who had expected it to be people of a certain age who had grown up with Sir Elton would have been disappointed - there were children as young as 9 in the crowd, showing not only the huge appeal of the Artist, but the impact of the event on the town and the valued memory it would doubtless create. "The first concert at the b2net? Sir Elton?... I was there!"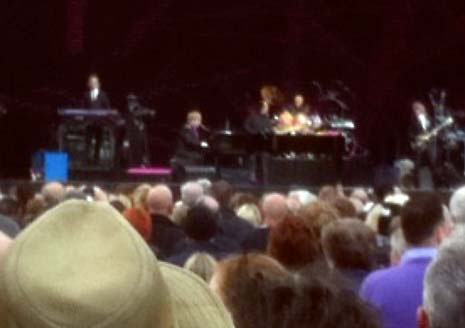 And what a show it was. Given Sir Elton's reputation as a bit of a diva, one could have been forgiven for thinking that it would be a later then planned start but no, on cue at 8.05, the man himself appeared, in a surprisingly low key entrance - to stunned silence at first and then a huge cheer that could be doubtless be heard for miles. A seemingly gentle and humble man, he appeared to be genuinely delighted to be in the company of the Chesterfield crowd and was profuse in his thanks both in gesture and words after every hit.

And they kept coming, backed by a band that has travelled the world for 4 decades with him and the wonderful new boys - the 2 Cellos - products of the Royal Academy of Music of which Sir Elton himself was a pupil.

'Sacrifice', 'Candle in the Wind', 'Sad Songs', 'Nikita', the very aptly titled 'I Guess That's Why They Call It The Blues' - which prompted a huge and grateful cheer from the Spireites in the crowd - and 'Sorry Seems To Be The Hardest Word' proved to be the favourites but, towards the end, as darkness fell (a moment cleverly, or fortuitously timed to coincide with 'Don't Let The Sun Go Down On Me') the crowd joined as one to become Elton's backing choir.

If the b2net had a roof it would have lifted as 'I'm Still Standing' and 'Crocodile Rock' belted out across Whittington Moor. After 10 pm, the crowd began sensing it was time to leave and, at every pause that Elton took, began the chant of "more more" and the Rocket Man obliged, finally ending with a heartfelt "thank you" to the crowd and the fans for their years of "loyalty and love and wishing them health and prosperity".

He had kind words too for the club itself, saying that the stadium was lovely and one that his beloved Watford FC would love to have. "All involved" said Sir Elton, "had been a pleasure to work with."

We had been warned beforehand by Elton's people that he was a tireless performer and would put on the same quality show for the Queen, Las Vegas, or the 'ordinary' towns he chooses to patronise, rather than the Arenas. A people's performer is Elton - despite his Knighthood - and he didn't disappoint.

65? Recovering from an infection which would have floored most of us even half his age? You would never have guessed at either!

Stunning was probably the best word that I can use in a family newspaper. Absolutely awesome.

And, in little old Chesterfield too!

And there's the thing - for so long we have travelled to Sheffield, to Manchester and Nottingham to see the stars, yesterday was a chance to prove that anything they can do, Chesterfield can too.

A wonderful evening of firsts for all - Elton, the town and the club - and one which will be talked about for years to come.

Much as I hate the epithet, we can confidently say that after the visit by Sir Elton, move over Las Vegas, because CHEZ Vegas is here to stay!
RELATED STORIES
VINTAGE ROCK'N'ROLL WITH THE ATLANTICS -
Dust off those blue suede shoes because this 1950s rock 'n' roll band really knows how to party and they're coming to Whitwell! More...
WIN TICKETS FOR THE NEURYTHMICS AT THE PROACT -
We have two tickets to see Eurythmics tribute act - The Neurythmics - at the PROACT stadium on Friday 28th September. More...
BANDSTAND MARATHON COMES TO QUEEN'S PARK THIS WEEKEND -
Come along, watch and listen to a jam-packed musical programme at Chesterfield's Queen's Park as part of the London 2012 Festival closing celebrations. More...
CHESTERFIELD JAZZ CLUB - 2012 DIARY DATES -
Chesterfield Jazz Club meets on the third Thursday of every month at Club Chesterfield on Chester Street More...
DALEDIVA TAKE CENTRE STAGE FOR CHARITY CONCERT -
People are being invited to enjoy an evening of entertainment when the stars of local chorus, DaleDiva, take to the stage for a charity concert in Ashover. More...
WALTON & WEST COMMUNITY FORUM HOPE YOU'LL 'STAND IN LINE' -
One local Community Forum has decided to try and bring live, top class entertainment to the local area - at an affordable price. More...
LOCAL MUSICIANS TAKE TO THE BANDSTAND -
Local musicians will have a once-in-a-lifetime opportunity to take part in the largest closing cultural event of London 2012 on 9th September, thanks to Chesterfield Borough Council. More...
TAKE THE 7 PLAY THE WELLINGTON, NEW WHITTINGTON -
Take The Seven play at the Wellington, High Street, New Whittington, Chesterfield on Saturday 16th from 9pm More...
THE 'ROCKET MAN' PREPARES TO LAND -
The stage is set and, in less than 48 hours, Chesterfield will witness the biggest show to come to the town in years. More...
FINAL TICKETS RELEASED FOR ELTON JOHN AT THE B2NET -
With just over two weeks until the first ever show at the B2net Stadium, the final few tickets for Elton John have been released for sale to the general public. More...
COULD ELTON BE A SECRET SPIREITE -
Well-known football fan Sir Elton John will be taking two pieces of Chesterfield back with him when he performs at the b2net shortly. More...
MUSIC FESTIVAL CELEBRATES A DERBYSHIRE HERO -
Love, Life and Liberty: A celebration of Chesterfield's unique role in inspiring better places for people and the life of Raymond Unwin More...
2CELLOS TO SUPPORT ELTON JOHN AT THE B2NET -
Sir Elton John has announced that very special guests 2CELLOS will join him for his forthcoming live show this summer. More...
SUCH SWEET THUNDER -
Steve Steinhaus, the charismatic singer with the big personality who fronts both his Swing Band and the Dr Teeth Big Band, returns to Whitwell with his brand new show More...
MAGNETS ATTRACTED TO CHESTERFIELD -
They've performed with Blondie and at private parties for the likes of Hugh Grant and Elle McPherson - and now The Magnets are coming to Chesterfield. More...
ELTON JOHN PLAYS CHESTERFIELD FC'S B2NET! -
Superstar Elton John will be the first ever artist to perform at the B2net when he plays there in Summer 2012. More...

600 FOLLOW FEROCIOUS DOG AT MUSIC FESTIVAL! -
Whitwell Forward Community Group and 4Ward Promotions have extended Whitwell Festival Of Music 2011 and attracted 23 top quality bands More...
DO YOU HAVE TALENT? -
For the third year running, the Mayor of Chesterfield will once again be hosting 'Chesterfield's Got Talent' and is looking for talented acts from across the Borough. More...
ON SONG FOR TOWN, CARL NEWTON -
A day of firsts at the B2net on Saturday - first home game of the season and the first unfurling of the Champions Flag - also the first time the new 'Town song' rang out across the terraces More...
A STAR IS BORN... AND SHE'S FROM CHESTERFIELD -
One young girl from Chesterfield says she has to pinch herself every single day after hitting the big time and with her band preparing to launch its first single, next month. More...
HARLEY HANSON PLAYS HARLEY'S BAR-
Harley Hanson, International Singer and Songwriter returns to his home town of Chesterfield to launch his music video's and CD "When My Guitar Crys" and to film for his new video. More...

Music Event Diary -
Here is the place to find the latest Live Music Gigs from around Chesterfield. More...