Tuesday 13th June 2017


Summer is finally here and the sun is just about shining - the time of year that nearly everybody looks forward to! But, there is a big question hanging in the air that we all need to take a look at: should you stay in Chesterfield for the summer or book a last minute holiday?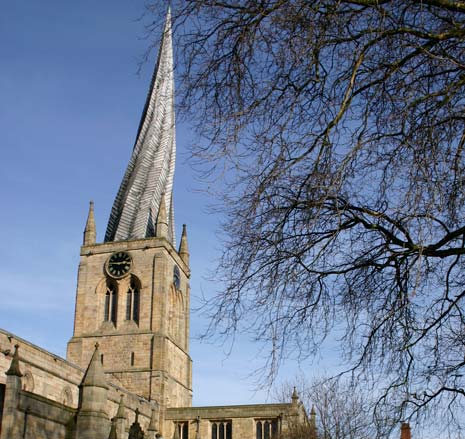 There is a lot to consider when you plan for summer and there is a lot to see and do, so don't make your mind up too quickly.
What's going on?
You won't be short of things to do this summer if you stay in Chesterfield as there is a full line up of events and something for everyone. There is lots to see at the Winding Wheel Theatre this summer as well as a fair few festivals and fairs.

You also have the classic car and bike show, the Artisan market and Farmers' Market and Grease will be showing at the Open Air Cinema. You really can have a jam-packed summer when you stay in Chesterfield.

However, if you're looking for a little more adventure, there is a lot going on abroad that you might want to take part in instead.

In Memphis USA you can witness the mid-August Elvis festival, with special performances and Elvis themed events planned for the whole week as well as a contest to find the Ultimate Elvis Tribute Artist.

You can also head to Austria towards the end of July to see the World Body Painting festival, where incredible artists turn their own bodies into a unique work of art.
What's the weather like?
It seems like we have a lot to look forward to this summer as it is expected to be one of the hottest summers yet!

Some forecasts expect temperatures to reach as high as 30 degrees by the end of June and the summer heatwave is expected to last until the end of August!

However, blasts of heat are also expected to result in a few heavy bouts of rain every now and then, so make sure to stock up on ice creams AND brollies for your Chesterfield summer.

If you're not much of a heat fiend however, and you're looking for somewhere a little bit cooler, there are lots of places abroad to choose from.

In Finland, for example, temperatures are expected to be at heights of around 25 degrees with a bit of Summer rain splashed here and there to help you cool off and regular clouds to give a bit of shade when it's hot.

In Germany, too, you can expect slightly lower temperatures with some clouds and rain.
How much will it cost?
One of the biggest advantages of staying home this summer is the cost. You save money on accommodation, travel, car rental and so much more when you decide to stay at home, which means that you have more money to spend on entertainment, barbecues and ice cream.

On the other hand, if you don't mind steering clear of the big tourist locations, it is possible to go abroad on a bargain.
RELATED STORIES
CHESTERFIELD CARNIVAL MAKES A RETURN AFTER A 25 YEAR ABSENCE -
A reminder that Chesterfield Carnival takes place tomorrow - Saturday 26th July - at Stand Road Park More...
HIGH PRAISE FOR CHESTERFIELD'S HOLMEBROOK
VALLEY PARK -
Judges from the national Green Flag award have commended Holmebrook Valley Park. More...
FUNDING EASTWOOD PARK'S COMMUNITY GARDEN -
Eastwood Park in Hasland is set to benefit from a raft of improvements thanks to funding from the Lottery funded Awards for All. More...
OPENING OF NEW ADVENTURE PLAY AREA AT STAND ROAD PARK -
A new adventure play area for young children in Chesterfield is being opened by the Friends of Stand Road Park More...
£47k AWARD FORM BIFFA AWARD FOR STAND ROAD PARK -
The Friends of Stand Road Park has been awarded £47,000 from Biffa Award to build an adventure play area for young children at Whittington Moor, Chesterfield. More...
KING V PARLIAMENT THIS BANK HOLIDAY CHESTERFIELD STYLE! -
History will come alive as the English Civil War is staged in Holmebrook Valley Park in Chesterfield this Bank Holiday weekend More...
CHESTERFIELD'S QUEEN'S PARK SAYS 'FEED THE BIRDS' -
More than 100 bird lovers flocked to Queen's Park to take part in a nest box building event organised by Chesterfield Borough Council. More...
DIAMOND JUBILEE FUNDING BOOST FOR EASTWOOD PARK -
News today that Hasland has received a £25,000 funding boost from SITA Trust's QE2 Fields Fund to provide an outdoor gym and piece of dynamic play equipment at Eastwood Park More...

WHAT ARE YOUR MEMORIES OF EASTWOOD PARK? -
Chesterfield residents are being invited to share their special memories of Eastwood Park in Hasland, as part of a project to create a magnificent feature archway. More...
EASTWOOD PARK CLOSES FOR RESTORATION WORK -
Eastwood Park in Hasland, Chesterfield closes it's gates for 4 weeks from Monday 3rd September as work starts on major restoration project. More...
GET READY TO RAMBLE IN POOLSBROOK COUNTRY PARK -
Local residents are being encouraged to pull on their wellies or walking boots and to take a healthy stroll around Poolsbrook Country Park this Summer. More...
FAMILY FESTIVE FUN IN HASLAND -
Christmas is coming early in Hasland with a free family fun day to be held in Eastwood Park on Saturday, December 10th. More...

GET FESTIVE IN THE PARK -
Queen's Park in Chesterfield will be getting festive this Saturday 10th December, with the return of the annual "Winter Festivities in the Park" event. More...