Wednesday 4th September 2013



The children may have just gone back to school but thoughts are turning to the festive season already - and that means Panto!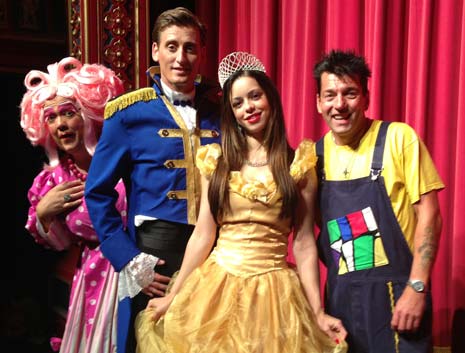 (l-r) Danny Mills, Jon Moses, Tina Barrett and Rik Gaynor

This year, Chesterfield's Pomegranate Theatre will play host to Paul Holman's production of Beauty and The Beast - and the star studded cast were in town yesterday to meet the press and public and get ready for what's sure to be a hit show (oh yes it is!).

Billed as the 'tale as old as time' in the famous Disney song, Beauty and The Beast is of course a story of love against the odds but Director Maurice Thorogood (who will also take on the role of Professor Crackpot) says we can expect a few surprises, and no, he wouldn't be drawn on what they were!

It's his first visit to Chesterfield and he was full of praise for the Pomegranate, telling local media, "For Pantomime. this theatre is just perfect, we can't wait! I've been up to look at all the seats and everybody is going to be involved in it!

"It's a fabulous story of boy meets girl - but within the marvellous story telling, we have comedy and an action packed fun filled show - with lots of magic and plenty of songs. We have to entertain the full family - mum, dad, children and grandparents - we've got something for all of them."

Although the cast had never met before, it's clear after five minutes in their company that they have bonded well and there was a lot of laughter at the press conference, with panto banter already rife.

Most recognisable in the cast will be Tina Barrett (below), formerly of S Club 7 who will take on the role of Beauty.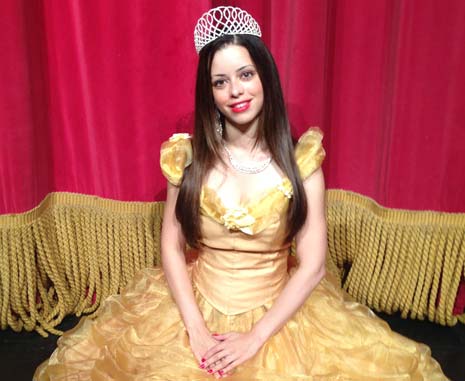 It's her first pantomime and Tina admits she can't wait to get started, "I am really looking forward to it. When I was offered the part, I wasn't sure I would take it but I'm so glad I did. It's so nice to get dressed up and do theatre again. I did a bit when I left college and I really miss it.

"I am a professional, trained dancer and I worked with the English National Opera as a dancer, then worked with Simply Red and Toni Braxton, so it's nice to go back - it's not like TV when you can go back and do it over again, you only get one time and that's it - and it's so nice having the audience and performing to children. It's such an honour to be performing here."

As a young woman herself, she admits she experienced things that few others will, "S club 7 was amazing. We were so young at the time. It was 5 years and we went all over the world, had our own dolls and did a box office film, Seeing Double.

"We met so many of our idols. We were never in one country for too long - the longest was LA as we filmed our TV show. I feel so blessed to have been in such a wonderful band."

They also inadvertently launched two other young stars of today on their way - Frankie and Rochelle from the Saturdays were part of the successful spin off,
S Club Juniors and Tina admits that she is very proud of their continued success, "We put the band together and they were 12 years old - they have done so well. Aaron is a choreographer now and he's done well. It's lovely to see."

Tina has a few busy months coming up - she is about to release her first solo single, Making Me Dance, on 28th October and has been in the studio with William Orbit and Beanie Man and done some choreography, "I have a single coming out soon, my main thing has been music writing, so this year will be the biggest release for me. It's exciting and busy and it's lovely to be working with Jon (Moses) as well."

Tina had some welcome news to fans out there too, "S Club7 might do something next year - we have been discussing it and we might do something together - but we want it to be special."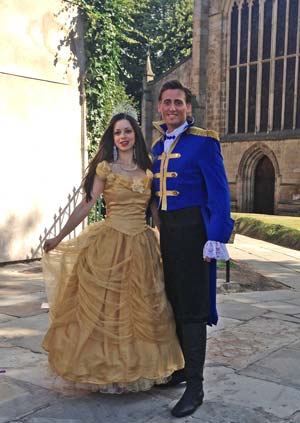 Jon Moses (left, with Tina Barrett) will be a familiar face to those of us glued to Sir Andrew Lloyd Webber's Superstar search last summer. He wasn't the winner but, an established artist prior to going on the show, he says that the show was a great experience.

Described as the 'most requested male vocalist in his sector', Jon has travelled the world with his solo show and done lots of theatre work, most recently in Rapunzel.

He loves the buzz of live theatre and, an engaging and lively character, he clearly loves the audience rapport, "I'm a bit mischievous, it's a fun time of year and I think if the audience can see you're having fun, you're more human.

"It's been a crazy year!"

He too is raring to get going, "It's going to be fantastic - it's amazing to get paid for something you enjoy. Christmas is such a special time of year and to walk out of the theatre and see how happy everyone is - to see the kids singing the songs - there's no feeling like it! You can't out a price on it! The theatre is amazing - you can see everyone's face whilst you are performing. Tina and I hit it off straight away."

They say 'there ain't nothing like a Dame' and Beauty and The Beast's Madam Fifi will be played by Danny Mills (below). He has performed at the Pomegranate before, five years ago and, having had fond memories of his time here, is very excited to be back.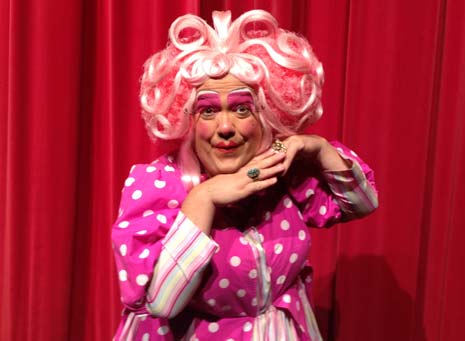 Danny is facing his 18th panto, "I am passionate about Panto! I love Panto, everything is great about it. It's children's first introduction to theatre. I was completely mesmerised by my first, in Lincoln and, as soon I was old enough, I was panto-ing, and I have never stopped.

"It's important to build those new audiences, not just now but for the future. Pantos are turning into musical comedies and to keep on filling these beautiful theatres, we need to get the young audiences.

"I am Madam Fifi Camembert - I am requesting that I come on singing 'Sweet dreams are made of cheese!' Evidently, I work for the Count - like a Mrs Potts. Mainly it will be me and Rik (Gaynor) mucking about between the story."

Rik Gaynor proved a hit with audiences last year and is back for another run. A local lad, he is a fellow believer in the power of panto, "The energy and adrenalin rush is great when you go out on stage. Everyone wants a good time and we'll give it to them - whether they like it or not - especially when the water pistols come out!

"It's magical, even from my point of view, standing on stage. I don't do it for the money, I do it because I enjoy it. I like working for Paul (Holman). Paul is a great Producer and has a personal touch even though he has pantos up and down the country."

Although the team had only met 24 hours ahead of the press call, Rik says it will work, "It feels like a family already, although we don't know each other, we all know people who know them. I'll be showing them the nightlife - Chesterfield is good for the nightlife - and the market!"

Danny interjects, "The market is good, I bought some fabric for my frocks from there last time - there's a good stall on there. I have three costumes to make this year - I make my own, right down to my shoes and tights."

Rehearsals for Beauty and the Beast start on the 25th November, and the show opens on the 6th December 2013 through to 5th January 2014.

For booking details, call the Pomegranate Box Office on 01246 345222 or visit www.chesterfieldvenues.co.uk
RECENT STORIES
POMEGRANATE THEATRE'S ART HOUSE SCREENINGS - REVIEWS -
Chesterfield's Pomegranate Theatre has marked the completion of their £750,000 renovation with a packed weekend of exclusive screenings. 2 are reviewd here by Adam Morris More...
PANTO COMES TO CHESTERFIELD -
'OH YES IT DOES!' -
People of a nervous disposition may want to stop reading now as Dames in brightly coloured dresses, a Prince, Princess and 'Buttons' crossing the road in Chesterfield yesterday afternoon can only mean one thing... More & Audio...
'BOYCIE' OFFICIALLY OPENS REDEVELOPED CHESTERFIELD THEATRES -
Actor John Challis - who played Boycie in Only Fools and Horses - has officially re-opened two Chesterfield theatres following a £700,000 refurbishment.
More & Audio...
CHESTERFIELD'S POMEGRANATE THEATRE WINS TRIPADVISOR AWARD-
Chesterfield's Pomegranate Theatre has won a prestigious award from the online review site, TripAdvisor. More...
GINNY DAVIES APPEARS IN 'SOMETHING FISHY' AT HOLLINGWOOD HUB -
After her wonderful performance of 'Double Booked' last year, the Chesterfield Canal Trust is delighted to welcome Ginny Davis back to the Hollingwood Hub. More...
FORMER CHESTERFIELD THEATRE MANAGER REMEMBERED -
The Friends of Chesterfield Theatres have presented a framed photograph of Derek Coleman, which will be hung in the bar of the Pomegranate Theatre in memory of him. More...
DÉDA LAUNCHES SEARCH FOR YOUNG DANCE STARS -
A Chesterfield-based youth contemporary dance company is holding auditions next month to give talented local youngsters the chance to develop their performance skills. More...
WIN A PAIR OF TICKETS TO ISLA ST CLAIR'S 'EYES FRONT' SHOW -
We have two tickets to give away to a wonderful 'Live and Local' event , organised by two local councillors - Shirley Niblock and Howard Borrell More...
GET WED AT THE WINDING WHEEL! -
One of Chesterfield's premier venues is now licensed to hold wedding and civil partnership ceremonies. More...
ARE YOU A YOUNG DANCING HOPEFUL? READ ON... -
Derby-based Déda has teamed up with Chesterfield Borough Council and Dance4's (CAT), to launch a 2nd auditioned youth dance company - giving local young people the chance to develop their talents. More...
CHESTERFIELD'S YOUNG DANCERS SOUGHT FOR DANCE PROGRAMME -
Talented young dancers in Derby and Derbyshire are being urged to come forward for a chance to perform in a professional venue in front of 100s of people. More...
'BOUNCERS' AT THE POMEGRANATE - A NIGHT OUT, BUT NOT AS YOU KNOW IT!
We were promised laughter from start to finish on opening night - and we were not disappointed. More...
WIN 2 TICKETS FOR THE VAGINA MONOLOGUES -
A great, free competition to win 2 tickets to see the world famous show 'The Vagina Monologues', by Eve Ensler - at the Pomegranate Theatre on Friday 28th September More...
STARS OF SCREEN COME TO TOWN WITH RENOWNED SHOW -
The Vagina Monologues - Britain's funniest and sexiest show - comes to The Pomegranate, Chesterfield on 28th September at 7.30pm for ONE night only! More...
GROUNDFORCE FAIRY CHARLIE TO TACKLE FLESHCREEP -
There'll be a 'ground force' to be reckoned with on stage this Christmas when the nation's favourite gardener swaps her spade for a magical wand More...
JOSEPH DREAMS IN CHESTERFIELD -
In what's seen as a huge coup for Chesterfield, Keith and his company will be the first West End production show to perform at the town's Winding Wheel More...
CHOIR WARMS UP FOR CHESTERFIELD'S BIG PRODUCTION -
The final choir has now been selected for the hit show Joseph, which comes to the Winding Wheel in Chesterfield in May. More...
TRIBUTE TO POMEGRANATE THEATRE DIRECTOR -
A tribute to one of Chesterfield's most well known and loved artistic producers and directors, Colin McIntyre, took place on 9th March at the Pomegranate Theatre in Chesterfield. More...
CHESTERFIELD VEHICLE FIRM GIVES LYCEUM A THEATRE ON THE GO -
A mini mobile theatre project may soon be a star turn in Sheffield thanks to a local firm. More...
TICKET SALES BOOST FOR WEST END'S JOSEPH -
It's been announced that The West End production of Joseph, due to come to Chesterfield in May, is already proving popular - and that there is now local interest in the production too. More...
JOSEPH TRAVELS TO THE WINDING WHEEL -
The West End production of Joseph and the Amazing Technicolour Dreamcoat is coming to Chesterfield in May 2012 More...
PRICE INCREASE FOR CHESTERFIELD VENUES -
We've been informed that Chesterfield Borough Council has agreed to a small increase in ticket prices at the Pomegranate Theatre and the Winding Wheel. More...
ARKWRIGHT'S STORY RELIVED -
The unique history of this North East Derbyshire village has been brought to life as part of a community art and drama project. More...