Saturday 26th October 2013



We have two tickets to give away to a wonderful 'Live and Local' event , organised by two local councillors - Shirley Niblock and Howard Borrell.

On Friday 1st November, the legendary Isla St Clair (left), brings her "Eyes Front" show to the St Thomas Centre, Chatsworth Road.

The show content ties in nicely with the timing of the event - as we look poignantly towards Remembrance Sunday, Isla brings "an exciting combination of live performance and film about the effect of music in wartime."

Singer and song writer Isla St Clair presents and performs a selection of popular songs, classics of their times, and tells the story behind them.

Joining Isla is film maker Patrick King who gives a fascinating and humorous 'behind the scenes' look at the making of their award winning documentary films.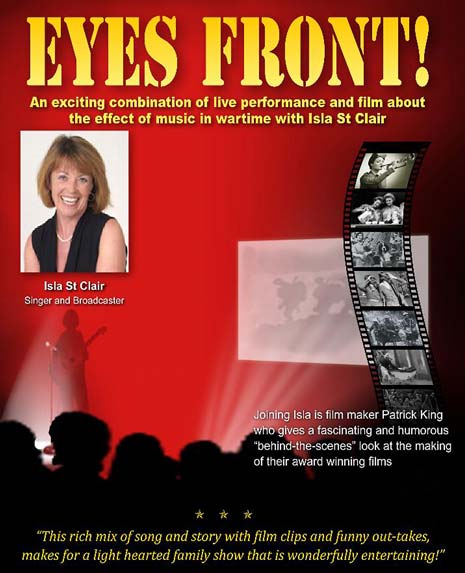 Using film clips they illustrate how in wartime songs and music played an important part in people's daily lives: by boosting morale, for propaganda or for simply reminding people of better times.

This rich mix of song, film and funny out-takes and interaction with the audience makes for a light hearted show that is both informative and wonderfully entertaining. Expect demand to be high - so get your tickets as soon as possible to avoid missing out!

Tickets, priced at just £8.50 and £6.50 for concessions, are available from:
Created Gallery, Chatsworth Road (Tel 01246 232205) or contact Shirley Niblock (Tel: 01246 207080) or Howard Borrell (Tel: 01246 221400)

Brampton Brewery bar will be available. Doors open at 6.45 pm and the show starts at 7.30 pm.
WIN A PAIR OF TICKETS
To win a pair of tickets please answer the following question:
Who co-presented the Generation game with Isla St Clair?
Answers should be emailed to info@chesterfieldpost.co.uk along with your name, address and telephone contact details by midnight on Monday 28th October, and the winner randomly chosen from the correct entries on Tuesday morning (29th October)
Good Luck!
Normal Chesterfield Post Competition T&Cs apply. Winners will be published in the Leisure section of the Chesterfield Post. One pair of ticketsare available and tickets will be posted, or made available on the door (with email confirmation).
RECENT STORIES
FROM PUMPKIN TO STAGECOACH - BUS FIRM SPONSORS CINDERS! -
It's behind you! Stagecoach in Chesterfield is 'Strictly' showing its support for the town's theatre by getting behind a panto production More...
POMEGRANATE THEATRE'S ART HOUSE SCREENINGS - REVIEWS -
Chesterfield's Pomegranate Theatre has marked the completion of their £750,000 renovation with a packed weekend of exclusive screenings. 2 are reviewd here by Adam Morris More...
PANTO COMES TO CHESTERFIELD -
'OH YES IT DOES!' -
People of a nervous disposition may want to stop reading now as Dames in brightly coloured dresses, a Prince, Princess and 'Buttons' crossing the road in Chesterfield yesterday afternoon can only mean one thing... More & Audio...
'BOYCIE' OFFICIALLY OPENS REDEVELOPED CHESTERFIELD THEATRES -
Actor John Challis - who played Boycie in Only Fools and Horses - has officially re-opened two Chesterfield theatres following a £700,000 refurbishment.
More & Audio...
CHESTERFIELD'S POMEGRANATE THEATRE WINS TRIPADVISOR AWARD-
Chesterfield's Pomegranate Theatre has won a prestigious award from the online review site, TripAdvisor. More...
GINNY DAVIES APPEARS IN 'SOMETHING FISHY' AT HOLLINGWOOD HUB -
After her wonderful performance of 'Double Booked' last year, the Chesterfield Canal Trust is delighted to welcome Ginny Davis back to the Hollingwood Hub. More...
FORMER CHESTERFIELD THEATRE MANAGER REMEMBERED -
The Friends of Chesterfield Theatres have presented a framed photograph of Derek Coleman, which will be hung in the bar of the Pomegranate Theatre in memory of him. More...
DÉDA LAUNCHES SEARCH FOR YOUNG DANCE STARS -
A Chesterfield-based youth contemporary dance company is holding auditions next month to give talented local youngsters the chance to develop their performance skills. More...
PANTO SEASON BECKONS IN CHESTERFIELD...
OH YES IT DOES! -
The children may have just gone back to school but thoughts are turning to the festive season already - and that means Panto! More...
GET WED AT THE WINDING WHEEL! -
One of Chesterfield's premier venues is now licensed to hold wedding and civil partnership ceremonies. More...
ARE YOU A YOUNG DANCING HOPEFUL? READ ON... -
Derby-based Déda has teamed up with Chesterfield Borough Council and Dance4's (CAT), to launch a 2nd auditioned youth dance company - giving local young people the chance to develop their talents. More...
CHESTERFIELD'S YOUNG DANCERS SOUGHT FOR DANCE PROGRAMME -
Talented young dancers in Derby and Derbyshire are being urged to come forward for a chance to perform in a professional venue in front of 100s of people. More...
'BOUNCERS' AT THE POMEGRANATE - A NIGHT OUT, BUT NOT AS YOU KNOW IT!
We were promised laughter from start to finish on opening night - and we were not disappointed. More...
WIN 2 TICKETS FOR THE VAGINA MONOLOGUES -
A great, free competition to win 2 tickets to see the world famous show 'The Vagina Monologues', by Eve Ensler - at the Pomegranate Theatre on Friday 28th September More...
STARS OF SCREEN COME TO TOWN WITH RENOWNED SHOW -
The Vagina Monologues - Britain's funniest and sexiest show - comes to The Pomegranate, Chesterfield on 28th September at 7.30pm for ONE night only! More...
GROUNDFORCE FAIRY CHARLIE TO TACKLE FLESHCREEP -
There'll be a 'ground force' to be reckoned with on stage this Christmas when the nation's favourite gardener swaps her spade for a magical wand More...
JOSEPH DREAMS IN CHESTERFIELD -
In what's seen as a huge coup for Chesterfield, Keith and his company will be the first West End production show to perform at the town's Winding Wheel More...
CHOIR WARMS UP FOR CHESTERFIELD'S BIG PRODUCTION -
The final choir has now been selected for the hit show Joseph, which comes to the Winding Wheel in Chesterfield in May. More...
TRIBUTE TO POMEGRANATE THEATRE DIRECTOR -
A tribute to one of Chesterfield's most well known and loved artistic producers and directors, Colin McIntyre, took place on 9th March at the Pomegranate Theatre in Chesterfield. More...
CHESTERFIELD VEHICLE FIRM GIVES LYCEUM A THEATRE ON THE GO -
A mini mobile theatre project may soon be a star turn in Sheffield thanks to a local firm. More...
TICKET SALES BOOST FOR WEST END'S JOSEPH -
It's been announced that The West End production of Joseph, due to come to Chesterfield in May, is already proving popular - and that there is now local interest in the production too. More...
JOSEPH TRAVELS TO THE WINDING WHEEL -
The West End production of Joseph and the Amazing Technicolour Dreamcoat is coming to Chesterfield in May 2012 More...
PRICE INCREASE FOR CHESTERFIELD VENUES -
We've been informed that Chesterfield Borough Council has agreed to a small increase in ticket prices at the Pomegranate Theatre and the Winding Wheel. More...
ARKWRIGHT'S STORY RELIVED -
The unique history of this North East Derbyshire village has been brought to life as part of a community art and drama project. More...