Thursday 21st August 2014


Following on from Wednesday's news (HERE) of the new Queen's Park Sports Centre Plans being approved, today sees news that Chesterfield residents will benefit from the enhanced new Sports Centre, to be built on Queen's Park Annexe, as Chesterfield Borough Council receives £2 million of funding from Sport England.



(l-r) Cllr Amanda Serjeant, Sport England's Charles Johnston and Chesterfield College Principal, Trevor Clay at this morning's presentation

The investment from Sport England's Strategic Facilities fund will allow previously approved plans for the new centre to be expanded to provide additional activity space, including:
Increasing the main swimming pool from six to eight lanes
Increasing the size of the learner pool
Increasing the number of sports courts from six to eight
Additional studio space on the first floor of the building
Spectator seating in the swimming pool hall and main sports hall.
Councillor Amanda Serjeant, Chesterfield Borough Council's executive member for leisure, culture and tourism said: "Along with the collaboration agreement and funding committed by Chesterfield College, this £2 million grant from Sport England will make a huge difference to the quality of the sports provision we will be able to offer to our residents and visitors in the future.

"Since we first announced the project in early 2013, we have consistently said that we would seek grants to improve the number of activities and the space in the new centre and we have worked closely with national governing bodies, local sports groups and current users of our sport and leisure centres to achieve this.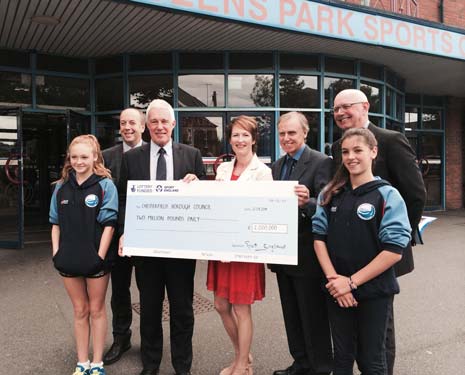 Council Chief Exec Huw Bowen (2nd left) with Charles Johnston, Cllr Amanda Serjeant, Cllr Terry Gilby and Trevor Clay with two members from the Chesterfield Swimming Club

"One of the council's top priorities is to encourage people to lead healthy and active lifestyles - and the new purpose-built Queen's Park Sports Centre, with its extended swimming pool and sports courts, will allow us to offer more space and activities than is possible in the current sports centre.

"The new design is very space and energy efficient with more activity space being provided in a smaller building footprint than at present.

"There will also be opportunities for employment and training for local people while the centre is built with the current centre remaining in use until the new centre opens to cause as little disruption as possible to residents and sports clubs."
Listen to the interview with Cllr Amanda Serjeant in full here...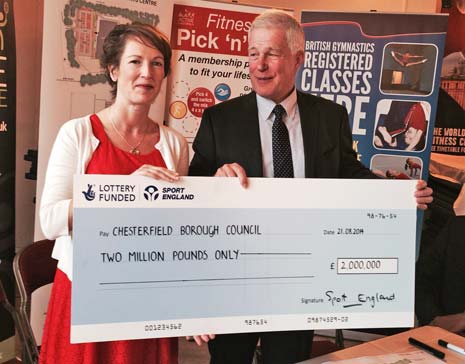 Charles Johnston, Sport England, presents the £2million pound grant cheque to Chesterfield Borough Councillor Amanda Serjeant

Charles Johnston, Sport England's property director, added: "The right facilities in the right areas are fundamental in providing more people with the opportunity to play sport.

"We're investing in the new Queen's Park Sports Centre to provide outstanding facilities which will encourage more people to take up sport and create a sporting habit for life."
Listen to the interview with Charles Johnston in full here...


The plans for the extended new Queen's Park Sports Centre were approved by the council's planning committee at its meeting on Tuesday as reported HERE.

As well as the extended pool and sports courts, facilities on offer at the new sports centre will include:
A learner pool with moveable floor and children's fun water features
Café and social space
Midwifery centre
Village changing facilities with individual and family cubicles for swimmers
Changing facilities for other sports or activities
Three Training Rooms
Additional Activity studio
80 station gym
Two glass back squash courts with moveable wall
Car parking for approximately 150 cars.
The new centre will be built on the site of Queen's Park Annexe.

At 19,050 square metres, it will take up less than half of the site and will also allow currently unusable space such as the derelict seating area to be re-established as green space. The bowls and tennis facilities are unaffected and will remain available.
Chesterfield College's Trevor Clay told us what it means to the town and College students here...
Morgan Sindall has been appointed as the contractor to deliver the project. The contract specifies that where possible, they will use local people and supplies in building the new centre.

Work is set to begin on site in September with the new centre opening in early 2016.

Further information and displays will be available at the current Queen's Park Sports Centre, the Staveley Healthy Living Centre, and the Councils Customer Service Centre.

Information will also be available on the council's website, www.chesterfield.gov.uk, and on social media.
RECENT STORIES
WORK BEGINS ON IMPROVING OLD WHITTINGTON JUNCTION -
Work to improve a junction with a history of collisions began yesterday morning, Monday 6th October. More...
FORMER CHESTERFIELD MAYOR, CLLR PAUL STONE, JOINS UKIP -
Last years Mayor of Chesterfield, Cllr Paul Stone, has joined UKIP to become their first councillor on Chesterfield Borough Council More...
NATASCHA ENGEL MP VISITS STATE OF THE ART FACTORY IN CLAY CROSS -
North-East Derbyshire MP, Natascha Engel visited the IKO factory facility on Coney Green Road with a view to learning more about the roofing and waterproofing systems manufactured there. More...
CHESTERFIELD FIRM SHOWS ITS METTLE WITH MARKHAM VALE MOVE -
Chesterfield-based firm Gould Alloys is marking its 30th anniversary by relocating to Derbyshire County Council's flagship regeneration site to benefit from better transport links. More...
WORK BEGINS ON THE NEW QUEEN'S PARK LEISURE CENTRE -
A sod cutting ceremony has been held to mark the start of work on Chesterfield Borough Council's £9.3 million project to replace the Queen's Park Sports Centre. More...
CHESTERFIELD MP TAKES ON THE 'ICE BUCKET CHALLENGE' -
It's Chilly in Chesterfield! Toby Perkins MP takes the Ice-Bucket Challenge to Raise Money for the Motor Neurone Disease Association. More...
TONY BENN: WILL & TESTAMENT - THE TOWN HALL SCREENING TOUR -
Will and Testament is a moving and informative tribute to Tony Benn - political firebrand, prolific diarist, writer, charismatic anti-war campaigner, husband and father.
More & Video...
FURTHER DEVELOPMENT IN
THE PIPELINE FOR MARKHAM VALE -
A further development could be on the cards for Derbyshire County Council's flagship regeneration site, now a planning application has been submitted for a new 100,000 sqft warehouse and office building. More...
PLANS FOR EXTENDED QUEEN'S PARK SPORTS CENTRE ARE APPROVED -
Chesterfield councillors have approved plans for a new, extended, Queen's Park Sports Centre to be built. More...
TRAFFIC DELAYS EXPECTED AS WORK STARTS ON NEW A61 CYCLE LANE -
It's been announced that work to build a new cycle lane in Chesterfield will start next Tuesday, 26th August, as part of plans to link different parts of the town together for cyclists. More...
MARKHAM VALE REGENERATION EXPANDS AFTER BRIDGE REMOVED -
One of the country's largest cranes was in Derbyshire on Tuesday to remove a bridge deck as part of plans to expand Derbyshire County Council's flagship Markham Vale regeneration site. More...
TRAFFIC RESTRICTIONS AT HORNSBRIDGE ISLAND LIFTED EARLY -
Traffic restrictions at Hornsbridge Island in Chesterfield have been lifted four weeks earlier than anticipated. More...
BOROUGH COUNCIL REASSESSES OPTIONS OVER NORTHERN GATEWAY -
Plans for the Northern Gateway scheme are being reassessed by Chesterfield Borough Council to respond to the changing High Street retail sector. More...
COUNCIL'S PLEDGE
TO SOLVE CHESTERFIELD'S FLOODING ISSUES -
With perfect timing after Friday's chaos, news that this week, Yorkshire Water and Chesterfield Borough Council have pledged to work together to tackle flooding in the town, including the long running issues at Horns Bridge roundabout More...
COUNTY COUNCIL PLANS TASK FORCE TO TACKLE YOUTH UNEMPLOYMENT -
Plans to tackle youth unemployment are being drawn up by Derbyshire County Council to get more young people into work, further education or training. More...
EVERYONE PITCHES IN TO MAKE 'FESTIVAL OF FOOTBALL' A SUCCESS -
More than 300 people turned out to a festival of football at Holmebrook Valley Park last weekend. More...
BOROUGH COUNCIL
TO OPEN NEW INFORMATION AND BOOKING HUB -
A combined information and theatres booking hub for residents and visitors is to be launched at Chesterfield Visitor Information Centre, next to the Crooked Spire Church. More...
COUNTY COUNCIL'S TRAVEL TRAINING HELPS DERBYSHIRE'S YOUNGSTERS -
A successful travel scheme which helps Derbyshire youngsters with special educational needs get out and about in their communities could be continued. More...
'WE WILL REMEMBER THEM' FIRST WORLD WAR CENTENARY EVENTS -
Chesterfield residents can take part in a series of events at Chesterfield Museums to mark the 100th anniversary of the First World War. More...
TAPTON LOCK IS VOTED ONE OF THE COUNTRY'S FINEST GREEN SPACES -
Tapton Lock, a quarter mile stretch of the Chesterfield Canal, has been named one of the country's finest green spaces, after receiving a prestigious Green Flag award. More...
UPDATE ON WORK & TRAFFIC CONTROL
AT HORNSBRIDGE ISLAND -
Traffic control measures at Hornsbridge Island will be removed earlier than planned after a review into the project. More...
STILL TIME TO HAVE YOUR SAY ON LOCAL MOBILE LIBRARY SERVICES -
Residents still have three weeks to give their views on the future of Derbyshire County Council's mobile library service in a consultation to help the authority deal with budget cuts More...
HAVE YOUR SAY ON POSSIBLE CHANGES TO STREET LIGHTS -
Derbyshire residents are being urged to make sure they have their say on possible changes to the way street lights across Derbyshire are maintained, before the consultation closes on Friday 8th August. More...
IMPROVEMENT WORK TO TAKE PLACE AT THISTLE PARK, BRIMINGTON -
Children in Brimington are set to benefit from new play equipment at their local park thanks to Chesterfield Borough Council. More...
COULD YOUR BUSINESS BENEFIT
TO THE TUNE OF £75,000? -
Small businesses in Derbyshire are being helped to develop and grow with grants of up to £75,000 - and there's still time for local firms to bid for cash. More...
'CHESTERFIELD TO BE A SUCCESS' COUNCIL CHIEF HUW BOWEN INTERVIEW -
After an ongoing ten and a half years as part of the Chesterfield Borough Council, Huw Bowen, the current Chief Executive spoke to The Chesterfield Post about his roles as part of the council and ongoing issues within The Borough. More...
CABINET DECIDES ON SITE FOR NEW QUEEN'S PARK SPORTS CENTRE -
At their meeting today (Tuesday, 15th July) Chesterfield Borough Council's cabinet decided the centre can be built on the site of Queen's Park Annexe, subject to planning permission. More...
DISRUPTION TO COUNCIL SERVICES DURING THURSDAY'S STRIKE ACTION -
There is expected to be widespread disruption to services across the area on Thursday, July 10th, as public sector workers strike over pay. More...
BOROUGH COUNCIL REFUSES NEW LICENCE FOR BAR CENTRO -
Chesterfield Borough Council's licensing committee has refused a licence for a bar previously closed because of drug dealing. More...
PLANS SUBMITTED FOR QUEEN'S PARK SPORTS CENTRE REPLACEMENT -
New plans have been submitted by Chesterfield Borough Council for the replacement Queen's Park Sports Centre. More...
A NEW FOOTBRIDGE IS TO BE OPENED AT CHESTERFIELD CANAL FESTIVAL -
A new footbridge which has been built in Staveley over Chesterfield Canal will be officially opened on Saturday 28th June. More...
TRADING STANDARDS ISSUE AN E-CIG SAFETY ALERT -
Residents in Derbyshire are being warned to be extra vigilant when charging electronic cigarettes following incidents where the devices have exploded in people's homes. More...
FLAG RAISING PARADE TO MARK ARMED FORCES DAY IS CANCELLED -
A parade planned in Chesterfield to mark Armed Forces Day on 23 June has been cancelled. More...
WORK SET TO BEGIN ON HORNSBRIDGE ISLAND -
Work is set to begin on transforming a key gateway into Chesterfield town centre after planning permission has been granted. More...
DETAILS OF FORMER COUNTY COUNCIL CHIEF EXEC'S £219k PAY OFF TO BE PUBLISHED -
Derbyshire County Council's former chief executive Nick Hodgson received a £219,211 severance payment when he left the authority last year. More...
BOLSOVER COUNCIL HARNESSES THE POWER OF THE SUN AND SAVES MONEY -
Bolsover District Council is doing its bit for the environment as they prepare to install photovoltaic cells (solar panels) onto the roof of its offices in Clowne and save over £34,000 of council taxpayers' money every year. More...
COUNTY COUNCIL'S SENIOR MANAGERS' REVIEW TO SAVE £2 MILLION -
More senior managers' jobs are to go at Derbyshire County Council as part of the organisation's drive to cut £157 million from its budget by 2018. More...
GRASSMOOR HOUSING DEVELOPMENT RECEIVES OUTLINE APPROVAL -
North East Derbyshire District Council has granted outline planning permission for a maximum of 165 dwellings at Windwhistle Farm in Grassmoor. More...
LOCAL RESIDENTS ENCOURAGED TO TAKE PART IN 'LEGAL HIGHS' SURVEY -
A national survey that aims to gather information about the use of 'legal highs' is being supported by Derbyshire County Council.
More & Video...
NEDDC COUNCIL APPROVES REGENERATION PLANS -
North East Derbyshire District Council has approved plans to move their main administrative headquarters from Saltergate to Mill Lane, Wingerworth in early 2015. More...
CHESTERFIELD BOROUGH COUNCIL IS PRAISED BY PEERS -
An independent assessment has praised Chesterfield Borough Council for the huge commitment to the borough by both councillors and employees. More...
NEW FIGURES SHOW URGENCY OF CHESTERFIELD'S HOUSING CRISIS -
New figures, released to local MP Toby Perkins by the National House Building Council reveal that new house building in Chesterfield has fallen to just one third of the national average. More...
COUNTY COUNCIL'S CHILDREN IN CARE
TO PLAN BRIGHT FUTURES -
Young people will be able to consider their future at a Derbyshire County Council careers event hosted specifically for children in care and care leavers. More...
COURT UPHOLDS COUNCIL'S DECISION ON BAR CENTRO -
A town centre bar has been refused permission to re-open, after magistrates upheld the decision by Chesterfield Borough Council's licensing committee to revoke its licence. More...
OUTGOING NEDDC CHAIR - OVER 8,000 FOR CHARITY TO BE HAPPY! -
North East Derbyshire District Council's outgoing Chairman, Councillor Ken Savidge and generous residents from across the area, have helped raise thousands of pounds through an annual charity appeal. More...
'STILL PUNCHING ABOVE OUR WEIGHT!" Cllr JOHN BURROWS ON CHESTERFIELD -
In a wide ranging interview, Council Leader John Burrows talked to us on developments which have been mooted in the town, admitting that the financial climate and unforeseen issues had significantly impacted on the 'master plan' More...
PLANS FOR NEW QUEEN'S PARK SPORTS CENTRE ARE APPROVED -
Members of Chesterfield Borough Council's planning committee have approved plans for the new centre to be built on the site of Queen's Park Annexe, subject to planning conditions. More...
COURT SENTENCES APPLIANCE REPAIR MAN TO 160 HOURS UNPAID WORK -
An appliance repair man from Chesterfield has been ordered to carry out 160 hours of unpaid work and compensate victims, after a successful prosecution by the County Council's trading standards team. More...
ENVIRONMENTALLY FIRENDLY WAY TO DISPOSE OF YOUR FOOD WASTE -
An environmentally friendly way to dispose of food waste is being introduced for residents in the Bolsover District, Chesterfield Borough and North East Derbyshire District Council areas. More...
CHILDREN'S CENTRES REVIEW AGREED BY DERBYSHIRE COUNTY COUNCIL -
Derbyshire residents will be asked how they think children's centre services should be delivered in a review to begin this month. More...
POTHOLE FIXING 'JETPATCHER' MACHINES TO STAY
IN COUNTY -
Two specialist 'Jetpatcher' machines are to stay in Derbyshire until mid-July to continue work to fix potholes across the county. More...
LOCAL MP, NATASCHA ENGEL CONTINUES
TO LEAD THE FIGHT AGAINST HS2 -
MP for NE Derbyshire, Natascha Engel, continues to campaign against the case for HS2 and demand that the Government gives more say to the people who will be directly affected by the project. More...
COUNCIL WARNING TO CHESTERFIELD RESIDENTS TO AVOID FLY TIPPING -
Chesterfield Borough Council is warning residents to make sure anyone they pay to dispose of their rubbish is licensed and does so legally. More...
MAJOR REFORMS OF SPECIAL EDUCATIONAL NEEDS ARE ON THE WAY -
Families whose children have special educational needs and disabilities, can have a say in how major reforms will affect them, as part of a consultation launched by Derbyshire County Council. More...
CHESTERFIELD BOROUGH COUNCIL REMINDS RESIDENTS TO CHECK FOR ID -
Chesterfield Borough Council is reminding residents to always check for ID from staff who are carrying out work on behalf of the council.
More...
WORK TO FURTHER EXPAND MARKHAM VALE IS DUE TO START -
Work to expand Derbyshire County Council's flagship regeneration site is due to start next month, after a visit to Markham Vale by Eric Pickles confirmed Government cash is in the pipeline. More...
MAKE SURE YOU
ARE READY TO VOTE IN THE EURO ELECTIONS -
Chesterfield Borough Council is reminding residents to make sure they are registered to vote in the elections to the European Parliament. More...
CRACKDOWN ON
BLUE BADGE MISUSE CONTINUES COUNTYWIDE -
A crackdown on people who are misusing Blue Badges has seen just over 700 checks carried out in four months. More..