Thursday 14th July 2011

Over 200 children from Chesterfield schools donned caps and gowns earlier this week in order to attend their very own ' graduation ceremony'.

18 schools, both primary and secondary, throughout the town have taken part in 'The Children's University' scheme which sees children as young as 4 encouraged to participate in out of hours learning activities, accruing points towards a 'degree' or award.

It was a proud moment for the children, their parents and staff at the schools as they watched children collect their certificates from The Mayor of Chesterfield in ceremonies held over 2 days in the Recital Room of Chesterfield College.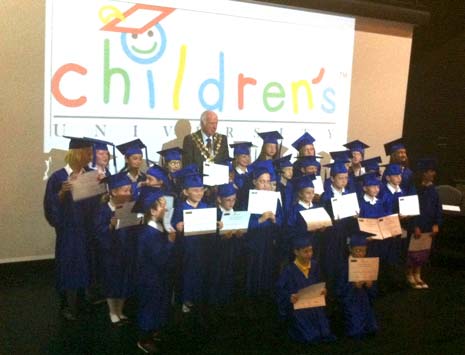 The Childrens University graduation ceremony at the Recital Room, Chesterfield College

The Children's University is thriving throughout the UK. It has some powerful supporters, including children's author Michael Murpurgo.

Rebecca Wilkinson is the coordinator of the scheme in Chesterfield and she said at the ceremony that, "The Children's University is a national organisation which passionately believes in the benefits of voluntary out of hours learning. It's not something done to you by school, but something you have a say in. If you're passionate about drama or art, you can commit to those things to get better at them. Children's self esteem and confidence is better if they're doing something they're good at."

She told us that the ethos behind the scheme is a simple one, "It's called the Children's University because it's like university - you can choose the activities you want to do and can begin building a future for yourself, develop those passions that you can follow in later life. When you do go on to graduate in real life you can say it all started with the CU."

Hollingwood School was just one school which had pupils graduating at the ceremony and the Headteacher Steven Hull was very proud of them and their involvement. He believes it is a worthwhile scheme, which has huge benefits for those involved. He told us ahead of the ceremony that, despite a hugely busy time at the school, the children had embraced the idea and thoroughly enjoyed being involved.

"It's been a big success" he says, "We've been involved for the last 12 months, though we have had children involved over the last 2 years - there are 29 children here today but overall in school there are 70 involved at various stages of the programme. There is involvement for schools - with us monitoring the activities and the staff running any during the school day, and we encourage children to take part in them."

He adds that the scheme is well run and supported, "The funding is crucial, Springwell have helped us by providing lots of arts into the curriculum - street dance music and instruments."

Steve and his staff have just overseen a move into a brand new building and that he says, lends itself to the scheme too, "It's been an opportunity for the children and the school to provide an enriched curriculum and lifelong learning opportunities which we couldn't provide in the old school setting. The whole ethos of our new build is respect and encouraging children into the world having used resources and the quality of learning in a quality environment so we're enriching their experiences in life. A lot have now gone on to join their local dance or gym group as a result of this."

So, what is the next step for Hollingwood and the Children's University?

Steve hopes its onwards and upwards, "It's a great opportunity for celebration and to recognise the hard work that's going on in our schools. There were 7 presentations alone yesterday - an awful lot of kids being provided for locally. The youth of today get a bad press but this is a good example of kids getting up off their backsides and doing something 24/7. It's to be encouraged and applauded."

We spoke to parents of twins who were receiving a certificate and they said they were thrilled to be there. The dad of 8 year old Janick and Emma Harrison says that they've loved being part of it and that he's behind school all the way, "It encourages kids to be active which is a big thing - we cycle to school every day to keep them fit anyway but this helps too.

"It's also good preparation for future education and it keeps them interacting with other children - we're very proud - it's really good, makes you happy that they do it and that the children see the passport you've got into other areas of life."

It was a particularly proud moment for Chesterfield with 2 children being the only ones in the UK to get their full 'degree' after gaining 400 hours in total. Rebecca Wilkinson summed it all up perfectly saying, "You haven't been invited here because you're the best writer or athlete - we believe that the more hours you put in the more likely you are to achieve your goals, keep trying and be successful."

Schools taking part included, Brampton, Hollingwood, Pilsley, Whitecotes, Staveley, Brimington, Parkhouse, William Rhodes, Inkersall, Norbriggs, Mastin Moor, Springwell, Catholic Cluster, Temple Normanton, Spire Juniors, Barlow, Grassmoor, Heath and Springwell.
RECENT STORIES
TOP OF THE CLASS FOR GCSE STUDENTS -
A bumper year for 8,700 GCSE students who received results in Derbyshire this year, with 79% receiving 5 or more A* to C GCSE's, a 5% improvement on last year. More...
TRIP OF A LIFETIME FOR COLLEGE STUDENT MICHAEL -
Chesterfield College hairdressing student, Michael Wild has been proudly flying the flag for the town in Japan this summer More...
CHESTERFIELD STUDENTS MAKE THE GRADE AT 'A LEVEL' -
It's been a successful day for over 2,700 local students who picked up their A level results today. More...
COLLEGE CONFIRMS DEPARTURE OF PRINCIPAL -
It has been confirmed today that Principal Judith Mcarthur has now left Chesterfield College. More...
25 YEARS, 10 CHILDREN AND 28 DAYS -
25 years on, the disaster at Chernobyl still means that toxins survive in the surrounding area, causing suffering and illness, some of the children have visited the UK More...
GOOD ENOUGH TO EAT... -
Award-winning school chefs are celebrating after scooping a national prize for the quality of their food and service. More...
GRASSMOOR GETS 2nd PLACE - OFFICIAL-
The Chesterfield Post today received confirmation that Grassmoor Primary School is officially runner up in Ronseal's Playground Project Competition More...
LOCAL SCHOOL COUNTING ON YOUR FINAL VOTES TODAY -
Today we learned from the team behind the campaign that 'our' school is now in 2nd place, trailing only slightly to a Scottish city school - so get those votes in before midnight. More...
NEW SCHOOL BUILDS FUTURE FOR STUDENTS -
After 17 months in the making Springwell Community School will celebrate it's official opening this Friday (15th July). More...
BIG IN JAPAN -
Hair and Beauty students at Chesterfield College received their certificates of achievement, in front of an audience of parents and friends and industry leaders in Japan via Skype. More...
DERBYSHIRE SCHOOL WINS NATIONAL GOLF TITLE -
One of the smallest schools in Derbyshire has finished top of the class in one of the country's biggest golf competitions.
More...
JACK CHARLTON SCORES COLLEGE AWARD -
Joinery student, Jack Charlton was presented with an esteemed award at the Chesterfield College Joinery Celebration of Achievement evening More...
COLLEGE WIDE CELEBRATIONS -
Once again the achievements of students of Chesterfield College have been recognised by all departments. More...
VOTE AND MAKE IT CHILDS PLAY FOR LOCAL SCHOOL -
A Chesterfield primary school is celebrating after being chosen as a national finalist to win a new school playground. More...
ROYAL CELEBRATION FOR STUDENTS -
Chesterfield College students celebrated their achievements on the DofE Award scheme in right royal fashion, with HRH the Earl of Wessex, Prince Edward. MORE...
NO WINNERS IN TEACHERS STRIKE -
Toby Perkins, Labour MP for Chesterfield has said tonight that, "Only dialogue will bring about a fairer deal for teachers and uninterrupted schooling in the public sector pension row." More...
SCHOOLS AFFECTED BY TEACHER STRIKE -
This is a provisional list of all schools and whether they are closed or open today - in full or in part - released by Derbyshire County Council. More...
SCHOOLS OUT FOR SUMMER FOR TEACHERS TOO! -
It's a season of firsts and new initiatives for Chesterfield Football club, and here's another one! More...
KATIE FINISHES 3RD IN NATIONAL WELLA COMPETITION -
Well done goes to Chesterfield College Level 3 Hairdressing student Katie Beer and her model Lin Lin (Nikki) Xu for their success in the finals of the Wella Xposure competition held in London. More...
CHARITY GIG RAISING FUNDS FOR SPECIAL NEEDS SCHOOL -
Top local musicians will be heading to a village near Eckington this weekend for the latest Middle Handley Charity Gig. More...
CHESTERFIELD COLLEGE'S ARTS FESTIVAL 2011 DIARY -
Theatre, Dance, Music, Lectures featuring acting, technology, TV presenting, filming, art, design and more in June More...
IT'S DESTINATION CHESTERFIELD FOR COLLEGE STUDENTS -
Travel and Tourism students from Chesterfield College have teamed up with Destination Chesterfield to promote the town to young people in the surrounding area. More...
PARENTS ANGER AGAINST SCHOOL PLACES 'LOTTERY' -
Parents in Chesterfield are expressing concerns today after they say that many children have been refused places at the primary school of their choice. More...
WHATS TO DO THIS SPRING BANK? -
Spring Bank Holiday Activities in Chesterfield and North East Derbyshire More...

COLLEGE STUDENTS SUCCESS AT SKILLBUILD HEATS -
Carpentry, Joinery, Brickwork, Painting and Decorating students from Chesterfield College achieved successes at the regional Skillbuild Heats event More...
COLLEGE STUDENTS HELP OZBOX IN FUNDRAISER -
Chesterfield College Students teamed up with Derbyshire Constabulary's Ozbox scheme to raise over £514 for Thomas Fletcher. More...
STUDENT LOAN ADVICE ON SOCIAL NETWORKING SITES -
The Student Loans Company is to run a series of student finance surgeries to give real-time advice to those going to university this autumn. More...
CHESTERFIELD COLLEGE STUDENTS WIN COMPETITION -
Hair and Beauty students from Chesterfield College were victorious after an Inter-College competition More...
DAD DIGS DEEP FOR HASLAND SCHOOLS ECO-PROJECT -
A green fingered dad has been helping his son's school improve their eco- credentials as part of his employer's Volunteering Grants Programme. More...
COLLEGE FACES CUTS OF £2.8m -
There are expected to be job losses at Chesterfield College as the centre faces a £2.8m funding cut this coming financial year. More...
STANLEY DYSON'S LEGACY LIVES ON -
Three children aged between 8 and 11 were feted in London after winning a special art competition celebrating the life and work of a recently discovered local talent. More...
FATAL ROAD CRASH AT CHESTERFIELD COLLEGE? -
The scene outside Chesterfield College at lunchtime was of a fatal collision which took place just outside the entrance on Infirmary Road. Or was it? More...
YOU CAN 'STOMP' THE BEAT -
'Stomp' the percussion based street performance and award winning West End and International show visited Chesterfield College. More...
CHESTERFIELD APPRENTICES 'FIRED UP' -
With Apprenticeships on the rise and becoming a popular alternative to A levels, National Apprenticeship Week (7th-11th Feb) aims to celebrate students work as well as the scheme itself. More...
CLEANING UP THE FUTURE OF OUR PARKS -
Chesterfield Borough Council's Street Scene Enforcement team has been working with pupils at Parkside School to help improve local parks. More...
£2.5m INVESTMENT BOOST FOR CHESTERFIELD -
Good news today for both businesses and the unemployed in Chesterfield with news that £2.5m of new funding and grants is now available More...
BACK TO SCHOOL FOR CHESTERFIELD MP -
Schoolchildren in Chesterfield heard first hand about life in Parliament when MP Natascha Engel visited their school More...
"SHUTTING THE DOOR ON THE ASPIRATIONS OF YOUNG PEOPLE" -
That's Chesterfield College lecturer and Union Representative James Eadon's view on the Government's proposals to withdraw EMA. More...
BRINGING HISTORY
TO LIFE -
During a period when most schools in Chesterfield closed as a result of the bad weather, one actually opened its doors - for the first time in more than 40 years. More...
SCHOOL CLOSURES DUE TO SNOW FROM
NOV 30th 2010 -
Here's a list of schools closed today that we know of. If you have any more to add to the list, go to our forum More...
NO SUGAR - BUT LIFE STILL SWEET FOR CHESTERFIELD APPRENTICES -
Chesterfield College launching it's innovative Apprenticeship Academy based at it's Tapton Campus. More...
BEST SCHOOL FROM NOTTINGHAM TO LEEDS! -
A Chesterfield School is celebrating after climbing 41 places in the league table and becoming the highest performing prep school between Leeds and Nottingham. More...
'JOG DERBYSHIRE' JOG GROUP LAUNCHED AT COLLEGE -
Chesterfield College has become the first employer in the area to launch an official jogging group for its members of staff. More...
STUDENTS TAKE A 'PREGNANT PAUSE' AT LONDON STATION -
Chesterfield College Childcare and Health and Social Care students took part in a 'Flash Mob' alongside other volunteers including Holby City star Duncan Pow at London's Victoria Rail Station More...
COLLEGES SALON QUALITY ATTRACTS INDUSTRY PROS FROM FAR AND WIDE -
The reputation of Chesterfield College's hair and beauty salon attracted visitors from Japan this week More...
CHESTERFIELD'S GRADUATES PUBLIC SHOW OF SUCCESS -
It was a first for Chesterfield College when more than 100 proud graduates celebrated at the Crooked Spire, after a procession through the town centre More...
NEW FACILITIES FOR CHESTERFIELD HIGH SCHOOL -
A Chesterfield Secondary School is celebrating the opening of its new Student Resource and Learning Centre. More...
BUILDING LIFE
SKILLS -
Year six children at New Whittington Community Primary school got a taste of town planning when they took part in a unique project designed to coincide with 'money week' in school. More...