Sunday 24th July 2011
It was an event that shook the world and changed the lives of many in the surrounding area and, 25 years on, the disaster at Chernobyl still means that toxins survive in the surrounding area, causing suffering and illness.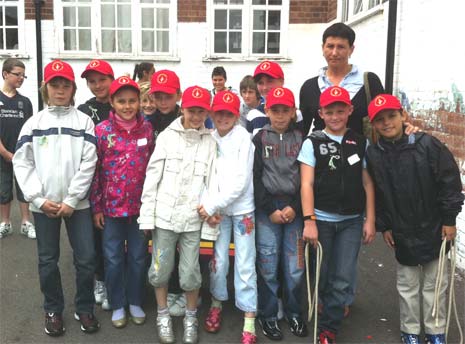 The children visit New Whittington Primary School with their interpreter Tatyana with the 'Chernobyl Children Lifeline' Charity

Now 10 children, all aged 10 years, are in Chesterfield for the next month, experiencing life out of their country for the very first time, along with what friends say is their first taste of fresh air and fresh food.

Chris Broome is the Chairman of the Derbyshire Dales and the East Midlands and South Yorkshire link of the charity, Chernobyl Children Lifeline and he told The Chesterfield Post during a visit to New Whittington Primary School, just how valuable the next 28 days are in the lives of these children.

He told us first of all why the children were over here, "We have lots of children here at the moment - Sheffield, Pinxton and Mansfield to name a few places. Viktor Mitzi started the project in 1991, which was the first time that the kids were allowed to leave the country after the break up of the Soviet Union. It started after the disaster in 1986 which contaminated huge areas of Belarus and Ukraine - the holidays began in 1992 and mean that the children experience clean water, fresh air and food. All of this gives the children a chance some respite from the radiation."

The effects of the radiation are still evident, "Radiation is going to be around for a long time - it will take a long time for radiation to go. 2 to 3 generations will be affected - it gets into the food chain, all the vegetables they grow will have radiation. It causes cancers; there have been lots of thyroid cancers over the years - thousands of cases. There are birth defects too; statistically 9 out of 10 children living in these countries are unwell, because of the effects of radiation. Although they look well, all the damage is internal and will come out in later life."

He went on, "This is just the holiday of a lifetime, they have never been abroad, lots never been away from their families - they love being here, though it takes a while to adjust - the culture is different, we have so much here - we take them into a supermarket and their eyes pop out of their heads!"

It's a busy 4 weeks says Chris, "They have their eyes tested and they have glasses if they need them, they also have their teeth checked, and they visit all sorts of places - Chatsworth, Drayton Manor, they go on outings to the seaside - most have never seen the seaside. They do all sorts of activities but also they spend time with their host families."

To whom the organization is very grateful, "We couldn't do this without the host families - it's all voluntary, they get no payment - but we all get so much out of it - to see the kids enjoy themselves and relaxing - you can tell the difference, not only in their health, but their confidence and development. They're so full of joy and happiness for having been here, Some are lucky enough to be invited back by their host families."

It does cost to do this though and Chris admits that it's a huge undertaking to raise the necessary funding, "Every year it doesn't get easier to raise funds - it costs about £500 a child for the 4 weeks, so that's £5,500 this year. We mount various appeals and fundraising along with donations - schools help as well, they do a non uniform day so, between it all, we always manage to raise enough."

Whilst we are talking, the children are running around in the playground, squealing and playing like the English children at the school. An interpreter, who also spoke to The Chesterfield Post, accompanies them.

Tatyana is from the Ukraine, and lives in a village about 100 km from the by now infamous nuclear plant. It's her 3rd visit to the UK and she is hugely grateful for the Chernobyl Children Lifeline charity, "We're here for 28 days, to help health improvement for children, they do wonderful work for our children, they get good experiences, impressions, they like it."

She added, that the children are, "Still affected healthwise - even now, the problems become worse, after all this time."

They are, she says, "Coping well, the first week they're a bit homesick but after 4 weeks they don't want to go home, all attention here is on them, at home they don't get so much!"

She wanted to say "thank you to families who help - their work is honest and it's wonderful that we can come here because of such a project - we can't improve the health of our children at home."

For more information check out the website - www.ccll.org.uk.
RECENT STORIES
CHESTERFIELD PUPILS GET SPACED OUT -
Lucky Chesterfield pupils are to visit the Centre for International Space Research at Korolev City More...
CELEBRATIONS ALREADY AT CHESTERFIELD COLLEGE -
Chesterfield College already has reason to celebrate following an OFSTED Outstanding award for their Nursery More...
APPLY NOW FOR YOUR CHILDS SECONDARY SCHOOL -
They've only just gone back to begin a new academic year, but parents of Y6 pupils need to apply now to get their childs secondary school place in Sept '12. More...
SAFER SCHOOLS RECOGNISED BY PIONEERING AWARD -
As Chesterfield children return to school this week, news comes of a pioneering new award that equips pupils and staff with basic life-saving skills. More...
TOP OF THE CLASS FOR GCSE STUDENTS -
A bumper year for 8,700 GCSE students who received results in Derbyshire this year, with 79% receiving 5 or more A* to C GCSE's, a 5% improvement on last year. More...
TRIP OF A LIFETIME FOR COLLEGE STUDENT MICHAEL -
Chesterfield College hairdressing student, Michael Wild has been proudly flying the flag for the town in Japan this summer More...
CHESTERFIELD STUDENTS MAKE THE GRADE AT 'A LEVEL' -
It's been a successful day for over 2,700 local students who picked up their A level results today. More...
COLLEGE CONFIRMS DEPARTURE OF PRINCIPAL -
It has been confirmed today that Principal Judith Mcarthur has now left Chesterfield College. More...
GOOD ENOUGH TO EAT... -
Award-winning school chefs are celebrating after scooping a national prize for the quality of their food and service. More...
GRASSMOOR GETS 2nd PLACE - OFFICIAL-
The Chesterfield Post today received confirmation that Grassmoor Primary School is officially runner up in Ronseal's Playground Project Competition More...
LOCAL SCHOOL COUNTING ON YOUR FINAL VOTES TODAY -
Today we learned from the team behind the campaign that 'our' school is now in 2nd place, trailing only slightly to a Scottish city school - so get those votes in before midnight. More...
CAPS AND GOWNS FOR CHESTERFIELD CHILDREN -
Over 200 children from Chesterfield schools donned caps and gowns earlier this week in order to attend their very own ' graduation ceremony'. More...
NEW SCHOOL BUILDS FUTURE FOR STUDENTS -
After 17 months in the making Springwell Community School will celebrate it's official opening this Friday (15th July). More...
BIG IN JAPAN -
Hair and Beauty students at Chesterfield College received their certificates of achievement, in front of an audience of parents and friends and industry leaders in Japan via Skype. More...
DERBYSHIRE SCHOOL WINS NATIONAL GOLF TITLE -
One of the smallest schools in Derbyshire has finished top of the class in one of the country's biggest golf competitions.
More...
JACK CHARLTON SCORES COLLEGE AWARD -
Joinery student, Jack Charlton was presented with an esteemed award at the Chesterfield College Joinery Celebration of Achievement evening More...
COLLEGE WIDE CELEBRATIONS -
Once again the achievements of students of Chesterfield College have been recognised by all departments. More...
VOTE AND MAKE IT CHILDS PLAY FOR LOCAL SCHOOL -
A Chesterfield primary school is celebrating after being chosen as a national finalist to win a new school playground. More...
ROYAL CELEBRATION FOR STUDENTS -
Chesterfield College students celebrated their achievements on the DofE Award scheme in right royal fashion, with HRH the Earl of Wessex, Prince Edward. MORE...
NO WINNERS IN TEACHERS STRIKE -
Toby Perkins, Labour MP for Chesterfield has said tonight that, "Only dialogue will bring about a fairer deal for teachers and uninterrupted schooling in the public sector pension row." More...
SCHOOLS AFFECTED BY TEACHER STRIKE -
This is a provisional list of all schools and whether they are closed or open today - in full or in part - released by Derbyshire County Council. More...
SCHOOLS OUT FOR SUMMER FOR TEACHERS TOO! -
It's a season of firsts and new initiatives for Chesterfield Football club, and here's another one! More...
KATIE FINISHES 3RD IN NATIONAL WELLA COMPETITION -
Well done goes to Chesterfield College Level 3 Hairdressing student Katie Beer and her model Lin Lin (Nikki) Xu for their success in the finals of the Wella Xposure competition held in London. More...
CHARITY GIG RAISING FUNDS FOR SPECIAL NEEDS SCHOOL -
Top local musicians will be heading to a village near Eckington this weekend for the latest Middle Handley Charity Gig. More...
CHESTERFIELD COLLEGE'S ARTS FESTIVAL 2011 DIARY -
Theatre, Dance, Music, Lectures featuring acting, technology, TV presenting, filming, art, design and more in June More...
IT'S DESTINATION CHESTERFIELD FOR COLLEGE STUDENTS -
Travel and Tourism students from Chesterfield College have teamed up with Destination Chesterfield to promote the town to young people in the surrounding area. More...
PARENTS ANGER AGAINST SCHOOL PLACES 'LOTTERY' -
Parents in Chesterfield are expressing concerns today after they say that many children have been refused places at the primary school of their choice. More...
WHATS TO DO THIS SPRING BANK? -
Spring Bank Holiday Activities in Chesterfield and North East Derbyshire More...

COLLEGE STUDENTS SUCCESS AT SKILLBUILD HEATS -
Carpentry, Joinery, Brickwork, Painting and Decorating students from Chesterfield College achieved successes at the regional Skillbuild Heats event More...
COLLEGE STUDENTS HELP OZBOX IN FUNDRAISER -
Chesterfield College Students teamed up with Derbyshire Constabulary's Ozbox scheme to raise over £514 for Thomas Fletcher. More...
STUDENT LOAN ADVICE ON SOCIAL NETWORKING SITES -
The Student Loans Company is to run a series of student finance surgeries to give real-time advice to those going to university this autumn. More...
CHESTERFIELD COLLEGE STUDENTS WIN COMPETITION -
Hair and Beauty students from Chesterfield College were victorious after an Inter-College competition More...
DAD DIGS DEEP FOR HASLAND SCHOOLS ECO-PROJECT -
A green fingered dad has been helping his son's school improve their eco- credentials as part of his employer's Volunteering Grants Programme. More...
COLLEGE FACES CUTS OF £2.8m -
There are expected to be job losses at Chesterfield College as the centre faces a £2.8m funding cut this coming financial year. More...
STANLEY DYSON'S LEGACY LIVES ON -
Three children aged between 8 and 11 were feted in London after winning a special art competition celebrating the life and work of a recently discovered local talent. More...
FATAL ROAD CRASH AT CHESTERFIELD COLLEGE? -
The scene outside Chesterfield College at lunchtime was of a fatal collision which took place just outside the entrance on Infirmary Road. Or was it? More...
YOU CAN 'STOMP' THE BEAT -
'Stomp' the percussion based street performance and award winning West End and International show visited Chesterfield College. More...
CHESTERFIELD APPRENTICES 'FIRED UP' -
With Apprenticeships on the rise and becoming a popular alternative to A levels, National Apprenticeship Week (7th-11th Feb) aims to celebrate students work as well as the scheme itself. More...
CLEANING UP THE FUTURE OF OUR PARKS -
Chesterfield Borough Council's Street Scene Enforcement team has been working with pupils at Parkside School to help improve local parks. More...
£2.5m INVESTMENT BOOST FOR CHESTERFIELD -
Good news today for both businesses and the unemployed in Chesterfield with news that £2.5m of new funding and grants is now available More...
BACK TO SCHOOL FOR CHESTERFIELD MP -
Schoolchildren in Chesterfield heard first hand about life in Parliament when MP Natascha Engel visited their school More...
"SHUTTING THE DOOR ON THE ASPIRATIONS OF YOUNG PEOPLE" -
That's Chesterfield College lecturer and Union Representative James Eadon's view on the Government's proposals to withdraw EMA. More...
BRINGING HISTORY
TO LIFE -
During a period when most schools in Chesterfield closed as a result of the bad weather, one actually opened its doors - for the first time in more than 40 years. More...
SCHOOL CLOSURES DUE TO SNOW FROM
NOV 30th 2010 -
Here's a list of schools closed today that we know of. If you have any more to add to the list, go to our forum More...
NO SUGAR - BUT LIFE STILL SWEET FOR CHESTERFIELD APPRENTICES -
Chesterfield College launching it's innovative Apprenticeship Academy based at it's Tapton Campus. More...
BEST SCHOOL FROM NOTTINGHAM TO LEEDS! -
A Chesterfield School is celebrating after climbing 41 places in the league table and becoming the highest performing prep school between Leeds and Nottingham. More...
'JOG DERBYSHIRE' JOG GROUP LAUNCHED AT COLLEGE -
Chesterfield College has become the first employer in the area to launch an official jogging group for its members of staff. More...
STUDENTS TAKE A 'PREGNANT PAUSE' AT LONDON STATION -
Chesterfield College Childcare and Health and Social Care students took part in a 'Flash Mob' alongside other volunteers including Holby City star Duncan Pow at London's Victoria Rail Station More...
COLLEGES SALON QUALITY ATTRACTS INDUSTRY PROS FROM FAR AND WIDE -
The reputation of Chesterfield College's hair and beauty salon attracted visitors from Japan this week More...
CHESTERFIELD'S GRADUATES PUBLIC SHOW OF SUCCESS -
It was a first for Chesterfield College when more than 100 proud graduates celebrated at the Crooked Spire, after a procession through the town centre More...
NEW FACILITIES FOR CHESTERFIELD HIGH SCHOOL -
A Chesterfield Secondary School is celebrating the opening of its new Student Resource and Learning Centre. More...
BUILDING LIFE
SKILLS -
Year six children at New Whittington Community Primary school got a taste of town planning when they took part in a unique project designed to coincide with 'money week' in school. More...