Tuesday 1st November 2011
picture courtesy Mark Tredgold


The UNISON Sheffield Steelers moved into 2nd place in the league standings after a 4 point weekend with victories at home against Dundee (8-5) on Saturday and on road in Coventry (2-0) on Sunday.

The Steelers are now 5 points behind first place Belfast but have 3 games in hand over the Giants.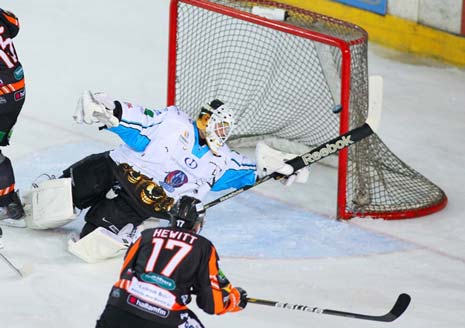 Jason Hewitt scores his game winning goal against Coventry

Goalie John DeCaro recorded his 3rd shut out of the season stopping 38 shots in Coventry whilst at the other end goals from Jason Hewitt and Jeff Legue secured the Steelers best win of the campaign to date.

Head Coach Ryan Finnerty was delighted with not only the result but the performance as well "I guess it was the perfect road game for us. We knew Coventry would come out hard at home, they always do. Whilst they had most of the puck possession in the first period, they didn't create a huge amount.

"We stood up to their attack well and kept most things to the outside. John DeCaro made the big stops when required and we went into the dressing 0-0 at the end of the first. I was more than happy with that.

"That was the best we have played all season. Every player bought in and did their job. I thought we played hard for 60 minutes at the level we showed we had in the second half of the game against Dundee. If we continue to play like this then we will win a lot of games.

"I felt we took over then, we took the game to Coventry and we created. Then when our chances came we took them. It was good for Hewey to get back on the scoring chart and that was a big goal. Legue we never doubted would start scoring again. He has been playing well recently without the goals, the goals will always come with him.

"The third period was more even, we both had chances. We hit the post and the cross bar and perhaps could have won it earlier. I'm not complaining though, this was a great win for us."

Finnerty Happy with New Signing Flath
With 2 goals on his debut new signing R G Flath made the right impression on player coach Ryan Finnerty.

"The goals were a nice bonus, I was just impressed how well and how quickly RG fitted in and how easy he was to play alongside" said Finnerty. "It is never easy coming into a team mid way through the year, I remember it was tough for me when I joined the Steelers half way through a season, so I'm with him on this one.

"He knows the game, he is smart, plays good position and is always available for a pass. He has good strong work ethic and as we saw on Saturday, can score as well.

"It was a different game on Sunday, more of a battle and a war in Coventry. He stood up to the test well and came through with flying colours. I like him, he will be good for us."
RECENT STORIES
RAMSAY STINGS THE STINGRAYS WITH OVERTIME WINNER -
Mike Ramsay scored the overtime winner 24 seconds into the extra period for the Steelers in Hull on Sunday to complete a 4 point weekend for Ryan Finnerty's men. More...
STEELERS SIGN D MAN TRUDEL -
The Steelers have moved quickly for defensive cover following the season ending injury to Rod Sarich by signing 28 year old Francis Trudel. More...
DISAPPOINTING END TO STEELERS' EUROPEAN JOURNEY -
Steelers ended their Continental Cup experience with a 6-3 defeat at the hands of Hungarian champions Dunaujveros Bull's. More...
"FRUSTRATED, DISAPPOINTED AND UPSET" FINNERTY -
Head coach Ryan Finnerty said he was frustrated, disappointed and upset after the Steelers 3-0 loss to Herning on Saturday evening. More...
STEELERS AWAIT CLARIFICATION ON ROD SARICH -
Rod Sarich spent time in hospital following the Steelers 3-2 victory against the Nottingham Panthers on Sunday night. More...
BRAEHEAD CLAN 2, SHEFFIELD STEELERS 4. MATCH REPORT -
A 2nd period burst from the Steelers that saw them score 3 within the first 7 minutes cemented this win. More...
A SPLIT WEEKEND BUT STEELERS STILL IN CHALLENGE CUP -
The Sheffield Steelers' Challenge Cup hopes remained in place after a 2-1 home victory over the Hull Stingrays on Sunday evening. More...
DOUBLE WIN KEEPS DOUBLE ALIVE -
The Sheffield Steelers recorded two more wins over the weekend that kept their hopes of both league and challenge cup success. More...
STEELERS 'BOUNCEBACKABILITY' KEEPS THEM IN THE CHALLENGE CUP -
The Unison Sheffield Steelers bounced back from a 3-0 defeat in Nottingham on Saturday to beat the Cardiff Devils 5-3 More...
STEELERS 2, PANTHERS 4. MATCH REPORT -
Sheffield Steelers disappointed a crowd of over 6,500 with a lacklustre performance against the Nottingham Panthers in the Challenge Cup. More...
HUGE WIN FOR THE SHEFFIELD STEELERS IN CARDIFF -
After coming from behind to tie the Blaze 2-2 in the Challenge Cup game on Saturday, Ryan Finnerty's beat Cardiff on Sunday extending their winning streak to 5 games. More...
IT'S ABOUT TIME WE WON THE CHALLENGE CUP - STEELER'S BULL DOG HEWITT -
The Unison Sheffield Steelers commence their Challenge Cup campaign this weekend with a home game against Coventry Blaze, Saturday More...
STEELERS 6 - COVENTRY BLAZE 4. MATCH REPORT -
A big second period set up an outstanding 6-4 victory for the Steelers against the Coventry Blaze on Saturday night. More...
STEELERS CAPTAIN JONO UNDERGOES SURGERY -
Sheffield Steelers Captain Jonathan Phillips has undergone surgery to repair damaged knee ligaments. More...
NOW IT'S 3 OUT OF 3 FOR THE STEELERS! -
Steelers forward Neil Clark bagged another 2 goals as the Sheffield Steelers made it 3 wins out of 3 with a gutsy performance in Hull on Sunday evening. More...
2 OUT OF 2 FOR THE STEELERS -
The Steelers made it two wins out of two with a 4-1 home opening victory against the Dundee Stars on Saturday evening at the Motorpoint Arena. More...
CLARK GETS GREEN LIGHT FOR HOME OPENER -
Power forward Neil Clark is expected back in the Steelers line up for Saturdays home opener against Dundee Stars More...
A WINNING START FOR THE CHAMPIONS -
A very tight low scoring encounter to open the season in Belfast with the visiting Steelers taking the extra point thanks to a shootout win More...