Wednesday 26th January 2011

A Primary School in Chesterfield is celebrating after being awarded £800 by a Supermarket Charity Trust.
Tesco donates thousands of pounds of cash every year to local good causes from their Community Budget that is managed in-store by their Community Champions. The store on Lockoford Lane yesterday presented a cheque to Heath Primary School to help with their Children's University project.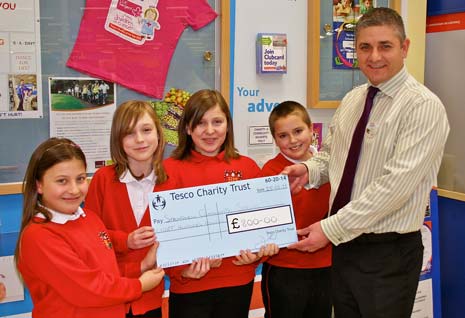 (l-r) Melissa Grafton, Samara Vaughan, Carrie Price and Ryan Vaughan receive the cheque on behalf of Heath Primary School from Tesco Store Manager, Michael Cooke

Headteacher Mrs Kim Neville and a group of Y5 and Y6 children, along with Children's University Co-ordinator Rebecca Wilkinson visited the store to pick up the cheque from Store Manager Michael Cooke (pictured above).

Mrs Neville told The Chesterfield Post that the money would be very much appreciated by the school, saying, "It means that we can provide extra curricular activities after school and lunchtime so the kids can benefit from a broad curriculum."

Rebecca Wilkinson is Gifted and Talented Co Ordinator at Springwell School and also leads the Children's University Project in the area.

She told us the cash would help to fund the school's involvement with the Children's University programme and explained what children do as part of the scheme, "Children gain credits by doing extra things at school, both in and out of school at accredited venues, working toward earning a place at a Graduation Ceremony at the end of the year."

Finances are tight, particularly in these difficult financial times, and the project relies heavily on unsung heroes, with Rebecca telling us, "We rely on volunteers and people's good nature so these amounts of cash make a huge difference to us to help us to buy resources for our clubs."

Michael Cooke is Tesco's Store Manager and he is committed to helping the community around the store, "It's vital that we give something back - we have 650 employees in this store alone, most of them live locally, near the shop.

"Business is tight for everyone, but we have a certain amount of cash to donate to good causes, every penny we spend is vital. It's nice to be able to give it and help projects in the community."

Some of the money for the fund comes from fundraising events that are held around the store during the year.

Jackie Boland is Lockoford Lane's Community Champion and is working hard on several events which are still in the planning stages.

However, she did reveal that a 60's or 70's event is planned ... so be prepared to dig out that wig in a good cause!
RECENT STORIES
COMING TO A POOL NEAR YOU -
Local residents are being invited to 'jump in' and swim to help raise cash for a leading cancer charity. More...
CHARITY BEGINS AT ... ALFRETON -
The first charity to benefit from the Alfreton Sunday League's Grand 40th Reunion has been announced. More...
ASHGATE HOSPICE MIDNIGHT WALK FOR LADIES ONLY! -
Our 4th annual Midnight Walk is on Sat/Sun 25th/26th June 2011 and is expected to be one of the biggest events in our calendar this year! More...
HAIR OF THE DOG -
Bella is a year old Shar-pei and has been at the RSPCA kennels for a long time - 10 weeks in total. More...
NOW MAN'S BEST FRIEND CAN HELP TOO! -
Ashgate Hospice is very excited to bring you a new event this year, especially for man's best friend! You and your dog are invited for sponsored "walkies" in Linacre Woods to help raise vital funds. More...
B2NET BUCKETS BRING HELP TO CHILDREN'S HOSPICE -
Generous fans visiting the B2Net have donated £400 to a Children's Hospice through a bucket collection... More...
GUITAR HEROES -
A unique gig, hoping to become an annual event, is being organised in Chesterfield in order to raise money for a leading cancer charity. More..
LEFT OUTSIDE ALONE-
Animal Welfare Workers are investigating after two young cats were found abandoned outside the rescue centre in freezing temperatures. More...
Brrrrr RABBIT! -
The RSPCA has issued an URGENT appeal for homes for 22 rabbits that have been brought to their kennels in Spital this week. More...
STAVELEY MWFC'S GENEROUS GESTURE FOR SCOUTS CANADA TRIP -
A local company has made a generous donation towards a local scout group's Canada trip after reading about the fundraising efforts in The Chesterfield Post. More...
ARE YOU UP FOR A CHALLENGE? -
Fairplay is a registered charity, dedicated to helping children with additional needs and their families. More...
LOVE LIGHTS UP HOSPICE -
Ashgate Hospice would like to say a huge THANK YOU to everyone who dedicated a light in this year's Lights of Love switch on More...
LOCAL CHILDREN AND B&Q MAKE XMAS SPARKLE FOR ASHGATE -
A Primary School in Chesterfield has helped to spread a little Christmas joy after a tree they decorated took pride of place at Ashgate Hospice. More...
RSPCA APPEAL -
The RSPCA is appealing for what it calls a 'special home for a very special pup' - a near-blind rottweiler called 'Mac' and his best friend - a kitten called 'Boyd'. More...
YOUR VOTE COUNTS -
The Football League would like your help to help them decide which charity The League should select to be its Official Charity Partner for Season 2010/11. More...
WILL YOU SHINE A LIGHT OF LOVE THIS CHRISTMAS THIS YEAR -
Will you be remembering someone special this Christmas? It was that time of year again, another summer had flown by and there was more than a nip in the air. More...
CAN YOU OFFER THESE HENS AN
EGG-CITING NEW
LIFE? -
The RSPCA in Chesterfield is urging people to consider buying Free range eggs after accepting 60 ex-battery hens into their kennels at Spital. More...
"BACK OF THE NET!" KICKING CASH FOR CHARITY -
Students from Chesterfield College gave a local charity a boost as they took part in a penalty shoot out to raise cash for Ashgate Hospice.More...
BEING CRUEL TO BE KIND? -
Chesterfield RSPCA are investigating the circumstances behind one of the most bizarre they've seen in 10 years at the Charity. More...
WIRKSWORTH ROTARY 5k SANTA FUN RUN -
The Rotary Club Of Wirksworth are staging a 5k 'Santa' fun-Run for the Rainbows and Ashgate Hospice Charities on Sunday 5th December 2010 at Carsington Water More...
A LONELY GOAT
HERD -
If you're an experienced goat owner (or a Military Regiment looking for your Regimental Mascot), with land to spare, then Chesterfield RSPCA is asking you to consider helping them. More...
PUPPY LOVE UPDATE -
The RSPCA in Chesterfield confirms that a woman claiming to be the owner of the pups has contacted them and after checks, they have been reunited. More...
PUPPY LOVE -
RSPCA bosses are appealing for help in tracing the people who dumped Barnaby and Benji last week in a Chesterfield field. More...
REMEMBER THEM -
The Chesterfield branch of the Royal British Legion is asking residents to do just that and buy a poppy as the town launched it's annual Poppy Appeal Saturday. More...
BARGAIN HUNT BONANZA -
There was everything to pay for as the Mayor and Mayoress took part in a charity Bargain Hunt on Chesterfield's very own flea market on Thursday, More...
WHY YOU REALLY SHOULD "GO TO SPECSAVERS" THIS WEEKEND -
Have you ever looked at the 'Mr Men' characters and thought, what about one called Mr ??? More...
ASHGATE WINTER BALL, 27/11/10 -
Ashgate Hospice are holding their 'WINTER BALL' on Saturday 27th November, 7pm for 7:30 until 1am at The Winding Wheel in Chesterfield. More...
MARIE CURIE CANCER CARE LOOKING FOR SUPPORTERS HELP -
Derbyshire Fundraiser, Laura Read is inviting anyone who is interested to come along to an informal meeting. More...
DROP IN CENTRE OPENS IT'S DOORS -
The Nenna Kind centre is situated in Room 5 on the 2nd floor of the Market Hall and offers support and advice in a welcoming environment for anyone affected by cancer. More...
HOPE FOR AFRICA -
As children in Chesterfield prepare to return to school this week one charity is promoting the message that 'In Africa, education is a privilege not a right'. More...